By Audra Brianne
ITWPA Member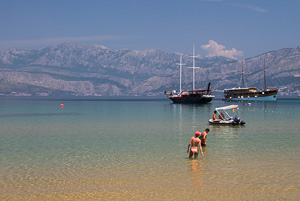 Nude sunbathing isn't for everyone. Hot sun beating down on head-to-toe exposed skin, displaying less than pencil-thin bodies, and sand traveling everywhere.
Hard to believe that Croatia's naturism movement started with a royal sex scandal.
In 1936, a soon-to-be-disgraced king vacationing along the Croatian coastline discovered skinny dipping and sun worshipping in the buff… not exactly following royal protocol. His girlfriend Wallace, a twice-divorced American (definitely not queen material) strove — in vain — for a "no tan line" appearance over her alabaster skin. The British press didn't dare report on this scandalous behavior of their King Edward VIII, but plenty of non-British newspapers — with the pictures to prove it — did. Sadly, later that same year, giving up crown and country for the woman he loved, Edward abdicated his kingdom. Simultaneously, the wave of Croatia's naturism movement was off and running, a trend which thrives to this day, all thanks to a naughty royal who wouldn't keep his clothes on.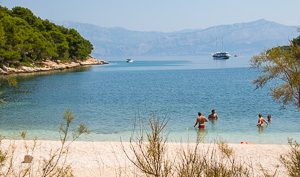 The first naturist beach opened on the island of Rab, spearheaded by the king's exploits. Today, more than 30 official FKK ("freikorper kultur," German for "free body culture") resorts dot the Adriatic coastline, in addition to many more where nudity is tolerated.
In the 1960s, while the country was under Yugoslavia, Koversada FKK opened on an islet of Vrsar. Today, it stands as Europe's biggest nudist colony, accommodating 7,000 sun worshippers.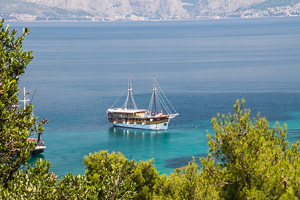 Water in every shade of blue imaginable gently licks Croatia's bone-white beaches. Pine trees offer much-needed shade from an unforgiving sun. The 3,600 miles of coastline can hold their own against any beaches on the French or Italian Rivieras. But up close, don't expect to find fine-as-sugar sand. Large pebbles are the norm along the Adriatic, and beach shoes are a must for navigating this terrain, even in water. Bring a plush mat or use the sun beds for comfort. Without these, your visit to an FKK beach resort will be a miserable experience, even with that overall tan.
If you would like to purchase this article for your publication, please click here to contact the author directly.