By Sharon Hiebing


ITWPA Member
On a street with just about as many businesses, shops, and restaurants as you can fit along a tiny one-way road, it can be hard for tourists and locals alike to learn about all the different types of cuisine available to them. This is especially true on Burns Avenue in the small town of San Ignacio, Belize, because most restaurants don't have menus out for passers-by to peruse. So unless you make an effort and ask to see the menu, you could theoretically walk by an establishment continually, completely unaware that a food item you've been craving is just waiting for you to order it.
That's what happened to me when I first moved to this bustling area, 15 minutes from the Guatemalan border, in early 2011. I hail from California, and deli sandwiches, or submarines as some folks called them, were one of my favorite foods. Not a single restaurant I ate at offered this American classic.
Unfortunately, subs are not something Belizeans (who are a mixture of Creole, Mestizo, Maya, Garifuna, East Indians, Chinese, and Mennonites) eat as part of their mainstream diet. Instead, they dine on a lot of rice and beans, as well as pigtail, pork, chicken, or fish (stewed, curried, fried, or barbequed), tacos, and tamalitos. And while most of it is very tasty food, for months I was having a hankering for a big ol' deli sandwich.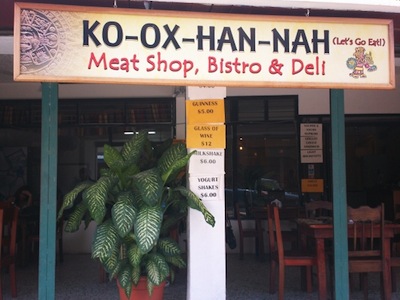 Lucky for me, I found it, in a very unlikely place. Ko-Ox-Han-Nah (which means "Let's Go Eat!" in Mayan) is one of the most well-known restaurants in the Cayo District (they're number one on Trip Advisor), and you can't come to San Ignacio Town, or Santa Elena, its sister town, without dining on their authentic Belizean fare. However, what most people don't know is that catty-corner across the street, they also have a deli, bistro, and meat shop by the same name, where the food, service, and atmosphere are just as good, but with more of an American culinary spin.
Seated on their outdoor raised patio at a small wooden table, one can choose from, among other things, such dishes as a toasted bagel with cream cheese, tomato, and onion (from their breakfast menu), a chef salad stacked high with vegetables, chicken, ham, cheese, and egg, or the reason I was there, a submarine sandwich.
After much consternation over the various choices, I ultimately chose the lamb and brie sub on a whole wheat roll (you can also get it on thick slices of sandwich bread), and a lime juice, a local favorite. This sandwich is huge, considering it only costs BZ$10 (US$5), and some people can't even finish it. Every bite delivered the wonderful flavor of roasted lamb, soft and creamy brie cheese, and the crunch of lettuce, onions, sweet pepper, and pickles combined.
Sitting on the patio at Han-nah's (as the locals have nicknamed it), watching the traffic jetting by on the narrow street and the merchants selling their local wares to anyone walking by and the pedestrians wandering aimlessly looking for somewhere to eat, I couldn't help feeling like I had discovered a bit of a secret. That yes, even in Belize, one can enjoy a sandwich to rival any deli chain back in the U.S.
Hope I won't regret letting the word get out!
Located at 5 Burns Avenue, San Ignacio Town, Cayo District, Belize, Ko-Ox-Han-Nah Meat Shop, Bistro & Deli is open Monday through Saturday, 6 a.m. to 9 p.m. 011-501-834-4014

If you'd like to purchase this article for your publication, click here to contact the author directly.