The Pacific Northwest is a fantastic destination offering the perfect combination of city life and stunning scenery. Seattle is bustling with people and activities for an exciting city stay. 
It is easily reached by flying into Sea-Tac airport, and the terrific public transportation system can whisk you downtown in minutes. There are museums, parks, open-air markets, and of course, a plethora of coffee shops to enjoy.
Of course, sometimes, you just want to avoid the crowds and seek wide-open spaces instead.
From Seattle, you don't have to look far to find outstanding areas of natural beauty. Surrounded by water, mountains, and evergreen forests, there are three stunning and diverse and National Parks within a few hour's drive from Seattle. These parks make for a great escape to nature.
Closest to Seattle is Mount Rainier, and this active volcano provides a scenic backdrop to the city skyline. It's just a short 60-mile drive from the city but feels a world away. Head north from the city about 90 miles, just shy of the Canadian border, for the more rugged landscape of North Cascade National Park, a vast wilderness of conifer forested mountains, glaciers, and lakes. Both of these parks offer endless recreation opportunities in every season.
Just a couple hours' drive west of Seattle is the Olympic National park, one of the most unique parks in the country.
The park features several diverse ecosystems within its nearly one-million-acre landscape, including glacier-capped mountains, old-growth temperate rainforests, and 70 miles of rugged coastline.
You could easily spend a lifetime uncovering the secrets of this beautiful park. Still, sometimes you only have a long weekend to spare. To help maximize your short visit, I am sharing a perfect 3-day itinerary allowing time in each of the three distinct regions of the park.
Day One
From the centrally located Port Angeles, you can visit the Olympic National Park Visitor Center to obtain park information and maps. This is a great first stop when you arrive.
Pop in to get park maps and trip planning advice as well as vital information about road closures or other important updates. Since we made it to the area in the late afternoon, we stopped in for maps and brochures before checking-in to our lodging.
From the comfort of our cabin, we were able to look over the brochures and make our travel plans for the following day. 
From Port Angeles, you need only drive the Hurricane Ridge road for 17 miles to reach the Hurricane Ridge Visitor Center. Hurricane Ridge is the most easily accessed mountain area within the park. There are several hiking trails in this area that provide scenic vistas, the most popular being the Hurricane Hill Trail.
We took this 3-mile there-and-back trail and found it a bit more strenuous than we expected. Coming from the sea level of Florida,  we were a bit breathless as we ascended the short but steep, mostly paved trail with a near 950-foot elevation gain.
It was worth the effort to enjoy spectacular views of the Olympic Mountains, the Elwha River valley, and beautiful water views of the Strait of Juan de Fuca across to Canada. This trail also provided us with some wildlife sightings as well.
We enjoyed watching a family of deer grazing in the meadow and some Olympic marmots scurrying in the rocks. We recommend you allow a couple of hours to enjoy this trek and suggest bringing water, a camera, and even some binoculars if you want to see across to Canada.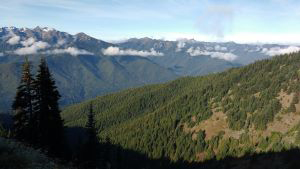 Day Two
We made the most of our second day by combining a morning visit to the Hoh rainforest with an afternoon of beach hopping along the coastal region of the park. When planning, we struggled to decide between visiting the Hoh and Lake Quinault Rainforests. Hoh rainforest has the distinction of being a World Heritage Site and a Biosphere Reserve by UNESCO. But honestly, it was the stunning pictures from the Hall of Mosses trail that tipped the scales in favor of a visit to Hoh. This 20-minute walking trail was like trekking through the lush greenery of Jurassic Park.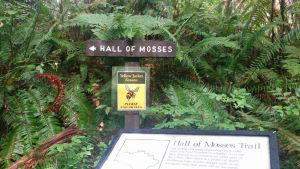 After our morning in the most carefully preserved rain forest in the Northern Hemisphere, we ventured along the coast to experience some of the most stunning beaches we'd ever seen.
Coming from Florida, we are used to long stretches of white sandy beaches with plenty of parking and bathroom facilities.
That is not what you will find in ONP.  Instead, what you will find are rocky beaches, giant drift logs, crashing waves, and offshore rock islands called sea stacks. 
Our first coastal stop was Rialto Beach. This a quintessential Pacific coast beach that offers rocky shores, tide pools, driftwood logs, and the famous Hole-in-the-wall sea-carved arch stack.
This beach was one of the most easily accessed and, therefore, a little more crowded than the beaches that require a hike down a forested trail to the water.
Any of the beaches here are worth a stop, we visited First Beach, Second Beach, and our favorite Ruby Beach. The reddish sand and stunning rock formations are remarkable.
Regardless of which beach you visit, be sure to bring a camera to capture the fantastic sunsets that only the Pacific Northwest can offer.
Day Three
After a long second day, we anticipated a more relaxing day with an easy drive to the Lake Crescent area.
We planned a walk around the glacially carved lake and the short hike to Marymere Falls, followed by an afternoon enjoying the therapeutic thermal pools at Sol Duc Hot Springs.
This plan would have rounded out our ONP vacation perfectly…but the weather did not cooperate. We woke to pouring rain, and a quick online weather search revealed the downpour would last all day. 
The coastal regions of the peninsula had a more favorable weather forecast, so we changed our plans and decided to head west away from the rain. In fact, we ventured to the furthest northwesternmost point of the contiguous lower 48 states, and what we found amazed us.
Cape Flattery, Washington, located on the Makah Reservation, was about a two-hour drive from Port Angeles.
We stopped at the Washburn General Store to pick up some picnic essentials and purchase a recreation pass, which visitors must display in the window of their vehicle while on the reservation. 
We arrived at Neah Bay to blue skies, and with our picnic in hand, we headed down the 0 .7-mile Cape Flattery Trail. The trail is a mix of boardwalk, dirt, and mossy grass that almost bounces underfoot. A short walk from the trailhead brings you to dramatic views of rocky islands, hidden beach coves, and the jade waters of the Pacific Ocean.
There are picnic benches and an observation platform at the tip of the trail where we enjoyed the scenery. Be sure to bring binoculars to look for gray whales off the Cape and spot sea lions on Snake Rock just east of Tatoosh Island.
While the rainy day may have caused us to miss out on seeing more of the Olympic National Park, we can't say we're disappointed. Cape Flattery was truly breathtaking, and we will remember those views for the rest of our days.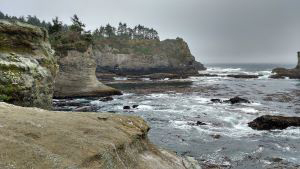 Visiting Olympic National Park over a long weekend would not be my first choice. I would recommend a week (or more) to enjoy the Olympic Peninsula. The National Park is beautiful and diverse, and the surrounding areas also have a lot to offer. Port Townsend is a charming coastal town, and the lavender farms at Sequim (pronounced "squim") in late summer are as fragrant as they are beautiful. Located between the mountains and the beach, is the cute town of Forks. The rainiest town in the contiguous United States is Forks, and here you can experience the town where Stephanie Meyer based her Twilight saga novels.
Whether you are on-the-go from morning to night, covering as much ground as possible, or relaxing and soaking up the fantastic views, the Olympic Peninsula offers a truly memorable vacation for everyone. ~TPM
About Tamatha Hazen—Tamatha is a Florida-based writer and college student. She has a severe travel addiction and a desperate need to breathe the mountain air. She is currently on a quest to visit every National Park in the United States. Tamatha enjoys nature travel, mountain hikes with a cozy bed at the end of the day—no sleeping bags for her. Hazen is new to freelance writing. She loves sharing her travel stories, travel tips, and travel photos with others.