By Sally Pederson
ITWPA Member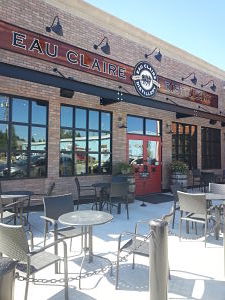 South of Calgary in the foothills of the Rocky Mountains is the historical town of Turner Valley. The local movie theater, built in 1923 on what was known as "Whisky Row," has been renewed and is now the home of Eau Claire Distillery — Alberta's first craft distillery.
With their "grain-to-glass" philosophy, it's the ideal setting, from the ingredients (grains including rye, wheat, malting barley, and potatoes) harvested from local Alberta farms, to the water from the Canadian Rockies, to the history of Turner Valley's prohibition times of the 1920s.
Their limited hand-crafted spirits of vodka, gin, and whisky are made for the discriminating crowd who are concerned with where and how the spirit was produced. They also have seasonal flavor offerings that are very unique, such as strawberry rhubarb and dill pickle.
The distillery won third place out of 167 competitors in the Los Angeles National Distillery Competition this year.
Eau Claire Distillery, a name of great historical significance in Alberta, means "clear water." It is located less than an hour from Calgary, Alberta, next to the Sheep River in Turner Valley on Sunset Boulevard NW.
A tasting costs $6.50; tasting and tour $10; tasting, tour, and cocktail $15.
While in Turner Valley you can spend the day at Bar U Historic Ranch (http://www.friendsofthebaru.com) and Anchor D Outfitting (http://anchord.com), and eat at the world-famous Chuckwagon Cafe (http://www.chuckwagoncafe.ca) — all part of the famous Cowboy Trail.
Eau Claire Distillery
(403) 933-5404
info@eauclairedistillery.ca
www.eauclairedistillery.ca
If you would like to purchase this article for your publication, please click here to contact the author directly.