By Habeeb Salloum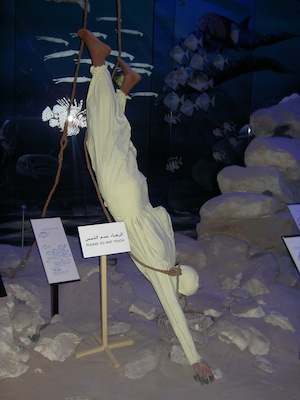 "You want to sail on an Arab dhow here in Dubai? You're lucky today! Talk to him!" Abdullah bin Jassim, a Dubaian historian who manages the Sheikh Saeed Al-Maktoum House museum, pointed to an elderly man sitting beside me. "He was for years a nakhuda (captain) of a pearl-diving dhow — the best skipper in the Arabian Gulf." A distinguished-looking gentleman, made even more dignified by his flowing Arab dress, Abdullah appeared to be proud of the former dhow skipper.
After introductions, I asked the soft-spoken nakhuda to tell me about his seafaring life and if pearl-diving in dhows was continuing in our times. "Pearl-diving in dhows? Of course not! The youth today are spoiled! All they look for are the pleasures of life. It wasn't like this when I was young." Ubayd al-Muhayri, the former dhow captain, smiled.
When I asked him if he yearned to sail the Arab dhows again, he seemed amused. "Sail again! I am seventy and five years old. Do you know that pearl-diving was a part of hell?" He continued, misty-eyed, "Yet, for me the old days are preferable. In those days, we did not worry about material wealth. We were content to live on dates and coffee."
A tear came to his eye as he reminisced about his youthful years. "I was eight years old when my father first took me with him on a dhow. When I turned fifteen, he took me down some 15 meters (50 feet) to the bottom of the sea and taught me how to find the pearl-carrying oysters in the deep. For a hundred days every year we worked the oyster beds. Until I became a skipper of a dhow, it was a harsh life but I was content."
As I bade Abdullah bin Jassim and the former nakhuda adieu, I thought of my fantasy to one day sail on an Arab dhow. Ubayd al-Muhayri had somewhat dampened my yearning to sail on these crafts, but not entirely. I had waited too many years to easily be stymied.
From the vast amount of adventure literature that I read in my youth, none impressed me more than Alan Villiers's book, Sons of Sinbad, in which he describes his journey on an Arab dhow from the Arabian Gulf to the East African coast. Sailing in his footsteps and capturing a bit of the ancient Arab spirit of adventure became one of my burning ambitions.
Back in our hotel, I asked an agent working for Net Tours about sailing on dhows. He immediately responded, "Of course we have dhow tours! They're our most sought-after excursions."
"Are your dhows powered by the wind?" I knew that I was stretching the point, but I thought perhaps … "No! Of course not! On our dhows you travel in comfort. They're equipped with the best that the modern world has to offer." The young man appeared to be proud of his modern converted dhow.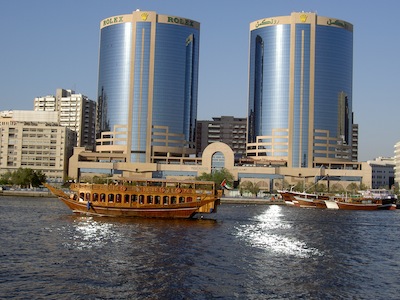 That evening, darkness was drawing nigh when we boarded our decked-out tourist craft anchored on the shore of Dubai Creek behind the Chamber of Commerce building next to the Sheraton Hotel. No sooner had we sat down than a smiling waitress from the Philippines brought us coffee and dates — the traditional welcoming foods of the Arabs.
The waves of Dubai Creek gently lapped and rhythmically swayed the ship as, with Arabic music in the background, we feasted on the tasty Arab food — much different from the spartan food of dates and rice described by Villiers in Sons of Sinbad. Smoothly moving along the creek past dhows loading and unloading goods, as they have done for centuries, we sailed in the shadows of Dubai's sky-reaching edifices which would have been considered magical structures in Sinbad the Sailor's time.
Sated, I sat back and fantasized about the past. The heritage and atmosphere of the dhow, enhanced by the tasty Arab food, took me back to the era of The Arabian Nights and Sinbad the Sailor when dhows brought back from distant lands spices, poetry, and romance. On such a ship Sinbad could very well have dreamed up the unreality and hallucination of his tales.
If you would like to purchase this article for your publication, please click here to contact the author directly.