By Eric Tallberg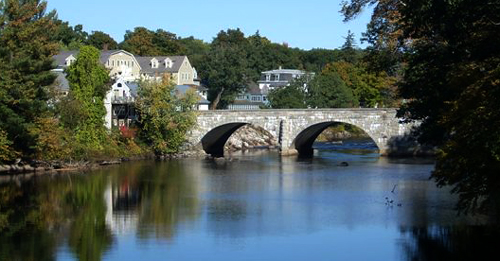 In a small New England village some 11 miles west of Concord, New Hampshire, over traditional white clapboard houses, country lanes, farms and forests, church steeples still ring parishioners to Sunday services. To visit the town of Henniker is to visit the only Henniker on earth.
In addition to its unique moniker and small town ambiance, Henniker is home to a covered bridge, a ski area, a number of lakes, campgrounds, lodging establishments, and New England College, a small, liberal arts institution that attracts students from around the nation and the world.
During the dog days of summer, youngsters of all ages swing from ropes and tree branches to splash into the chilly waters of the Contoocook River, which once served the mills that are now long gone. In their place you'll find kayaks, canoes, fishermen, and the occasional inner tube.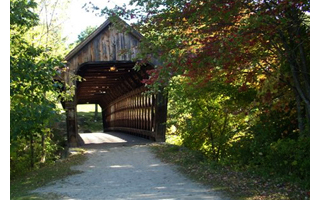 Spanning the Contoocook, and a must-see for visitors, is a traditional New Hampshire covered bridge. Though the bridge was built in 1972 for New England College, the builders used oxen, just like in the old days, to erect the structure.
Head five or six minutes south on Rt. 114 for skiing, hiking and apple picking at Pats Peak. During the winter months, because Henniker sees an average of 70 to 80 inches of snow a year, Pats Peak features some of the best skiing and boarding in New Hampshire.
In the warmer months, you can take a hike up the steep slope to the summit for a view of the White Mountains, the Presidential Range and the Mink Hills. From April until November, hikers on the peak—and those along the river—might also see a majestic hot-air balloon from What's Up Ballooning in nearby Hillsborough floating sightseers and foliage fans in silent majesty over the Contoocook Valley.
In Henniker, after a day of skiing, hiking, swimming, ballooning, foliage gazing or simply meandering about town, you'll have your pick of restaurants and taverns, B&B's and inns.
The exclusive, and somewhat pricy, restaurant at the Colby Hill Inn quietly and discreetly hosts politicians, sports stars and movie idols who wish to take advantage of the seclusion that is part of Henniker's appeal.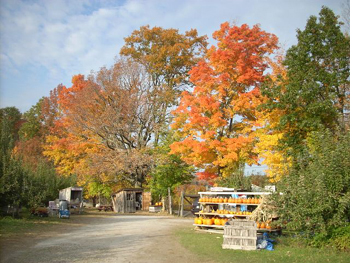 If it's a peaceful, hearty and generous meal you're looking for, Daniel's Restaurant & Pub, just off Henniker's Main Street, offers succulent New England clam chowder and a table overlooking the Contoocook.
The Intervale Pancake House, serving an energizing breakfast, and Idlewilde North Steak House, grilling up a perfect steak, are both located at the base of Pats Peak.
Country Spirit Restaurant, at the Henniker exit off of Rt. 202/9, features delicious family fare.
Want to spend a night or three in Henniker? Henniker Motel and The Meetinghouse Inn, adjacent to each other at the base of Pats Peak, are popular with skiers. The Henniker House Bed and Breakfast, next door to New England College, and the Colby Hill Inn, off Western Avenue, offer pleasant overnight accommodations. A plethora of lakeside campgrounds provide seasonal space for campers and tents.
Henniker Motel: www.hennikermotel.com
1-603-428-3526
Rooms: $93 – $116/night
Colby Hill Inn: www.colbyhillinn.com
1-800-531-0330
Rooms: $140 – $279/night
Entrees average around $27
Reservations required
Country Spirit Restaurant
1-603-428-7007
No reservations required
Daniel's Restaurant & Pub: www.danielsofhenniker.com
1-603-428-7621
Entrees: $13 – $26
No reservations required
Pats Peak: www.patspeak.com
1-888-PATS PEAK (728-7732)
$49 – all-day weekend adult lift ticket
$30 – adult weeknight skiing
What's Up Ballooning: www.whatsupballooning.com
1-603-344-3128
$500 – one-hour flight for two passengers
If you wish to purchase this article for your publication, click here to contact the author directly.
Are foreign drugstores clinically appropriate for Americans. Part 2