By Paula Wheeler
ITWPA Member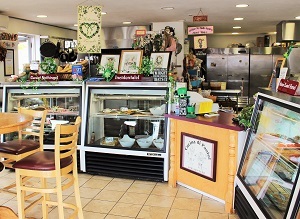 The sign on the side of the brick building of Cucina Di Paolo said it all: "His Talent — My Mouth." Customer after customer came in to pick up their orders, as the restaurant's devoted clients know not to count on a seat in this three-table and six-chair-counter establishment.
Mary Jean Wegner, known as "the mouth" of the duo, greeted each guest by name and asked about their lives. For those of us who were new, she made sure our glasses never went below half full and included us in conversations. Even though I had never met Mary Jean before, she made me feel as if I were already part of the family, because as she put it, "my bouquet of customers is what makes my day."
Paul Wegner is "the talent" of the pair. An executive chef who worked for numerous establishments over the years, he decided to put his skills to use, along with Mary Jean's, in their own kitchen.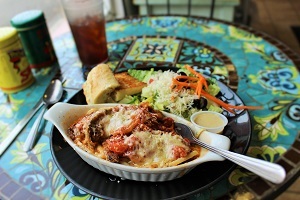 I ordered the eggplant parmesan along with a salad with Caesar dressing. I'm not a salad lover, but if I had Paul's dressing at home, I would definitely be eating more salads. The eggplant parmesan put me into culinary heaven. If I didn't know any better I could have sworn I was in a hidden Tuscan trattoria, complete with Nonna in the kitchen. It was that good.
I finished my meal with a slice of cheesecake baked by Mary Jean. She is the creative force behind all the desserts and with each bite of this light and creamy treat, I knew she was no stranger to the kitchen. I was tempted to purchase a dessert to take home, but decided that it just gave me another reason to come back.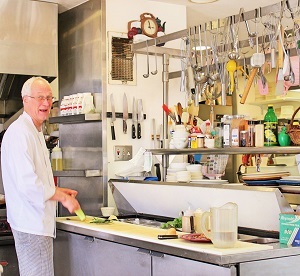 The flagship product of this restaurant is the lasagna, with 14 varieties to choose from — everything from the traditional beef and sausage to snow crab and shrimp — all made with a white wine cream sauce and parmesan cheese.
I cannot say it any better than Mary Jean did: "This is the best of mom and pop dining with frosting." Even though I departed with my heart and belly full, I left Cucina Di Paolo wanting more.
Cucina Di Paolo, 1504 Vista Ave., Boise, Idaho, (208) 345-7150
If you would like to purchase this article for your publication, please click here to contact the author directly.