By Maggie McKneely
You walk into an Italian restaurant, hoping, for one delightful meal, to be transported to an overseas destination — only, of course, to be disappointed by a typical serving of lackluster American Italian fare. Sound familiar?
Fortunately, there's a solution. Pistarro's Ristorante in Frederick, Maryland, is the real Napoletana deal. Located just on the edge of this D.C. suburb, Pistarro's is bringing a true taste of Italy to a place not normally known for its European fare.
From the moment you walk through the doors, Pistarro's feels like a warm hug from your Italian nonna. Cherry wood tables line the wall and fairy lights hang across the ceiling. The smell of fresh basil and roasting tomatoes permeates the restaurant. The glow from the pizza oven in the back corner is inviting even on a mid-August day.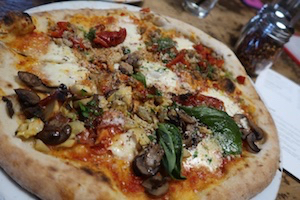 If you want to get closer to the pizza oven, you can. One of Pistarro's unique features is their pizza bar, where you can sit and watch your pizza being born right in front of you.
From Pistarro's brick oven, handmade in Naples with volcanic ash, come pizzas topped with a mouth-watering selection of truly Italian ingredients. Their meat selection, including mortadella, soppressata, speck, and prosciutto, is imported directly from Italy. The mozzarella is made in-house. The dough, crafted with traditional 00 caputo flour, is spread thin and baked to crunchy Napoleonic perfection. The extensive menu options can make it difficult to pick just one pizza, but no worries! You can get a half-and-half pie.
The restaurant is casual, but the impressive wine list is a reminder that this isn't your average pizza joint (just in case the pizzas themselves didn't prove that already). The list features selections from a number of Tuscan wineries, and blends unique to Italy such as medium-bodied, delicately smooth Rosso. The beverage list also has several varieties of grappa, the product of distilled grape skins known as the Italian form of vodka.
Just like in Florence or Rome, for the pastas, simplicity is key. Toppings such as drizzled olive oil, pine nuts, san marzano tomatoes, freshly shaved pecorino, black truffle dust, or basil puree enhance the hand-cut pasta. And, unlike standard American Italian restaurants, the portion sizes are reasonable. No plates of endless spaghetti noodles that get wasted at Pistarro's.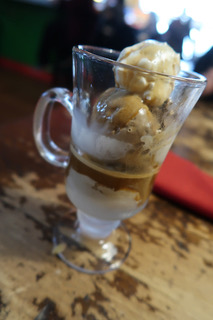 The kids aren't forgotten here, with a menu designed just for them. There's the smiley face pepperoni pizza for the bambinos, or a child-size veggie pizza for the more health conscious family.
Next time you're in the area and have an itch for true Italian food, be sure to check out Pistarro's.
221 North East Street, Frederick, MD 21701
http://pistarro.com/
If you would like to purchase this article for your publication, please click here to contact the author directly.