By Tracey Ingram
ITWPA Member
Yolk restaurant, opened in 2006, is the creation of the founder, Taki Kastanis, a former real estate agent who has deep roots in the restaurant business. There are several Yolk restaurant locations in Chicago, three in Texas, and two in Indiana. Recently I visited the original South Loop location at 1120 S. Michigan Avenue.
The menu features an extensive assortment from comfort foods to newly creative combinations. They make several fresh specialty drinks and serve premium bottomless coffee. No alcohol is served, so you can forget about that mimosa. They offer generous portions of omelets, scramblers, crepes, frittatas, and specialty items such as Eggs Florentine and Red Velvet French Toast. You can also select from a variety of sandwiches, burgers, soups, wraps, and salads.
This original Yolk restaurant continues to offer great-tasting, innovative food combinations at reasonable prices. Be sure to arrive early because the place is very popular and the lines can be long. You will want to download the NoWait app to avoid waiting in line.
As we got inside we noticed the cheerful, well-lit, bright yellow decor. If you have children, you will be delighted that there is a separate kids' menu. There's a casual, friendly, neighborhood vibe. The restaurant can be noisy with large open rooms and hard floors. Sound bounces around due to the hard surfaces, so it can be difficult to hear the people at your table when it gets very busy.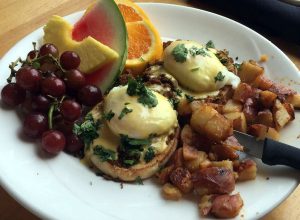 The food menu is extensive but not overwhelming. We were a group of three that morning and we started out ordering several dishes to try. My favorite dishes were:
Breakfast Wrap ($11.50) — scrambled eggs, bacon, green onions, and cheddar on whole wheat flatbread with sides of sour cream, salsa, and red seasoned potatoes
South of the Border Eggs Benedict ($13) — served with a side of chorizo, chipotle sauce, and seasoned potatoes
Chicken 'n' Waffle ($12.50) — a crisp bacon waffle topped with crispy fried boneless chicken breast and sausage gravy
Red Velvet French Toast ($12.50) — deliciously moist red velvet cake surrounded by swirls of cream cheese and topped with fresh strawberries and whipped cream
Cinnamon Roll French Toast ($11.50) — a large gourmet cinnamon roll filled with added nutmeg is served in three pieces, hand dipped in batter and grilled to perfection
Fresh squeezed strawberry orange juice
Fresh brewed raspberry iced tea
All meals included a fresh fruit garnish (red grapes, a slice of pineapple, watermelon, and oranges). The food was flavorful, the chicken was moist, and the sausage gravy had a tangy and robust taste. The eggs were cooked to perfection. The portions are huge so be sure you are very hungry. Every aspect of eating is an exquisite experience, from the aroma, flavor, and texture to the satisfaction of eating a well-prepared, very filling meal. Good selection and unique combinations include several vegetarian dishes.
Meal prices range from $11 to $14, drinks from $2 to $3.75.
Street parking is a few blocks away. It may be easier to arrive in a cab or take public transportation if you don't want to do a lot of walking.
If you would like to purchase this article for your publication, please click here to contact the author directly.