By Connie Reed
ITWPA Member
I'm driving through the splendor of one of the world's largest arboretums, surrounded by the beauty of trees, shrubs, and plants collected from around the world, 1,700 acres of them, when I see a giant ant — make that two — no, three. They must be 10 feet tall! The monstrous ants posed on the hillside seem ready to stampede toward my vehicle. I whisk by them before they make their move. Later I'm wandering through the children's garden when I spy another oversized insect, a grasshopper, and this time I'm on foot. But not to worry — the mammoth insects are part of the David Rogers Big Bugs exhibition at the Morton Arboretum. Exhibits like Big Bugs, a hedge maze, an interactive children's garden, and special themed activities, together with 16 miles of hiking trails, nine miles of paved roads for biking or driving, and even guided tram tours, make for a day of fun for people of all ages and with a variety of interests.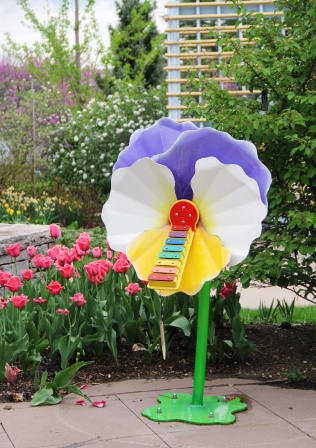 Serious plant enthusiasts and gardeners appreciate the 190,000 specimens in the Morton Arboretum's collection, specialty gardens throughout natural landscapes, and guided walks. Active folks can rent bicycles in the summer and cross country skis in the winter. Kids have fun in the 4-acre garden created just for them, splashing in the frog fountain, playing instruments made from colossal flowers, or spinning a pot of pansies while peering at the dimensions they take on through a kaleidoscope. Family members race each other through the hedge maze, while others watch their progress from a platform built around a 60-foot-tall Sycamore tree.
Lots of special events are offered for adults, kids, and families. Adults can tweak their gardening and landscaping skills. Kids can learn about bugs or gather for story time. Family activities are offered, too, like an occasionally-scheduled overnight campout where you can sleep under the stars surrounded by the lush landscaping of the Morton Arboretum. But watch out for those Big Bugs that may be lurking in the gardens.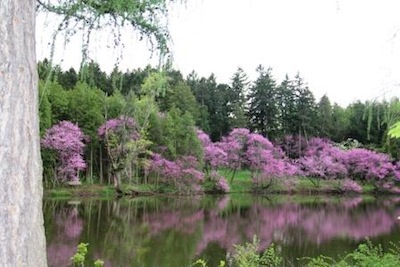 Morton Arboretum is located about 25 miles west of Chicago in Lisle, Illinois, and is open 365 days a year from 7 a.m. until sunset (shorter hours for the children's garden). Visit on Wednesdays for discounted admission. Lunch is available in the Ginkgo Room restaurant overlooking Meadow Lake. For additional information, visit the website at http://www.mortonarb.org/.
If you would like to purchase this article for your publication, please click here to contact the author directly.