By Janet and Ron Stager


(Ron is an ITWPA Member.)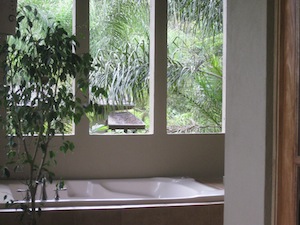 We have always tried to take a trip to celebrate our anniversary. This year, since we live in Costa Rica, we went to a resort nestled in the rain forest on a mountain across from the Arenal Volcano called The Lost Iguana Resort. When you first arrive you notice the buildings are so well-designed and constructed that they blend into the rain forest all around them and look like they belong there. 

In the registration area we got our first pleasant surprise. The receptionist asked if we wanted to upgrade our room to a suite with a Jacuzzi on the deck at a nominal increase in cost. You cannot imagine anything more romantic or relaxing than a long soak in an outside Jacuzzi surrounded by jungle.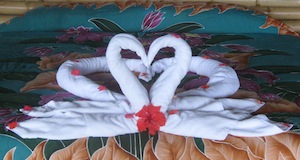 Imagine our delight when we entered our suite to find a large, comfortable room with brightly-colored jungle-motif linens on the bed, bamboo lamps, and all-natural décor. On the bed was a display of "Kissing Swans" with red flower petals scattered around it, all made out of towels.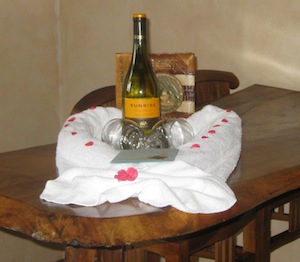 On the wet bar was another piece of towel art shaped like a heart, with a bottle of wine and glasses, a "Lost Iguana" photo album to put our own pictures in, and a card wishing us a Happy Anniversary. Every day we were treated to a different display of towel animals on the bed. It was exciting to come into the room to see what we would find.
The complimentary breakfast offers hot entrées and cold. They serve a variety of fresh tropical fruits, robust Costa Rican coffee and various juices, all in an open setting — no walls, no windows, just jungle all around you. On our first morning a beautiful blue bird perched on the back of a chair, allowing us to come close enough to get good pictures. This bird had obviously been there before. I watched as a young couple left their table to return to the buffet and the bird swooped down to snatch a piece of muffin left on a plate. Every day there is something unique to the jungle that you notice.


We found the rain forest is very aptly named — it rained part of every day we were there. The volcano was not visible because of the clouds and there was no lava flow to watch. It gets more active later in the year. The hotel is well-prepared for all the rain, though, and has umbrella stands everywhere with lots of umbrellas for guests to use. Or, if you don't feel up to a walk up and down the hills in the rain, you can call the desk and a cart arrives to take you where you want to go protected by the convertible top and sides.


On our actual anniversary we made reservations to enjoy a "his and hers" full body wrap and massage. The staff pamper you in every way possible, right down to preparing tea for you to sip while you cool down after the sauna and warm shower. Nothing is done in a hurry. This was total relaxation. On returning to our room, another surprise! The spa staff had flowers with a card placed on the bed with the towel art.
 

This resort offers many more services that we did not have time to take advantage of, so we plan to return. We would love to try to find our way out of the maze or go for a hike to see what we can see of the flowers and fauna.
If you'd like to purchase this article for your publication, click here to contact the author directly