…a garden of Eden in Malaysia
By Beth Abrahams
There is absolutely nothing cuter than a baby orangutan with orange fur, long, gangly arms, and enormous, jet black, trusting eyes.
After watching the Saturday morning segment of a travel show and witnessing Julia Roberts cuddling a baby of the species, I immediately added Borneo to my bucket list.
After much research, many emails, and query letters for an assignment, I landed a press trip with Terra Incognita Ecotours to my desired location.
Borneo was 23-hours from where I lived in Connecticut. Strategic planning was in order. I decided to fly to LA and visit with friends for two days to circumvent the inevitable jet lag. From there, I flew 12-hours to Seoul, Korea, and spent several relaxing hours in a day-room hotel near the airport. Korean Air was my carrier of choice. I thoroughly enjoyed their attentive service.
Showered and rested, from Seoul, I continued with them, flying to Kota Kinabalu in Sabah Borneo, where I was to join the tour. By breaking up the journey this way, I suffered no ill effects from the 23-hours traveling time. I arrived in Kota Kinabalu two days before the tour was to start. I had time to inhale the flavors of this exotic country, sample the food, talk to locals, and see some exquisite scenery.
I was relaxed and somewhat acclimated to the stifling heat. I was eager to absorb the planned tour information when I joined my traveling partners two days later. Early each morning, I dashed down to the dock to greet the fishermen coming in with their catch. Most of the fish were unrecognizable to me.
A sailor kindly introduced me to the walking catfish and the prized Arowana. After shooting many, many vignettes, I retraced my steps to the nearby market to sample the vibrantly hued fruit. I tried rambutan, a red fleshy fruit with a sweet internal seed and mangosteen, round and purple with several delicious internal pods. On arrival, I took a relaxing massage to remove the travel kinks and prepare my body for the adventure of a lifetime.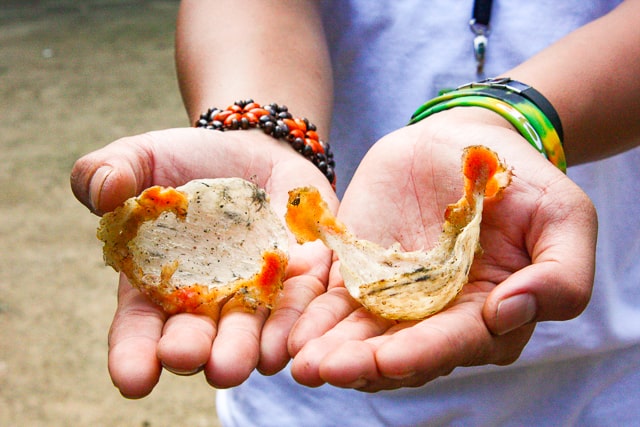 Our group was comprised of sixteen, 40-to-70-somethings, the common denominator was a love of travel and the joy of experiencing new cultures. The first day we made a partial ascent of Mt Kinabalu, the tallest mountain in Malaysia. We unearthed amazing flora, pitcher plants, a myriad of orchid species, ferns, and epiphytes. Tumbling waterfalls and candy-colored birds greeted us at every turn.
I researched the climate and was well prepared with sturdy hiking sandals, layered t-shirts, and a packable poncho. As leeches thrive in this rainforest, I sported pants with elastic at the ankles into which I tucked my heavy socks.
The next day we visited Sepilok Reserve in Kabili Forest. We observed groups of semi-habituated, rescued, orangutans who use the reserve as a halfway house when food is scarce in the jungle. These primates are, sadly, on the brink of extinction due to the destruction of their habitat in favor of palm oil plantations. Thankfully, much is being done in the scientific community to ensure their survival. They are truly a wonder of nature and should be seen in their native environment.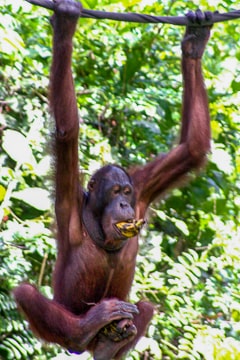 We traveled to the village of Sukau and, for the few days and nights, traversed the Kinabatangan River, excitedly spotting pygmy elephants, proboscis monkeys, and assorted species of hornbills.
Our final foray led me into a place I can only describe as a waking nightmare, the Gomantong Cave. Chinese restaurants serve birds' nest soup—and yes, the soup is made from the nests of swifts, secreted into the highest niches of this frightening cave. After all the eggs have hatched, professional climbers ascend on delicate rattan ladders to the uppermost crevasse of the cave and collect the nests which sell for $2000—4000 for 2-pounds depending on color. We navigated past crabs, giant cockroaches, centipedes, and rats to see this operation, holding our cumulative breath to avoid contamination.
As if this was not terrifying enough, as we exited at dusk, thousands of bats exploded from the cave over our heads for their nightly foray into the jungle.
If you are opposed to foreign airports, stifling heat, and interminable flights, Borneo may not be the ideal destination for you, but, for me, to see all the wonderful creatures I witnessed in their natural habitat more than made up for the discomforts. ~TPM
About Beth Abrahams—Beth lives in Boquete, Panama. She is a Wildlife/Travel photographer and has written extensively for International Living and provided photos for Tauck's Exotics brochures.