By Julie Diebolt Price
ITWPA Member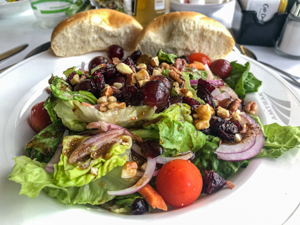 Traveling cross country by train conjures up visions of the famous luxury train in Europe, The Orient Express. While murders on the Orient Express are puzzles to be solved in books and films, the most worrisome fear on a train in the United States is that a drunk passenger will get his hands on the microphone and make inappropriate broadcasts throughout the train.
Amtrak trains in the US are not on par with the luxurious Orient Express, but you get high-quality, attractive meals on long-distance routes.
The Dining Car
Meals in the Dining Car are by reservation and are complimentary for Sleeping Car passengers, those in a Roomette, Bedroom, or Family Suite. Dining Car reservations for lunch and dinner are open to Sleeping Car guests first. Then, coach passengers can reserve for any remaining vacancies until closing time and pay for their meals just like in a restaurant. Reservations for breakfast are not required. It's on a first-come, first-served basis.
While reservations are in 30-minute intervals, you don't have to finish your meal within that period. You have time for drinks and to conclude conversations with other travelers. However, there is no lollygagging once your meal is over to be sure those following you are served. You can take your discussion to the Lounge or Observation Cars afterward, where you will be more comfortable.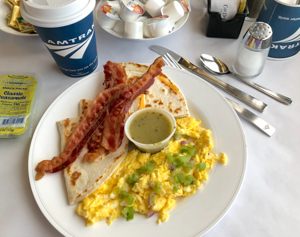 Large booths provide seating in the Dining Car. The booths comfortably seat two diners on either side. Table coverings are white cloth with heavy white paper sheets stacked on top, which makes for easy clean up after each seating.
In the Dining Car, being seated with other passengers has its advantages. People are friendly on the train and are eager to share their experiences. You can meet two new people at each meal and engage in interesting conversations. Like the couple who were making their first trip to Las Vegas to get married, and their teenage children kept calling them for help with how to use their home washing machine.
Then, there were the widows from Sacramento headed to Albuquerque. Leanne, traveled with her husband on their Harley when he was alive, was introducing train travel to Linda. "This is my first time on the train. I love it"! Linda remarked.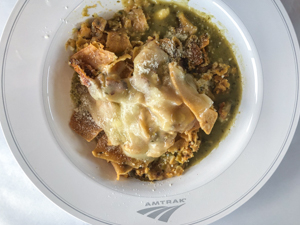 Café Service
Café service is offered on most Amtrak trains for snacks, beverages, and meals for sale. This service is provided from early morning until late at night and is available for all classes of service.
New Flexible Dining
Recent changes to the menu and new flexible dining experiences on some long-distance trains between New York, Washington DC, Chicago, Miami, and New Orleans allows more choices for passengers. That means you don't need reservations for dining times, and you can take your meals in a private lounge space dedicated to Sleeping Car customers. Traditional food service, as described below, will continue to be offered on all other Amtrak overnight routes.
With the new flexible dining menu, breakfast is served buffet-style with a selection of muffins, fresh fruit, hard-boiled eggs, cereal, oatmeal, yogurt, and breakfast sandwiches. A lighter breakfast like this is appealing.
The Menu
Before purchasing your train tickets, you can review the menus online HERE. Amtrak takes great pride in offering gourmet meals with vegan, beef, chicken, and salmon dishes always on the list.
Vegan Rigatoni boasted bold flavors with reduced calories, fat, and sodium. It delivered, as advertised. I added the Flourless Chocolate Cake for dessert. It was sinfully rich, deep, dark, delicious chocolate. Need I say more?
Cheese Quesadillas, Eggs, and Tomatillo Sauce served for a breakfast meal were savory griddled tortillas filled with Monterey Jack cheese, topped with scrambled eggs and tomatillo sauce.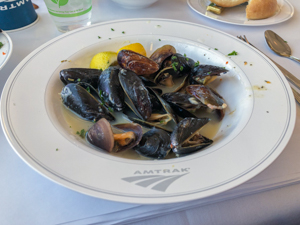 For lunch one day, I ordered the Steamed Mussels. The broth was perfect in which to dip the warm roll. The taste matched any restaurant meal where I've ordered mussels.
For a fresh, tasty salad, the Entrée Salad is very satisfying. The lettuce blend, mixed with dried cranberries, grapes, red onions, almonds, walnuts, and pecans, is colorful and, did I say fresh?
Baked Chilaquiles made with corn tortillas, chicken, chorizo, egg, and cheese, with chunky salsa, tomatillo-cilantro sauce, and Parmesan cheese satisfied my south-of-the-border hankering.
Alcohol is not included with meals. There is a selection of wine, beer, and spirits for sale.
Coffee is ALWAYS good and available in the Dining Car, Cafe, and the Sleeping Car refreshment alcove.
Breakfasts range from $8.50-13.75. Lunches are $12.50-14.50, and dinners range from $16.50-39.00. Children's meals range from $4.25 for breakfast to $7.50 for lunch and dinner.
Tipping is appreciated.
A long-distance train ride and excellent meals on Amtrak make slow travel a worthwhile experience. To learn more about Amtrak and their dining cars, click HERE. ~TPM
About Julie Diebolt Price—Julie is an award-winning photographer, educator, travel writer, guide, and a passionate traveler. She's had extensive travel in the US and has many European, Mexican, and Chinese stamps in her passport. Julie enjoys planning, researching, creating, and sharing experiences. Julie is a member of TravMedia, Professional Photographers of America, and International Travel Writers and Photographers Alliance. See more of Julie's work HERE.