…top tips for a tip-top trip
By Robin O'Neal Smith
ITWPA Member
A multi-generational trip can be a great way to create new family memories. It gives all ages a chance to experience new things, see each other in a new light, and bond.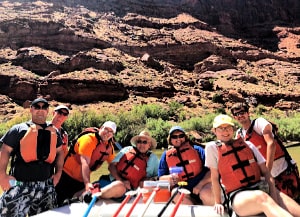 I have found a few tips and tricks that make traveling with multiple generations a success. I'm happy to share them with you.
Plan
When planning a multi-generational trip, be sure to include all generations in the planning process.
Everyone who will have a financial obligation for the trip needs to be included in the planning. The excitement leading up to the excursion is almost as much fun as the vacation.
Discuss before making reservations
Length of trip – I suggest starting small and see how everyone gets along before you plan a ten-day journey.
Location – Where will you travel? You want to pick a place that is good for everyone who will be attending. Heading to the beach with a group that can't be in the sun due to medical conditions won't work.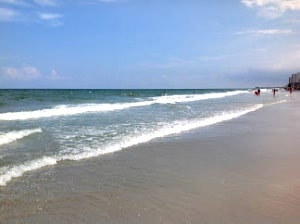 Transportation – How will you get there? Are you flying, driving, or some other form of transportation? Can everyone tolerate a long road trip? Is there someone in the group petrified of flying?
Beds – Agree on sleeping arrangements in advance. Does each person or couple get a bed or bedroom? Are all the kids going to pile on the floor to sleep?
Costs – Who is paying for what? Work out all the details in advance, so there are no surprises.
Meals – Are you eating out every meal, will some food be cooked in a rented house? Will all meals be prepared, and who will do the cooking? How about snacks? Will you bring them from home or shop? Will you buy for the group, or will each person responsible for their own?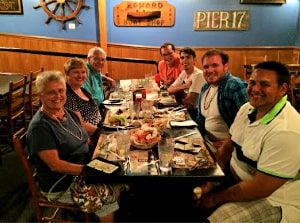 Chores – If renting a place, there will be chores that need to be done. Who will handle the trash, the laundry, cooking, cleaning before you leave (if required), etc.?
Consider limitations
Before deciding on the activities for the trip or even where you are going, you need to consider the physical abilities and limitations of everyone. A weekend of hiking might not be much fun for someone who has knee problems or balance issues. Likewise, a person with diabetes will not be interested in a chocolate tasting tour.
Activities for everyone
Once you have considered the physical limitations, it is time to think about everyone's interests. You want to make sure everyone on the trip gets to do at least one activity they enjoy. One day might involve a family walk on the beach because grandmother loves walking on the beach. Another day might include playing miniature golf. It is more likely everyone will have an enjoyable time with varied activities and considering everyone's interests.
Be prepared for rainy weather with a few alternative activities on the back burner.
Everyone needs space
While being together can be fun, don't expect one big happy group for the entire trip. Everyone needs some space at times. Due to different interests and activity levels, the group may split at times. That is perfectly fine.
Schedule downtime
Don't fill the schedule to the point that everyone is busy every minute of the day. Schedule downtime and make sure everyone knows when it will take place. Even the teenagers will want some downtime to hang out.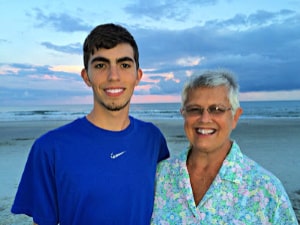 Where to go multi-gen
Anyplace with a variety of activities available is good.
Some of the best places we have found are—
Cruises – There are pre-planned activities for all age groups and foods for all taste buds. Everyone can come together for the scheduled evening meal. Cruises top our list for multi-gen trips.
All-Inclusive destinations – Again, they have a variety of activities and foods, so everyone should be happy.
Rent a house or condo – If the mountains or the beach are on the list, renting a house or condo is a great option. There is plenty of room for everyone. You can buy food to prepare to assure plenty of variety. Some of our best travel memories are on a multi-gen trip at the beach in a rented house.
These tips should help you plan a memorable multi-generational trip. Remember, this could be a once-in-a-lifetime opportunity for some, so relax and enjoy each other's company. Make the best of whatever situations come up, and don't forget to make great memories.
About Robin O'Neal Smith—Robin is a young baby boomer who loves to travel and inspire others to live their dreams of travel. Robin and her husband have traveled throughout North America, many of the Caribbean Islands, and Europe. A freelance writer, she is an expert contributor for TravelAwaits and The Yums. Her writing has also been seen on 1000 Travel Tips, Outwit Trade, Word Traveling, and a variety of other places.