Southern Cuisine, Ocean Breezes, and History — All at The King and Prince Beach & Golf Resort on St. Simons Island
By Diane Leone
It's almost impossible not to feel a bit like royalty while staying at The King and Prince. It's not just the sparkling water in the sprawling pool area or the ocean breeze from the blue Atlantic just outside your room — it's also the history of the resort, having started in 1935 as a private dance club only to become The King and Prince Hotel in 1941. And the royal feel continues as you learn the history of St. Simons and enjoy the Southern hospitality of the local residents and business owners. They are on "island time" and it won't be long before you are, too. Soon you'll never want to leave this paradise.
Attending the four-day "Southern Culinary Cuisine" event at The King and Prince is an amazing treat.
With the recent addition of Executive Chef Jeff Kaplan, The King and Prince has succeeded in creating an exceptional Southern Cuisine experience for its guests. Chef Kaplan embraces the "Food to Table Movement." This was apparent from the first evening, when the menu included inventive drinks from Georgia's 13th Colony Distillery, an amazing spread of artisan cheeses from Sweet Grass Dairy (Thomasville, GA) paired with local honeys and jams, delicious White Georgia Shrimp & Grits, melt-in-your-mouth crème brûlée with fresh Georgia peaches, and buttery Chardonnay made from the Muscadine grape (compliments of Georgia's Still Pond Winery).
You will awake to the sound of the ocean waves hitting the beach. Don't miss a chance to watch the sunrise over the ocean before you make your way to the culinary delight that awaits you for breakfast. One such dish is Chef Kaplan's take on traditional eggs benedict, a delightful meal with perfectly poached eggs resting on fried green tomatoes, bacon, and goat cheese on top of English muffins.
Although you could simply spend the day at the edge of the ocean or at the pool, basking in the sun and sampling the Southern fare, there are activities to explore on St. Simons that will help you burn some calories so you can enjoy more Southern Cuisine delights. One such option is The King and Prince Golf Course, designed by architect Joe Lee; the course is famous for a group of four spectacular signature holes delicately situated in the marsh. Watch for the eagle nest and alligators if the grand 300-year-old oaks with moss hanging lazily off their limbs are not enough to capture your attention while experiencing this beautiful golf course. If you want to see the island and hear stories of its history, take a trolley tour with Cap Fendig, whose family has resided on St. Simons since the 1800s.
To really feel the local vibe of the fresh food you are tasting, take the Let's Go Shrimpin' tour on the Lady Jane shrimp boat, where you'll have the chance to touch the bounty hauled up from the water. Experience the thrill of seeing all of the different fish, sharks, shrimp, and stingrays. During our excursion, a sea turtle was caught in the nets (it's rare for this to happen), great to see but always put back in the water. Everything caught is put back after guests get to touch, hold, and photograph the catch, except for the shrimp, because the trademark white shrimp are boiled up for guests to dine on before departing the Lady Jane.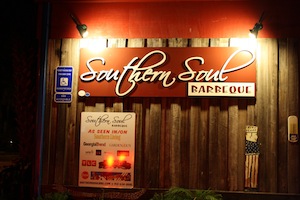 For a truly local feel, consider Southern Soul Barbeque, a casual place with benches outside where you can smell the ribs, chicken, pulled pork and killer 'sides' cooking. The restaurant has nationwide appeal (featured on shows such as Diners, Drive-ins and Dives).
Don't miss a visit to Palmer's Village Café where you'll find delightful locally-sourced dishes with a beautiful backdrop of local artists' paintings. The art makes the café feel light and airy and it's for sale if you find a piece you just have to have. Palmer's offers up creative breakfast dishes such as a mini biscuit with café sausage and pimento cheese — a Southern tradition — or challah French toast and blueberry orange compote with warm, fresh maple syrup.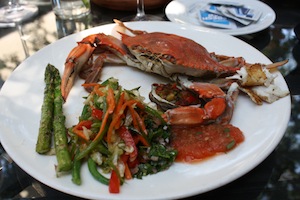 While on the island, you simply cannot afford to miss a meal at the award-winning Halyards restaurant, where Chef Dave Snyder features a "seafood demo" with 10-15 varieties of local fish. Our menu included grilled whole shrimp with salsa, sautéed flounder with caramelized vidalia crab scampi butter, oysters grilled with garlic oil and chimichurri, and much more. It's a must-experience local eatery.
The delightful Sugar Marsh Cottage, located just 13 miles from Brunswick, offered an amazing chocolate tasting, complete with information on how to rate chocolate. This was wonderful — and yet there was more! A honey sampling from Savannah Bee Company was truly an inspiring experience. Who knew there were so many delectable types of honey?
To round out your gourmet sampling of the incredible Southern Culinary Cuisine event, find Food and Beverage Director Mr. Vinny D'Agostino to get his recipe for homemade limoncello. Not only does this Italian after-dinner liqueur aid in digestion, it's smooth and sublime.
At the end of the day, The King and Prince Beach & Golf Resort, along with St. Simons Island, are worth experiencing. You'll find yourself on island time in no time at all.
If you'd like to purchase this article for your publication, click here to contact the author directly.