By Felix Purat
ITWPA Member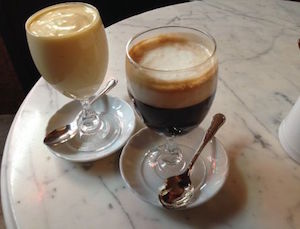 Crowned with its baroque arcades and surrounded by snowcapped Alpine peaks visible from its regal piazzas, Turin has a delectable chocolate culture rivaling that of Belgium and Switzerland, with one notable difference — no massive crowds of tourists. Both milk and dark chocolate are eaten and drunk in Turin with equal vigor by anybody in the know, which is primarily the Turinese themselves.
A stone's throw from the acclaimed Egyptian Museum, my Turinese friend Elisa and I feast our eyes — and, a few minutes later, our taste buds — upon the large selection of giandujotto squares sold at Guido Gobino, a small shop that has produced cioccolate artigianale since 1946. Giandujotto is milk chocolate flavored with hazelnuts, Turin's primary calling card in the world of chocolate. Sounds familiar? It should be to anybody who has tried Nutella, made by the Ferrero Company based in the same region. Less familiar perhaps are the cremini squares sprinkled with pistachio dust, or those layered with different shades of chocolate; I quickly find a friend in the ganache filled with Madagascar vanilla, fit for the Savoy King of Piedmont himself in everything but size.
Stratta, a Locale Storico d'Italia located on the eastern side of Piazza San Carlo — itself a very picturesque piazza with its twin churches — feels very modern with its white interior. Black and white photographs upon the walls show how Stratta, open since 1836, has evolved from its humbler beginnings to today, when the milk in their milk chocolate fills the mind with images of Alpine dairies and their cioccolate fondente, made with Ecuadorean cacao, conjures images of green mountains and feelings of gratitude for the benefits of globalization. Stratta is also a café and has a vast selection of pastries.
History is no less alive at Al Bicerin, sheltered among the cobbled, labyrinthine alleyways of the Quadrilatero since 1763. Alexandre Dumas and Giacomo Puccini were two of many who proclaimed their love for their namesake beverage, the bicerin, a chocolate coffee synonymous with Turin to this day. Slipping into this cozy establishment filled with locals partaking in their siestas, we are just able to find a seat near the entrance, facing the baroque Chiesa Santa Maria della Consolazione. Al Bicerin has the atmosphere of a lively neighborhood café, with Italian the only language to be heard. Eager to dispel the February chill, we order bicerins all around — hot and creamy, with a rich chocolate flavor — one of those moments akin to a Willy Wonka daydream, minus the fear of being turned into a blueberry. For the adventurous sort there is also the potent and extraordinary taste of the zabaioni, a hot drink made from egg and white wine with a strong flavor to accompany the local discourse.
Should the tiny Al Bicerin lack in seating, the Caffé Fiorio, open since 1780, is Turin's larger option, hidden behind the lobby/gelateria and a neon sign beneath Via Po's towering arcades. I make my way past the gelato servers in the lobby and into an elegant, spacious interior with red velvet seating, pink marble tables, quasi-modern chandeliers, and portraits hanging from the walls. Wishing to lounge with the ghosts of Herman Melville, Mark Twain, and the philosopher Friedrich Nietzsche — whose famous collapse into insanity took place just around the corner from Caffé Fiorio — I order their bicerin, just as rich as an espresso but sweeter and more… well, chocolatey.
Turin's chocolate culture thrums with the musicality of Italian before, during, and after the customary siestas. All four of these places can be found within easy walking distance from Turin's primary sights and piazzas.
If you would like to purchase this article for your publication, please click here to contact the author directly.