By Jon Tanner
Photos by Jon Tanner
ITWPA Member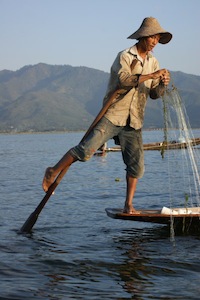 It's hard to tell where land ends and lake begins, what is solid and what is not. Lined by rippling mountains to the east and west, Inle Lake stretches seemingly infinitely into the distance. Our motorized longboat glides through tangles of weed and past giant lumps of solid, floating greenery as gulls swoop past.
We approach a fisher on his narrow wooden boat. He casts his net, balancing on one leg. The other leg holds a paddle that he uses to row with a strange, wide-swinging action from the hip. The advantage of this unusual technique is that it leaves both hands free to manage his central task — catching the next meal.
Inle Lake is full of surprises. Located in the heart of Myanmar (Burma) and a 30-minute flight from the city of Mandalay to the gateway airport of Heho, the lake is 14 miles long and half as wide. Its altitude of 3,000 feet offers welcome relief from the scorching heat of the plains to the west. Here thousands of lake-dwellers live literally on the lake in teak houses supported by stilts. Canals connect neighbors and villages. Children chat and giggle as they paddle themselves home from school. Women in bamboo hats row their boats laden with shopping baskets.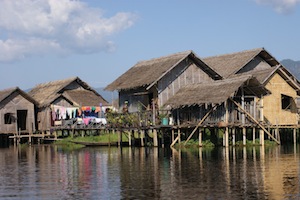 The villagers are industrious. One village teems with weavers creating cloth from silk or fiber from the stem of the lotus plant. Lotus cloth is coarser than silk, but is rarer and therefore more expensive. The coarser cloth is used to make garments worn by monks.
Another lake village is host to a cottage cheroot industry. Young women sit on the floor rolling tobacco in leaves from the local cordia tree to create a long, slim, green cigar. While the men are out fishing, each woman can assemble 1,000 of these combustibles in a day to satisfy popular demand, mostly from older women. A few canals away, a blacksmith and his assistants heat metal over a small fire before beating it into shape to make implements or ornaments in a process that has not changed in two centuries.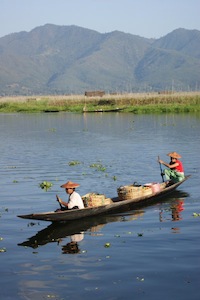 Across a small stretch of water, a man paddles a boat carrying a pile of lake weed to spread as fertilizer on a floating tomato garden. Villagers use long bamboo poles to stake massive floating islands of solid soil to the lake bottom. They then plant tomatoes, onions, eggplant, and other crops in the knowledge of an assured rich harvest in this fecund environment of abundant water and natural fertilizer.
On market day, hundreds of long boats choke the waterways as Inthas from the lake area and the Pa-O people from the surrounding hills and highlands converge to sell their wares. The groups can be distinguished by their headgear — the Intha wear round bamboo hats with a wide rim, while the Pa-O are a blaze of flamboyant color in their bright orange or red headdresses.
Of course no Burmese scene is complete without its temples and monasteries, and Inle Lake is no exception. But as I discover, Nhaphe Chaung Monastery has a particularly odd claim to fame. As I look around the main temple hall, a woman enters, followed by several cats. I gape as she effortlessly overcomes any feline reticence and persuades each cat to jump through a small hoop. Training cats is no small skill and calls for a human quality the monks would possess in spades: patience.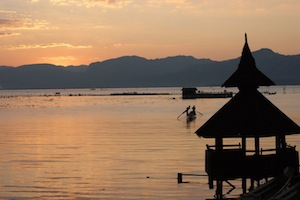 As a fitting finale to the day, the lake unveiled a spectacular and deeply romantic sunset complete with vivid reflections of a glowing mountain range and a moving panorama of silhouetted boats and their unique leg rowers.
If you'd like to purchase this article for your publication, click here to contact the author directly.