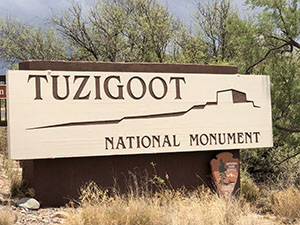 Feeling Sedona'd out? Visitors needing an escape from vortex energy should head south. Less than a half-hour drive from Sedona lies the pocket-size town of Cottonwood, Arizona. Once a sleepy pass-through city, Cottonwood has become a destination and makes for a relaxing one or two-night stopover.
No trip to Cottonwood is complete without allowing time for a visit to two nearby attractions: The Copper Art Museum and the Tuzigoot National Monument.
Dazzling Copper
A 10-minute drive brings visitors to the one-of-a-kind Copper Art Museum in Clarkdale, Arizona. Copper impacts everyone every day, but people rarely know it's there. The museum brings the story of copper to life and proves how ubiquitous the beautiful metal is by presenting a delightful, worldly collection of copper artifacts.
Dazzling displays include an entire copper ceiling shining overhead with ornamental relief designs. Shell casings from World War I beautifully dated, inscribed and containing the most detailed images line row after row in the Military Art room. Kitchenware, drinkware, jewelry, and much more fill individual rooms.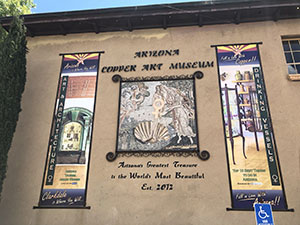 Collecting copper artwork began as a hobby in 1958 for John and Patricia Meinke of Minnesota. In 2000, the family started to envision unveiling the collection to the public at an appropriate location. Arizona, known as the Copper State, and Clarkdale, specially built for the copper industry, seemed a logical choice for a site.
The museum, opened in 2012, occupies what was once Clarkdale High School. Upon entering, the main corridor's exhibits explain how it all began, from indigenous people through to industrialists. Each classroom, still teaching in a way, houses a section of the enormous collection.
On the way back to Old Town Cottonwood, stop at the Tuzigoot National Monument, which offers wide-spanning views of the desert landscape from atop the mounds of an ancient pueblo. The museum explains how and why the people of the Sinagua culture came to build this age-old structure consisting of 110-rooms, some with multiple levels.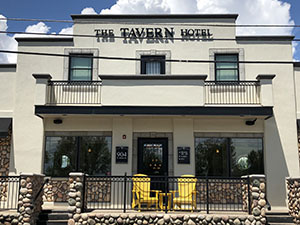 Where to Sleep
Consider lodging at the boutique Tavern Hotel, which occupies a central location in historic Old Town. Hallways are artfully decorated in a clean, modern art nouveau style with swooping curves, and organic materials lead to uncluttered, spacious rooms with soft sage and warm brown tones, wood floors, and contemporary tiled bathrooms.
Retail Therapy
With Main Street steps away, activity options are plentiful. Shopping is downright fun. The Cat's Meow is a jam-packed, wild mix of funky art, vintage clothing, and unusual gifts. Papillon Two, the sister store to the location in Jerome, Arizona, combines antiques with newer oddities and collectibles.
Jim and Ellen's Rock Shop adds another dimension to retail therapy. Jim and Ellen, two self-proclaimed rockhounds, are eager to discuss the nuances of rocks and minerals, as well as lapidary, which is the art of working in stone. Their shop also sells Arizona artisan pottery, jewelry, and colorful, soft decorative rugs.
Libation anyone?
Six wine tasting rooms, all within walking distance, play hide-and-seek amongst the little shops. More are accessible by car. The wineries showcase the excellent vintages the Verde Valley has to offer.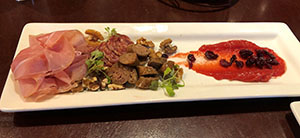 Merkin Vineyards Tasting Room and Osteria occupy a spacious, trendy first floor decorated with warm lighting and a maroon motif at the corner of North Main and East Pinal. Open daily at 11AM and serving food, consider getting a bite here as the tasting tour ramps up. The silky prosciutto and spicy salumi on their charcuterie board is an excellent beginning to a pasta entrée.
Across the street, Pillsbury Wine Company (no relation to the doughboy), is a smaller, lovely spot to sip the nectar. Discover local artwork in the back rooms as you wander freely around.
Continuing down Main Street, Burning Tree Cellars specializes in small-batch wines. Their comfy, cushy leather sofas provide the perfect spot to sink into while swirling.
Still, haven't found that perfect wine? Click Verde Valley Wine Trail for a map of wineries in the area.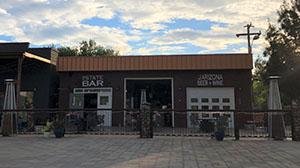 Pizza & Beer?
Not a wine fan? The State Bar offers a large selection of Arizona brews. Wood balances chrome in this open garage providing a modern, casual feel that spills onto the outdoor patio. Local musicians take to the small stage on select evenings.
Pizzeria Bocce offers crispy, thin crusts made from imported Caputo flour and cooked in a wood-burning oven to quell any lingering hunger pains. Owner/Chef Michelle Jurisin is certified in pizza making from Naples'Associazione Verace Pizza Napoletana. The pizzeria's warm, friendly feel inside, accented by mosaic tile and custom ironwork, is complemented by its relaxed, stone patio seating outside with a fire pit and bocce ball court.
With so many things to do right at your fingertips, it's no wonder you'll be thinking of planning your next visit to Cottonwood. For more information, click HERE.
If you would like to purchase this article for your publication, please click here to contact the author directly.