by Kerrie Hubbard
When John Connell-Maribona traveled to the United States with his grandfather (a Cuban Consul General), he had no idea that Castro was about to overthrow the Cuban government. Nor could he have known that this political move would make it impossible for his family to return home.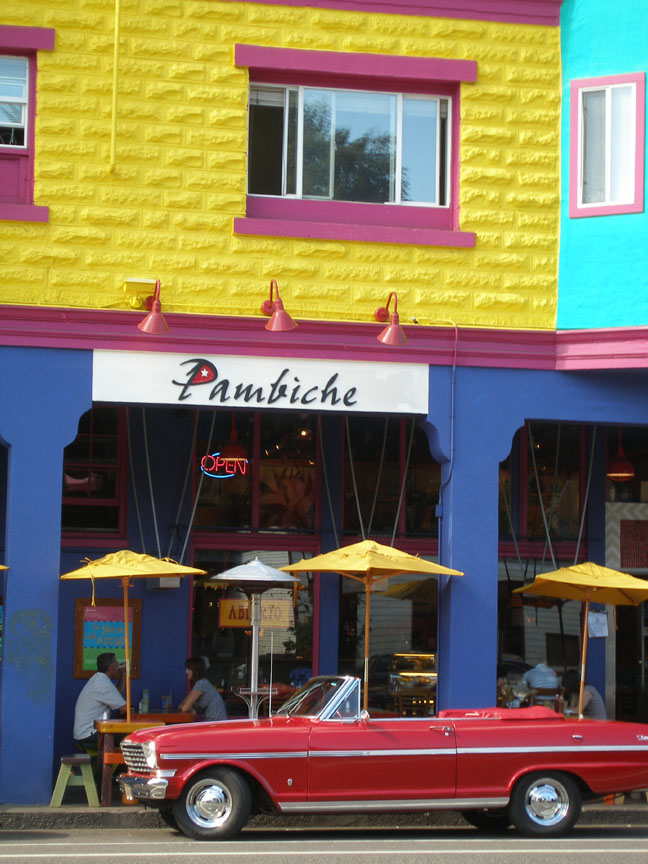 What John did know, however, eventually landed him in local news. He knew he loved Cuban food. And he knew the women of his life — his mother, grandmother, aunt and godmother — influenced him deeply as he watched them create family recipes from scratch.
Evolving from his early passions for food and his love for Cuba, Pambiche Cuban Restaurant became a tribute to John's homeland. Now, there's no need to travel to Cuba for the mouth-watering, full-bodied tastes of home-cooked Cuban meals.
A quick trip to Pambiche Cuban Restaurant on NE Glisan in Portland, Oregon, serves up a hearty helping of authentic Cuban Creole food seven days a week. Blending European flavors with African spices and indigenous Caribbean cooking, John creates a rainbow of palette-tantalizing dishes.
He describes the food as "natural, not fussy," and "well-seasoned, not hot." Many of the traditional dishes have been passed down directly from his family, and some, inspired by the tastes of Cuba and mixed with John's creativity, offer a fresh spin on history.
Brightly colored art and Caribbean décor dance on the walls in this small, but always busy, restaurant. Take your time to browse the multi-paged menu — if you can stand the wave after wave of freshly cooked, spicy aromas filling your senses and weakening your resolve.
Kick off your Pambiche experience with an appetizer. Try a freshly made Empanada stuffed with leeks and Spanish custard crème. There's also codfish and potato croquettes, or Afro-Cuban black-eyed pea fritters. If it all looks good, choose the appetizer plate — and try six different selections at once.
For your main meal, Pambiche's offers smaller selections such as empanadas and sandwiches, as well as a large selection of "Platos" — dinner plates filled with savory, slow-cooked meats and vegetables with sides of rice and Cuban beans and yucca or tostones (the Latin American answer for french fries — made from green plantains).
Try citrus-marinated shredded beef char grilled with garlic and onions, or chicken braised in tangy Creole sauce or red snapper simmered in coconut pepper sauce.
Dessert is far more than an art form at Pambiche's. Made from scratch and filled with tropical seasonings, liqueurs, exotic fruits and pure extracts, the 25-30 dessert offerings will test your self-control. Garnished with imported chocolate shavings, fresh fruit, or handmade chocolate decorations — choosing just one becomes an almost impossible task. It's not a job for the weak of heart (nor the dieter).
Try Papagayo — a macadamia nut truffle torte filled with a tangy passion fruit mousse encased with sweet, crisp, buttery cookies and served with colorful white chocolate macaw on top. Or Torta Domino — a white chocolate mocha cake soaked in Kahlua, filled with chocolate mouse, glazed with decadent dark chocolate and topped with a white chocolate domino.
Voted the restaurant of the year by Willamette Week, two-time winner of Chef's Choice Award for best Latin American/Cuban food by Portland Monthly Magazine, and Critic's Choice Award from The Oregonian, the kudos nearly match the dessert list in length. Always packed, Pambiche's is a local favorite. Be prepared to wait for a table. The wait, however, will be more than worth it.
To buy this article for use in your publication, click here.