By Audra Brianne
ITWPA Member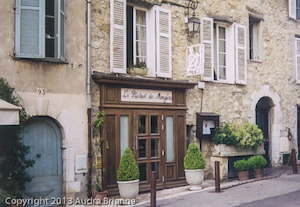 Tucked in the hills above Cannes, a 15-minute drive from the sea, stands the hilltop town of Mougins. In this mecca of gastronomic delights, a local gem stands out: Le Bistrot de Mougins at 93 Place Commandant Lamy.
Just a few steps from the Espace Cultural Musee Gottlaby, this family-run restaurant has been entrenched in the old village landscape since 1973. The huge front door is still reminiscent of its origin as a horse stable in the 15th century. The entrance takes you a few steps below street level into the main dining room. The arched ceilings and old stone walls resemble a wine cellar, but with the coziness of a favorite neighborhood restaurant.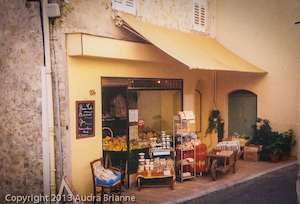 Serving traditional French and Provencal cuisine, the "menu tradition" starts at around $48 while "meal gourmand" comes closer to $67. In-season additions are added to old favorites. Expect to spot the owner rounding the tables greeting his guests like long-lost friends. It's not hard to see why, as you'll return to Le Bistrot as well. The Risotto al Mar is not to be missed. In warmer weather, try al fresco dining on the square offering a view of the village, or remain indoors enjoying the natural coolness from the stone interior.
Great food, reasonable prices found in the south of France, set in a centuries-old atmosphere just minutes from the French Riviera and Mediterranean below… don't miss it.
Check directly for seasonal times and closings: tel # 33 (0) 49375 7834, lebistrotdemougins.com/
If you would like to purchase this article for your publication, please click here to contact the author directly.