by Nancy Carey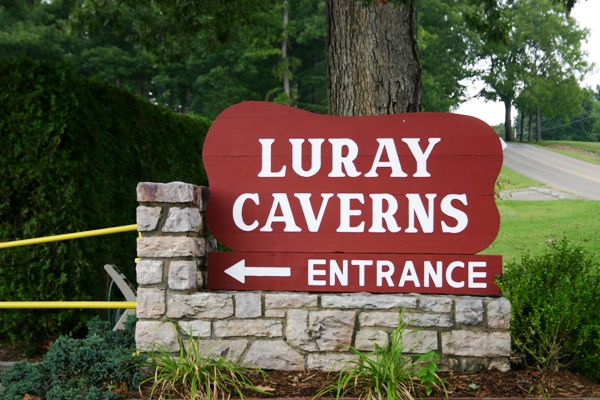 The walkway spiraled deeper into the enormous cavern. We strolled from one softly lit chamber to another, awestruck by the magnificence: Titania's Veil, a shimmering white formation of pure calcite; Pluto's Chasm, an underground rift that spans the length of nearly two footballs fields and rises to a height of almost ten stories; Saracen's Tent, the most perfectly formed drapery structures in the world; and Double Column, towering stone columns, shimmering draperies, and crystal-clear pools.
We were deep in Virginia's Luray Caverns. One hundred twenty five years after Andrew Campbell first slid down a rope to access this underground world of stalactites and stalagmites, my husband, Curtis, and I walked along well-lit, paved walkways (wheelchair users welcome) on a guided, one-hour tour.
Our guide, Amanda Thompson, provided the perfect blend of knowledge and charm. With six years' experience, her presentation was full of anecdotes and folklore.
The cave is comfortable — a constant 54 degrees — and so with jackets in hand, we descended to find a spectacular view of massive Stalactites (formed from the ceiling down) and Stalagmites (formed from the ground up) along with magnificent columns and pillars (formed when the two meet). Surprising shades of gold and green flow from the cracks and crevices of these formations.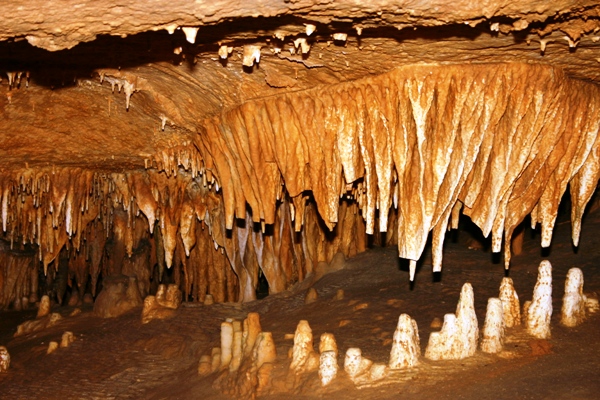 A highlight emerged in the last chamber — views of (and sounds from) — the world's largest musical instrument, the Stalacpipe Organ. Invented in 1954 by Mr. Leland W. Spinkle of Springfield, VA, a mathematician and electronic scientist at the Pentagon, its electronic mallets, wired throughout the caverns, create tunes of concert pitch. According to Amanda, at least 400 weddings have been performed here since 1878.
A U.S. Natural Landmark — a "Fairyland in Stone," as National Geographic described it — Luray Caverns continues to form and change (albeit slowly). New deposits accumulate at a rate of one cubic inch over 120 years.
It's worth a visit. For us, the hour's tour wasn't nearly long enough.

OPEN EVERY DAY OF THE YEAR
Guided one hour tours depart every 20 minutes.

Major credit cards accepted.
970 U.S. Hwy 211 W. Luray, VA 22835
540-743-6551
www.LurayCaverns.com for local accommodations
To buy this article for use in your publication, click here