By Jeanina Bartling
It worked in 1959 when Robert was six years old, and it still works today—a road-side sign that reads, "Robert Is Here."
Today's sign is larger and more dignified than the first spray-painted red letters that drew crowds to a plywood table set up on a corner in Homestead, Florida.
"My dad was a farmer who was just barely getting by," Robert explains. "So he set me out here with a piece of plywood held up by a couple of field crates and a few boxes of cucumbers. The first day, I sat here all day long and nobody stopped."
Figuring they just didn't see him, Robert's dad took two big hurricane shutters and spray-painted in red letters, "Robert Is Here."
The next day, Robert sold out of cucumbers by noon … and that day was the beginning of his life's work. In the mornings, his mom would send him off to school with fresh produce and a coffee can to hold the money. Then, after studies, the school bus would drop the little entrepreneur off at his stand to work until dark. When he was in 3rd grade, he hired his first employee—a woman to sell for him during school hours. Before he was out of high school, he purchased and planted ten acres of avocado trees.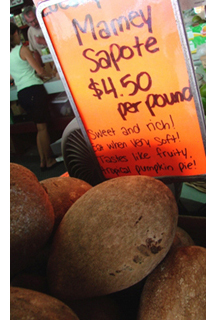 Today, what was once a crude plywood stand has morphed into a deluxe tropical fruits and veggies market that draws thousands of visitors yearly from far-flung parts of the world. Six-year-old Robert is now an established farmer in his fifties, taking special pride in his unique offerings. He still works the stand—you might find him re-stocking the cabbage section, ready to share in his friendly down-home manner. What's more, Robert's wife Tracie and their four adult, college-educated children are there with him every day on the very corner where it all started.
"We want you to walk in and see something you've never seen before," Robert says. And you undoubtedly will. Over two dozen kinds of tropical fruits with names both exotic and unpronounceable are attractively displayed. His fields and local farms nearby yield mounds of onions, tomatoes, corn, carrots, basil, peppers, cabbages, and practically anything you can think of.
In one corner of the fruit stand, you'll see a long, winding line of patient customers all trying to decide which combinations of exotic fruit they want whipped up into a shake. No syrups here—just pure, sweet, tasty fruit.
The walls of another section are lined with hundreds of different jams, jellies, preserves, honey and honeycomb, fruit butters, chutneys and other gourmet foods.

Robert has a huge sense of community, of people working together and caring for one another … and it's paid off. Some years back, development in Robert's neighborhood threatened to zone his business out, but the community stood up for him. Over 2,000 people attended the first hearing, all wearing red shirts proclaiming "Robert Is Here."
And so it is … Robert is still here.
You can find him, and all of his fresh produce, about 25 miles northeast of Key Largo and about 35 miles southwest of Miami.
19200 SW 344th St., Homestead, Florida 33034
Call (305) 246-1592 and they'll ship you whatever you want.
Open daily 8am to 7pm (Closed September and October)
www.robertishere.com
If you wish to purchase this article for your publication, click here to contact the author directly.