Dear Reader,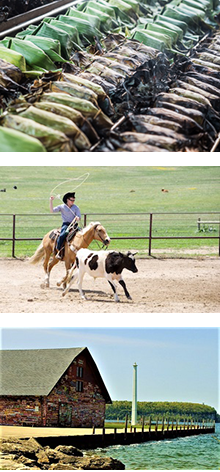 This month's Travel Post starts out with a three-and-a-half-hour food tour of Bangkok. As a solo traveler, our writer appreciates the flexibility of wandering on her own through a new city, but also enjoys "some time with other visitors, especially with food as the focus."
Our next writer has one answer to the question of how to come up with a family vacation that will engage the teenagers "to the extent that they freely abandon their phones and related distractions to simply hang out as a family."
An unusual art show held every year in Laguna Beach, California, features paintings that aren't really paintings at all, but "living art."
Sailors long ago started the tradition of carving their names and the names of their boats into the sides of the warehouse at the iconic Anderson's Dock in Ephraim, Wisconsin. Today it's the tourists who carry on the tradition.
We end this issue a mile or so beyond the French Quarter of New Orleans on Frenchmen Street — "a narrow avenue with over a dozen venues guaranteed to satisfy aficionados of smooth and sultry jazz."
Read these stories — and see the great photos that go with them — below.
Safe travels,
Janette Jones
Editor, Travel Post Monthly
 This Month …