Dear Reader,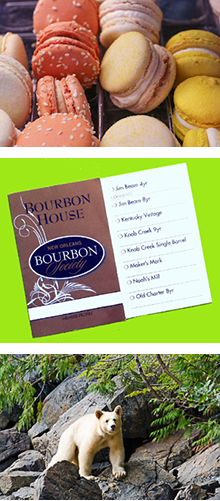 This month's Travel Post starts out in a "bastion of baked goods and pastries" tucked away in a shopping mall in Carmel, California. Patrons of the Lafayette Bakery & Café are welcomed at the door with a hearty "bonjour" and a convincing Parisian ambiance.
"No matter how experienced a traveler or trekker you are, at some point you're going to feel sick, get a scrape, or be rushing to the toilet." As a registered nurse, our next writer combines her medical knowledge with travel tips to help others stay healthy on the road.
New Orleans's Bourbon House offers samples via tasting flights, craft bourbon cocktails, snifters, and cooking. With over 250 bourbons to choose from, more than one visit might be called for.
Our next writer — while having a bit of a laugh at her husband's expense — offers a valuable lesson on how not to get pickpocketed when traveling abroad.
We end this issue with an excursion into the pristine territory of the Great Bear Rain Forest of British Columbia. Our writer recommends staying at an ecolodge founded by the Kitasoo/Xai'xais First Nations People to sustain their community and culture.
Read these stories — and see the great photos that go with them — below.
Safe travels,
Janette Jones
Editor, Travel Post Monthly
 This Month …