Admiring the unbroken view of the sun setting into the Chao Phraya River, I enjoyed Bangkok's scenic area and gathered my thoughts.
Set against a backdrop of glittering temples and palaces, historical landmarks, and dazzling 5-star hotels, the metropolis's riverside has always appealed to me. This old heartland of Krungthep Mahanakhon, as Thais call Bangkok, is where the big city's roots lie.
Kingdoms have fallen and risen, but time stands still on the western banks where calmly paddling farmers, and fishers offer a glimpse into the 19th century, a time when water transport played an important part in daily life. Legend has it that King Rama IV's efforts to build canals and modernize Siam protected Thailand from the invading English and French troops.
These days, with heavily laden rice barges chugging upstream, water-taxis carrying commuters, and tourists flocking to Asiatique, sky bars, and the well-known temples, Bangkok's riverside reflects an ever-shifting scene day and night.
A trip on the mesmerizing Chao Phraya has become a top tourist attraction. First-time visitors to Thailand may get the James Bond-thrill of their life on a longtail boat down the river. However, I was keen to follow a local's footsteps and explore the riverbank through a resident's eyes. Here's what I did and discovered.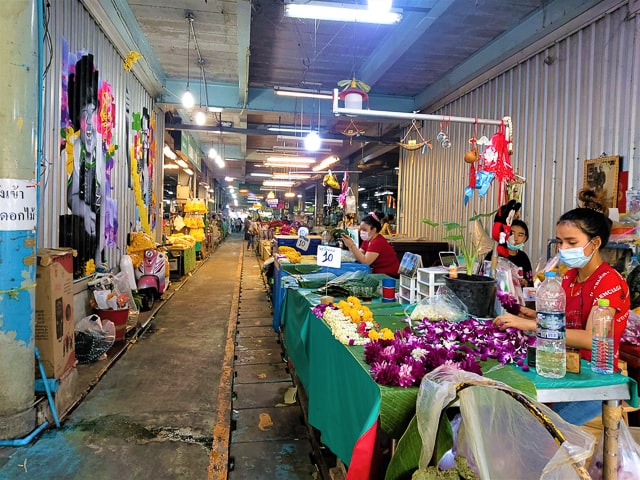 Yodpiman Flower Market
I let flowers caress my senses at Pak Khlong Talad, Bangkok's Yodpiman Flower Market
Around the clock, thousands of vendors sell everything from flowers, fruits, and vegetables, to Thai desserts, spices, and tobacco chews. The colorful Pak Khlong Talad is Thailand's largest flower and produce market. It opened on January 1st, 1961, together with King Rama I San Shrine next door, to commemorate the first king in the Chakri Dynasty, Thailand's ruling royal house.
"We regard flowers as a way to keep King Rama I in our hearts," said a Bangkokian who likes to come here at 3 AM. The unearthly hour is when trucks and boats arrive with fresh flowers from the nearby provinces.
Strolling through a non-air-conditioned maze of stalls offering orchids, marigold, and other flowers, I caught the fragrant scents of jasmine, basil, and fresh red roses. They were a treat to my senses. If I hadn't been pressed for time, I'd likely have bought a pricey bouquet for thousands of baht or at least a rose for a mere 50 baht ($1.65).
Getting to Yodpiman Flower Market
The flower market is situated on Chakkraphet Road, a stone's throw from the Memorial Bridge. For a flat fee of 15 baht, you can hop on the orange flag line boat at Sathorn Pier (BTS Station Saphan Taksin) and get off anywhere it stops. It runs daily from 5.50 AM to 7 PM every 15 to 40 minutes (operating times depend on whether it's a weekday, Saturday, or Sunday). The nearest pier from Pak Khlong Talad is Yodpiman.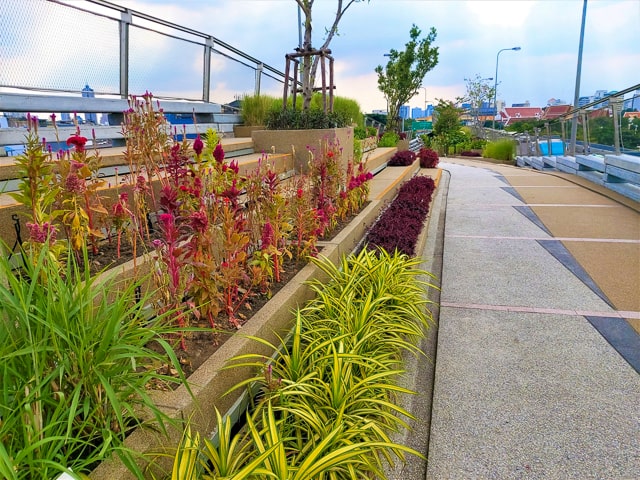 Chao Phraya Sky Park on Phra Pokklao Bridge
Built on the unfinished Lavalin Skytrain's basic framework, the elevated Chao Phraya Sky Park links Krungthep to Thonburi and impresses visitors with superb views of downtown Bangkok's skyline and a garden-themed footpath.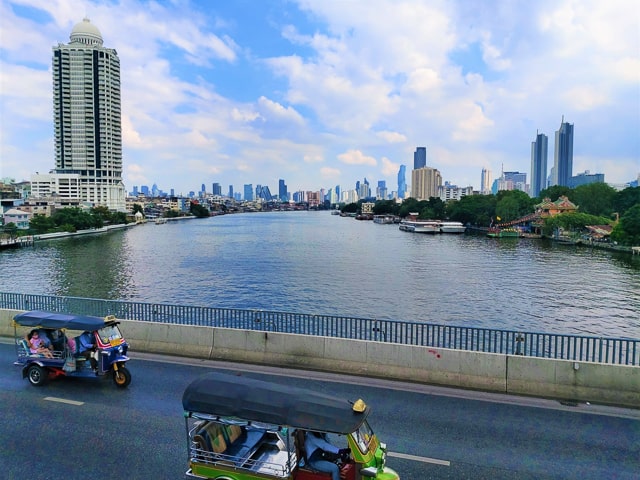 While walking across this 280-meter-long bridge, cars, motorcycles, and tuk-tuks zipped past and honked on the lower part of Phra Pokklao Bridge, reminding me that this was Bangkok after all. But the exotic birds' twittering and the abundance of Chinese spinach, purple orchid trees, screw pine, Christmas bush, and fountain grass made for a perfect city oasis.
Getting to Chao Phraya Sky Park on Chao Phraya River
The sky park is only a few meters away from the Memorial Bridge pier, where the Orange Flag Line boat stops. You can't miss the eye-catching, yellowish structure, built in traditional Sino-Portuguese style.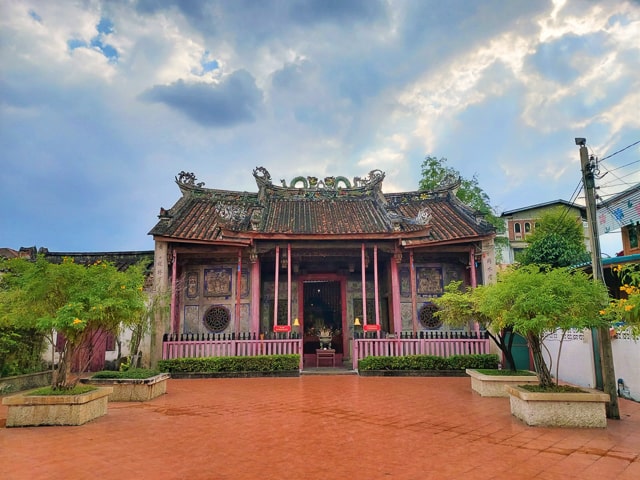 Kian An Keng Shrine
Sandwiched between Santa Cruz Church and Wat Kanlayamit lies the 240-year-old Kian An Keng Shrine, close to Bangluang Mosque, a corner where Buddhists, Chinese, Muslims, and Christians have lived in harmony with each other for more than 250-years.
The Hokkien-style shrine features ancient, powder-colored murals and fine woodcarving that tell the story of three kingdoms. Sadly, humidity and bats living in the dark corners of Kian An Keng damaged the craftsmanship. Therefore, the Department of Fine Arts designated it a historical site and spent millions of baht to restore the powder-paintings and carvings.
Studying the shrine's interior, I loved the sight of expensive cotton-knit kom fai lanterns and neatly aligned Guan Yin sculptures with pearl necklaces. But nothing beats the beauty of the Guan Yin goddess of mercy statue, carved out of gilded Chinese wood.
Staggered, eager to shoot a photograph, I held my smartphone camera steady. Incense smoke was wafting through the air at that moment, flames were flickering as if warning me, a bell rang, and suddenly, a woman who caught me red-handed barked, "No photo!"
I wasn't aware that the Hokkien-Chinese ancestors of the Simasathean family don't allow capturing the beauty of this enchanting shrine's interior.
Finding Kian An Keng Shrine
A ferry runs between Yodpiman's flower market and Wat Kalayanamit. You can also use the bus lines 40, 57, 149, PO 177 and get off at Wat Kalayanamit. The shrine is open daily from 7:30 AM to 5 PM.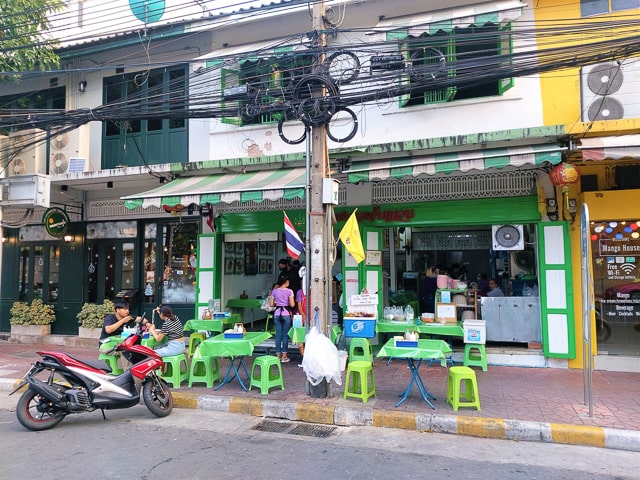 Vietnamese noodle soup at Khun Daeng
Thai woman, Khun Daeng, started small at an open-close-move-meeting market. Since her dainty Vietnamese noodles became so popular, she opened a restaurant 12-years ago within Phra Arthit Pier's spitting distance.
The sticky Vietnamese-style noodles are produced in Ubon Ratchathani, a city in Thailand's Isan region, and delivered fresh every day. It's no surprise that Khun Daeng is popular with Thais. The pork-ball, quail-egg, shitake, onion-broth is rich, meaty, and one-of-a-kind in Bangkok. It tastes out of this world, and is low-priced.
Getting to Khun Daeng
Use the Orange Flag Line boat and get off at Phra Arthit Pier. Turn right, and after some two hundred meters, you'll see the green tables of the two-storied restaurant on your left. It's open daily from 10:30 AM to 9:30 PM.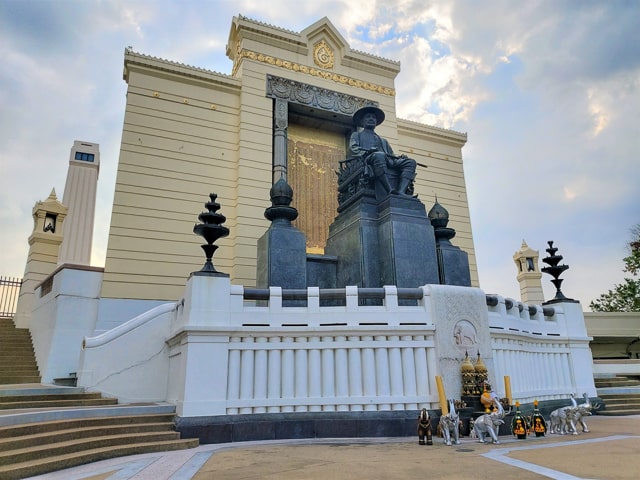 King Rama I Monument
In 1932, King Rama VII ordered his people to construct a monument to celebrate Bangkok's 150th anniversary and commemorate King Rama I. He founded modern Bangkok and built jaw-droppingly beautiful temples.
Situated in the heart of a traffic island, King Rama I Monument is surrounded by busy streets that lead to and from the bridge right behind it. Built in 1932 to mark Bangkok's 150th anniversary, this bridge was the first to span the Chao Phraya River from Bangkok to Thonburi.
Despite the statue's noisy location, I found it peaceful here. Fountain water sounds had a soothing effect when I walked towards the monument and away from a glittering, jewel-encrusted temple. Looking up at King Rama I seated on the throne on a high pedestal, symbolically facing Bangkok with his back to the bridge, I was transported back in time to 1932.
Finding King Rama I Monument on Chao Phraya River
Use the Orange Flag Line boat and get off at Memorial Bridge.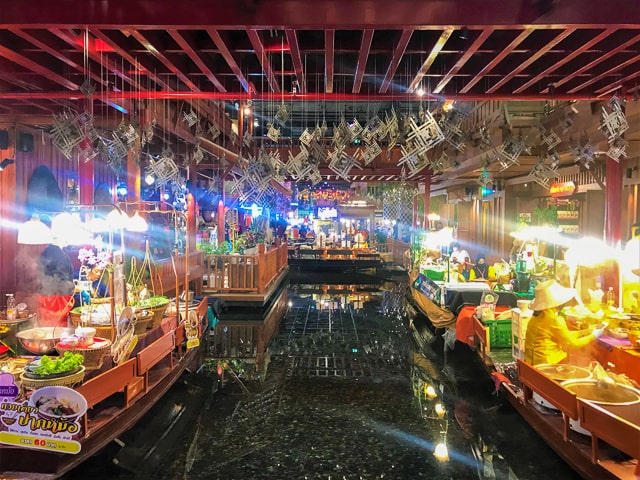 Thai desserts at ICONSIAM
Opened two years ago, Bangkok's Bai Sri banana leaf-shaped shopping mall with 11-floors is aptly named, but it's not only for the affluent. At the indoor floating market, unique in Krungthep, local delicacies are available for as little as 40 baht ($1.33).
Munching yummy Khanom Pia, baked rice flour cookies with a sweet filling, I watched the world go by on the lesser-known side of the riverbank with a childlike sparkle in my eyes.
Getting to ICONSIAM
Use ICONSIAM's boat that stops at "Oriental" pier and runs from 5 AM to 9 PM. ICONSIAM is open daily from 10 AM to 10 PM.
---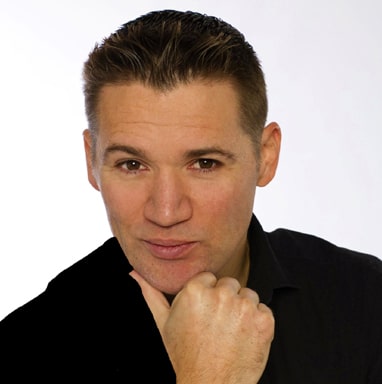 About Philipp Meier—Phillip is a Phuket-based travel writer, content creator, and English/German translator. He has a passion for traveling off the well-trodden tourist trail in the Land of Smiles. He adores the beauty of nature and warm Thai culture. His work has been published at BootsnAll, GoNOMAD, Motorcycle Sport & Leisure Magazine, BookaWay, YourLifeIsATrip, and others.