The Acheron River in northwest Greece is called the River of Souls and the River of Sorrows.
Watching people walk in the water, I had no clue. It looked so refreshing. My sandaled feet stepped from the low bank down into clear, flowing water. Immediately pain ran up from my feet to my hips. Oh, my goodness, the water was freezing cold. I found a rock to stand on for a moment, trying to acclimate, then again stepped in, my legs going numb. This was the start of my walk to one of the seven Gates of Hell.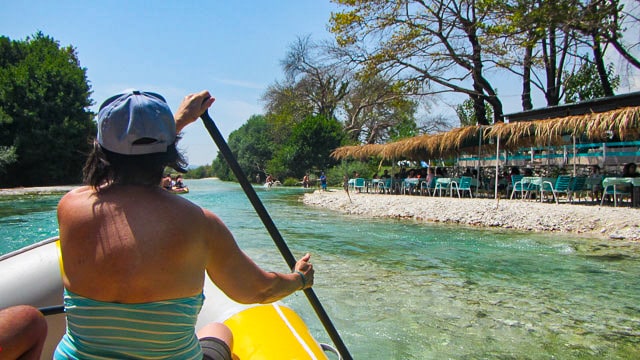 Acheron River myths and origin
The Acheron River, in northwest Greece, is variously called the River of Souls or the River of Sorrows in Greek myths. It was thought to lead to Hades. Starting near the village of Zoltiko, in the southwestern part of the Ioannina region, the river winds down through canyons.
Finally, at Acheron, the last canyon gives way to eucalyptus wooded areas and shallow banks. At Glyki, the river cuts through the farming country, watering the olives, corn, wheat, barley, peaches, tomatoes, and cotton. The river forms the delta at Ammoudia on the Ionian Sea.
Walking the Canyon
Canyon walls tower over us. Small streams ooze down the walls adding cold, clear water. Occasionally a plant or two has found a bit of soil to grow on the canyon wall just above the water. It is beautiful.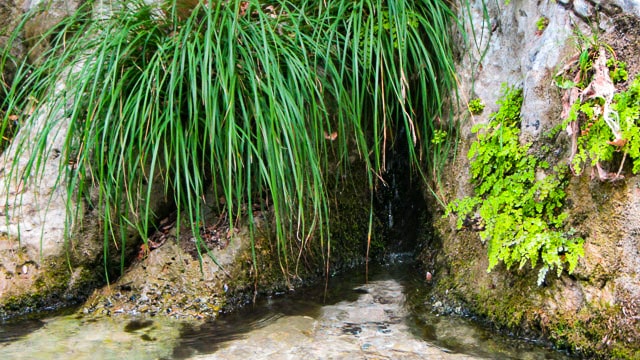 There are maybe a hundred people in small groups tramping upstream against the current in the Acheron. Before me, I see teenagers, families, lovers, and selfie-takers, all in bathing suits, laughing and plunging into the river. Teenagers crawl up a big rock, shouting to their friends, "éla, éla" (hey, hey) as they jump into a deeper pool.
Once you get used to the cold, there is a calm feeling. You become part of a pilgrimage with so many others. You can stop anytime you like and go back. This is a hot August day, hotter than hell for me, so the cold water is refreshing. My group walked up the river for an hour and a half and did not see one ominous gate. All around us, I hear little English, so this is not on the usual tourist list.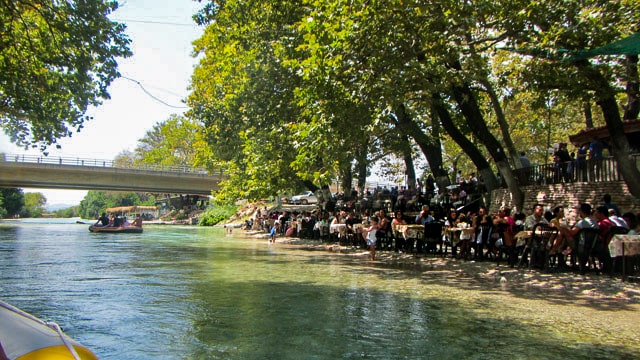 So Many Things to Do
On solid land again, we cannot resist the water and arranged to go rafting. We booked with Paradise Rafting Club. There is also the Acheron Magic River Club. There are four of us in the raft plus the guide, who only speaks Greek. My sister translated for us.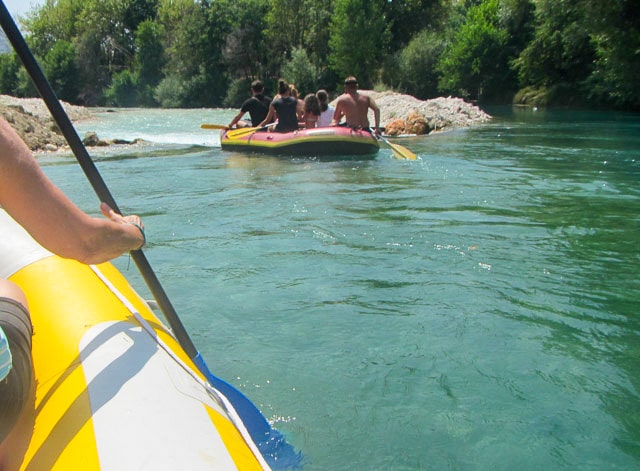 We start in calm flowing water, seeing others enjoying kayaking, some people on horses being guided in the river. There are RV and camping spots. Can you imagine what it is like to camp in Greece? Away from major lights, there are a gazillion stars. As we go under a bridge, a group of kids wave and then jump down beside us.
Acheron River white water
Further down, we hit some white water for all of 20-seconds. Fun enough, though. The whine of a zip line startles us. We look up and see someone zipping over the river. This is an amazingly busy river. On the banks, people are picnicking. There are several tavernas.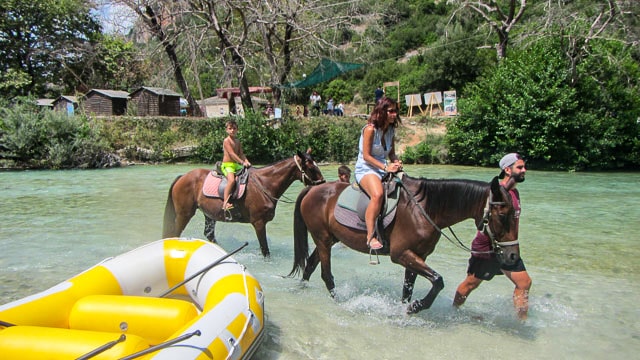 Some people had found little deepish water pockets and were dunking their heads under and swimming against the current. They seemed very intent and purposeful about it. After slogging through freezing water up to my thighs for an hour and a half, I found that I was not stiff and sore the next day. That is what the people were doing. They knew that prolonged exposure to the cold water diminished their bodies' inflammation, like athletes who love their ice baths.
At the end of rafting, a rickety minibus rattled us back to the beginning spot. We wandered on the riverbanks and browsed the kiosks selling mountain tea, honey, trinkets, bracelets, and Greek souvenirs. Of course, we had to visit a taverna for a late lunch; a delicious meal with drinks, tiny lamb chops, and, of course, Greek salad.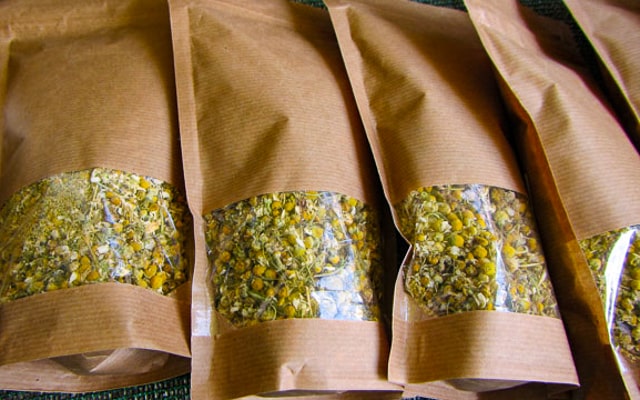 When you go
By car, from Preveza, it is about an hour. You can take a coast route past Monolithi Beach, 22-km, or 14-miles long. There is an inland route that goes by a poignant monument at the top of a mountain. The memorial is dedicated to the Women of Zalongo.
Igoumenitsa is where ferries come from Corfu and Adriatic countries…
From Parga, it is about 35-minutes. From Ammoudia it is about 30 minutes. If you're coming from Igoumenitsa, where ferries come in from Corfu, and Adriatic countries, it is approximately 50-minutes.
Sleep
For accommodation in any of these places, you might find VRBO's, Air BnBs, other vacation rentals, and small hotels for very reasonable prices, with some larger hotels charging more.
In Glyki, there are 1- and 2-star hotels. I would not be afraid to try those out because we have found some gems in other parts of Greece. The Greeks are very friendly. You will find wonderful beaches in Parga and Preveza and places in between. In the mountains, there is much to be explored and great hiking areas.
Solo or tour
In any of these towns, you can use a travel agent to arrange the transport and activities. I did see one ad for a day at Acheron for $300. To me, it is better to rent a car. It is quite cheap and is a really good way to explore this area of Greece. Don't forget a GPS to help you navigate through the small villages. Bring your water shoes for walking on the little rocks in the river and beaches.
You will find wonderful beaches in Parga and Preveza
Driving in Greece is easy. It is right-hand drive, and the roads are mostly good, though it can be a little scary in the mountains. Road signs are in Greek and English letters. There is much more to Greece than the southern islands and so much more to explore.
---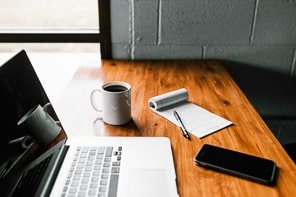 About Diane Hollands—Diane is from Birch Bay, Washington. She retired a few years ago and has been traveling as much as possible to places she's always dreamed of. When Hollands travels, she likes to live like a local and stay a few days to get the area's flavor. She has been published a few times. In her own hometown, she volunteers for the Cherry Point Aquatic Reserve. She has made videos for them about beach creatures. Every day is a learning experience, with photography, learning a new culture, and meeting new people. She loves to hear other folks' stories. Diane says, "Being retired is the best!" See more of her travels and stories on her website Diane Hollands.
---