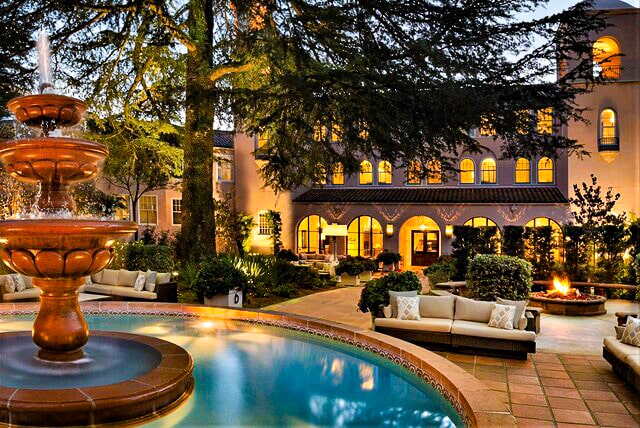 Sonoma, California's premier wine-growing region, is home to the Grand Dame of Sonoma Wine Country, the Fairmont Sonoma Mission Inn.
The Fairmont Hotel brand is renowned for its classy, elegant, relaxed ambiance and outstanding customer service. After staying in several of their amazing resorts, we can surely add history as another defining attribute.
Nowhere is this more apparent than with the Fairmont Sonoma Mission Inn & Spa. The iconic resort, built in 1927, is a member of Historic Hotels of America. Today, the impressive hotel and spa remain an architecturally-accurate replica of a California mission with hot mineral water springs.
On first glimpse of this "Grand Dame of Sonoma Wine Country," I told my wife that we were in for one special treat. Its iconic bell tower and arched windows harkened us back to yesteryear when classic beauty and luxury were featured hallmarks of country estates. With its high ceilings, lighted fireplace, and classic Mission beauty, the magnificent lobby created an atmosphere where history, culture, and unsurpassed hospitality seamlessly blended.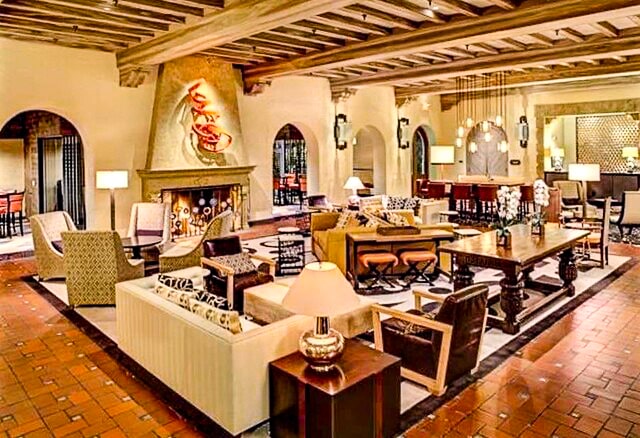 History of the Inn
History is one of our passions. As such, we were delighted to discover that the Fairmont and its environs have quite a storied past. While the resort, as we know it, dates to the early 1900s, the site had long been occupied by Native American Indians who gathered around the local hot springs for their medicinal and spiritual properties. In the 1840s, a physician and minister, Dr. T.M. Leavenworth, built a large country estate here, later becoming the popular wine country retreat, Boyes Hot Springs Resort.
A devastating fire in 1923 destroyed the property, but investors raised funds for its grand replacement. Architect Joseph L. Stewart designed the new resort, calling it the Sonoma Mission Inn. This stunning creation emulated the architecture of the area's historic structures. Bell towers, beamed ceilings, and red-tiled floors were reminiscent of the Spanish missions that once defined California's colonial past. Modern amenities were added, including indoor plumbing, electrical lighting, telephone service, and bathrooms for all 100 guestrooms.
The Sonoma Mission Inn became a favorite haunt of dignitaries, athletes, and movie stars visiting Sonoma Wine Country and the Bay area. After a multimillion-dollar renovation in 1980, a European-style spa was added, and the Sonoma Mission Inn joined the Fairmont family of hotels and resorts operating as the "Fairmont Sonoma Mission Inn & Spa."
Magnificent accommodations in Sonoma Wine Country
Today the Sonoma Fairmont offers 226 rooms and suites ranging from their standard but still luxurious 260 sq. ft. Fairmont Rooms to the 580 sq. ft. Fairmont Suites. Common amenities included luxurious Le Labo toiletries, plush bathrobes and slippers, a Keurig coffee maker, and a mini-refrigerator.
Accommodations include charming European-style rooms with Provence-inspired décor capturing Wine Country lodging flavor with beautiful tiled and marble baths. Others combine urban luxury and California-relaxed ambiance with modern sophistication in a mix of styles.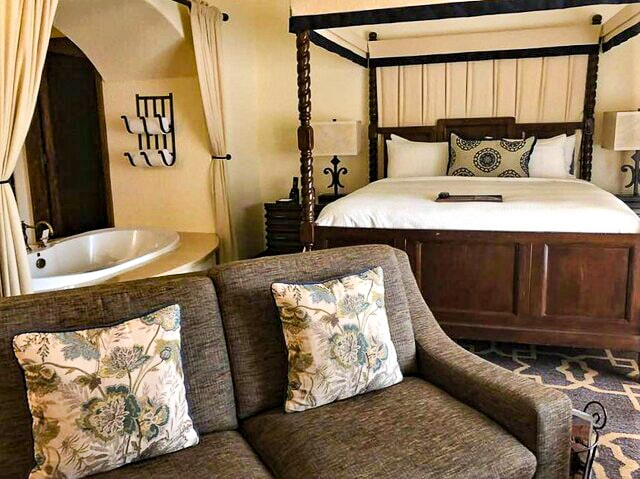 Our impressive Vineyard suite with a private balcony overlooking a garden courtyard was magnificent. A spacious indoor sitting area included a wood-burning fireplace, perfect for sharing a slightly chilled Pinot Noir. We loved our two-person jacuzzi tub, ideal for relaxing before climbing into our king-sized four-poster bed with an amazingly soft down comforter.
Resort Amenities
We appreciated other gracious Fairmont touches such as laptop-compatible safes, nightly turndown service, and complimentary morning coffee and tea in the lobby. We also took advantage of the inn's complimentary bicycles, and of course, swimming in the resort's heated pool.
A resort experience fee of $39 per room per night covers parking, unlimited internet, lawn games, a bocce ball court, and a host of other amenities. Shuttle service to Sonoma Plaza and the Sonoma Golf Club is also complimentary.
Guests receive a complimentary bottle of wine, access to board games and a lobby library, docent-led daily hikes, and a weekend art gallery with visiting curators. We loved the complimentary wine tasting held each afternoon in the lobby giving us a chance to sample varietals from Sonoma and Napa vineyards.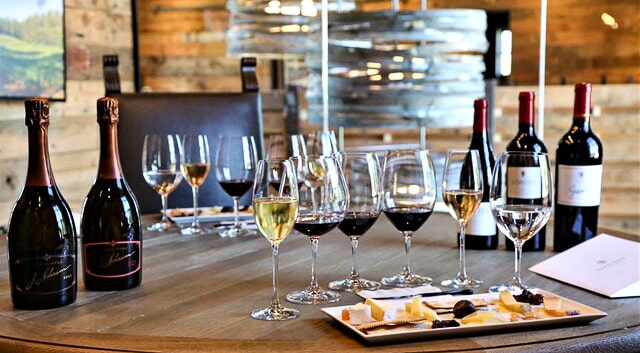 Dining at the Inn
The historic inn offers a range of dining options. Their signature dining establishment, Santé Restaurant, serves Sonoma-inspired California fusion dishes. Dining "a la Air Stream," the Fairmont's Cali Forno takes gourmet food truck dining to a whole new level. 38° North Lounge just off the lobby offers an excellent range of menu items with, of no surprise, an extensive wine bar.
Willow Stream Spa
Rated among Travel & Leisure's top 25 spas, Willow Creek Spa, with its natural mineral waters, is one of the Fairmont Sonoma Mission Inn's biggest draws. Located atop an ancient thermal mineral spring flowing from 1,100 feet below the surface, the 40,000 sq. ft. Spanish Mission-themed spa offers a wide range of treatments and services.
We thoroughly enjoyed a relaxing dip in the hot mineral waters and a fabulous couple's massage. The spa also includes a beautiful outdoor pool for its spa guests. Day passes are available for non-hotel guests.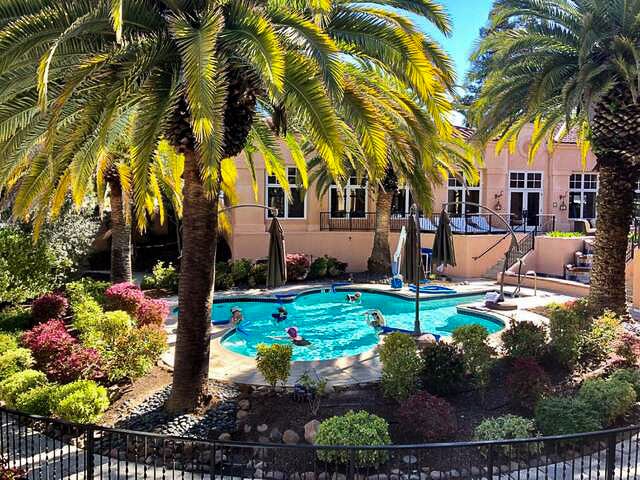 Sonoma Golf Club
Golf being a retirement goal of mine, I was thrilled to discover that the Fairmont's incredible Sonoma Golf Club, now a private club, is available for guests staying at the inn. Designed in 1928 for the inn by prestigious golf course architect Sam Whiting, this vintage course plays just over 7,100 yards from its championship tees. In fact, this classic course was the former home of the Charles Schwab Cup Championship on the PGA Champions Tour.
Sonoma Wine Country
One of the joys of staying in the Fairmont Sonoma Mission Inn and Spa is being in the heart of one of the world's most premier wine growing regions. Historic Sonoma village is less than three miles away, and countless wineries and picturesque vineyards dot the entire valley's landscape.
Our stay at the Fairmont Sonoma Mission Inn and Spa was an absolute delight. Being in one of the most beautiful and fascinating California wine regions with the inn as our home base was unforgettable. With its rich history, classic elegance, and warm hospitality, this iconic resort left an indelible mark on us. It's one place we'll remember and long to return.
---
About Michael Kompanik ~ Michael is a retired U.S. Navy Captain from San Diego, California, who has traveled extensively worldwide. Always wanting to know what's around the next bend, he loves experiencing new cultures and destinations. His interests include nature, history, the outdoors, adventure travel, and photography. Favorite destinations include Europe, Mexico, and the Mediterranean.