By Noreen L. Kompanik
ITWPA Member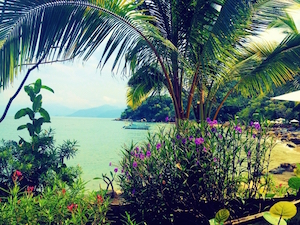 Accessible only by sea, Las Caletas is a stunning tropical paradise located in an isolated cove just south of Puerto Vallarta. Once the home of Hollywood producer John Huston, who called it one of the most beautiful places in the world, this secluded nature preserve is nestled between the majestic Sierra Madre Mountains and the turquoise waters of Banderas Bay. By day, visitors can explore the flora and fauna of the jungle, snorkel in the crystalline secluded bay, or lie in a beach hammock and experience what many Mexicans call their "Garden of Eden."
But come twilight, Las Caletas undergoes a magical transformation. Our Vallarta Adventures catamaran sailed from Puerto Vallarta following the coastline into a spectacular sunset. Cocktails and tasty hors d'oeuvres were served by an attentive, friendly crew and lively music provided entertainment during the one-hour passage.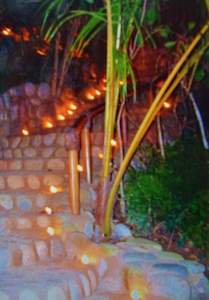 Lights flickered in the distance as we approached Las Caletas Cove. The pier was breathtakingly ablaze with nearly 4,000 flaming candles. We were heralded to the shore by the blowing of a conch shell and a hand-carved rock which read "Bienvenido a Las Caletas." Hundreds of tiki torches guided the pathway as there is no electricity in paradise. One passenger asked another, "Are we on Survivor?"
The echo of synchronized drumbeats beckoned us as we were guided through the torch-lit jungle to an open-air, multilevel amphitheater. Welcome to Rhythms of the Night, a uniquely memorable and mesmerizing Mexico experience. Choreographed by a graduate of the Cirque du Soleil Academy, the contemporary dance troupe magically carried us on a mystical journey through time, reenacting stories of the myths and legends of ancient Aztec civilization through music, dance, acrobatics, dramatic backdrops — and a lot of fire.
After the show, a beautifully-presented, sumptuous dinner buffet with extensive offerings awaited us as we were escorted to our candlelit dining table located right on the seawall. Waves lapped the shoreline, palms gently swayed in the warm, balmy air, and the moon reflected on the waters of the bay. Once again, magical and enchanted came to mind as we sipped our wine and allowed ourselves to drink in the entire experience.
We danced under a star-studded sky on our return trip to Puerto Vallarta. The crew provided a variety of music genres, fun entertainment, and more outstanding service. Passengers were happy, with beaming smiles.
Honeymooners, couples, families, all reveling in the perfect evening. As for my husband and me, who have visited many Mexican destinations, we both agreed that Rhythms of the Night on Las Caletas was one evening we would never forget.
Vallarta Adventures has two offices, located in Puerto Vallarta and Nuevo Vallarta. They can be reached through their website, http://www.vallarta-adventures.com/. Their toll-free number (if calling from the USA or Canada): 1-888-526-2238. If calling from within Mexico: 01-800-0000-823, ext. 1425, and their local number: 297-1212, ext. 1425.
If you would like to purchase this article for your publication, please click here to contact the author directly.