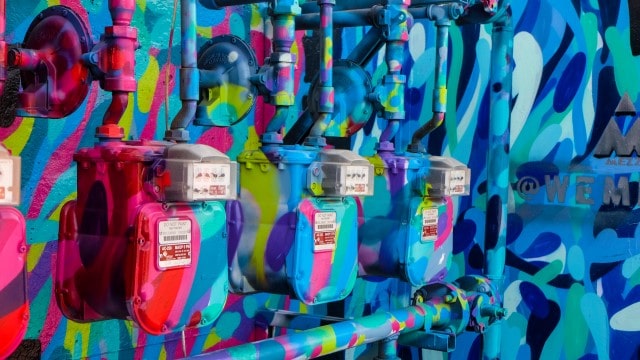 …a walk through RiNo
Words and pictures by Darla Graff, ITWPA Member
Denver, Colorado, is associated with the majestic Rocky Mountains, craft beer, and tech startups. Did you know it's been called the country's street art capital? While there are several places to see street art in the city, the RiNo Art District is one of the best areas for a do-it-yourself walking tour of public creative works.
The RiNo Art District
RiNo is short for River North. Once a run-down industrial area, it has been revived with a hipster vibe. Formerly abandoned warehouses are now home to artists, craft breweries, and funky boutiques. Building exteriors in this neighborhood are covered with murals of all shapes, sizes, colors, subjects, and styles.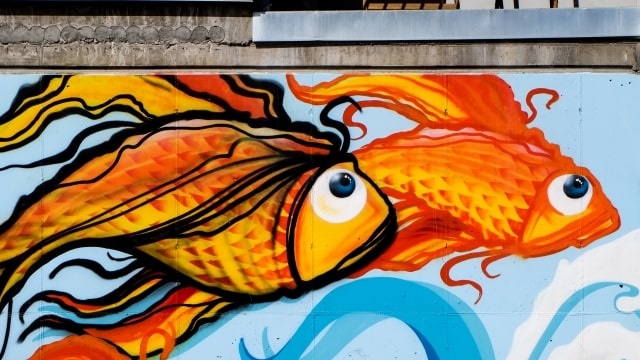 Much more than graffiti, the whole community is a kind of alfresco art gallery. With everything outdoors, you'll be able to plan your visit without worrying about crowds. I last looked around this area on a warm fall weekday morning and had plenty of time and space to explore. Set aside two to three hours for a walk around the streets with the highest concentrations of art.
Getting there
Downtown Denver has many hotels, but if you'd like to stay in the RiNo area, The Ramble is a superb choice. This lovely and well-appointed boutique hotel has cozy rooms and engaging community spaces.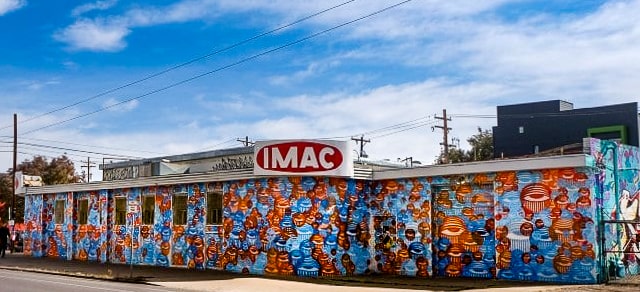 An excellent place to start your tour of RiNo's street art is a few blocks away at the Denver Central Market, 2669 Larimer Street. In this food hall, you can grab a coffee or a snack, and take advantage of public restrooms.
If you're driving, park on the street here or in the pay lot next to the Central Market. If you're taking public transportation, RTD bus route #44 travels along Larimer and stops at 26th Street.
As you arrive, you'll notice murals and paintings all around you. For example, the facade of the IMAC Building is covered with overlapping cartoon eyeballs in shades of red, orange, and blue for most of a city block.
Your route
Once you're ready to get moving, head to the alley, which passes behind the Central Market. From 25th to 28th Streets, this passageway contains nearly continuous artworks from multiple contributors. After you've moved through this three-block stretch, walk a few more blocks along 28th Street to the alley between Walnut and Blake. This corridor is crowded with art from 28th to 29th Streets and between 31st and 33rd Streets.
Once you finish your tour of the alleyways, you can keep exploring, even as you make your way back to Larimer Street. Murals adorning the fronts of the buildings will be prominent. Along the way, you'll be able to stop and enjoy a craft beer, have a meal, or do a bit of shopping.
The murals
You'll see a little bit of everything and then some on the alley walls. You might spy black and white flowers as tall as you, bright orange goldfish many times larger than life, and a meteor exploding into multiple colors.
Whimsical portraits seem to come at you from all directions. There are anime-style faces, depictions of Native Americans, astronauts, and more.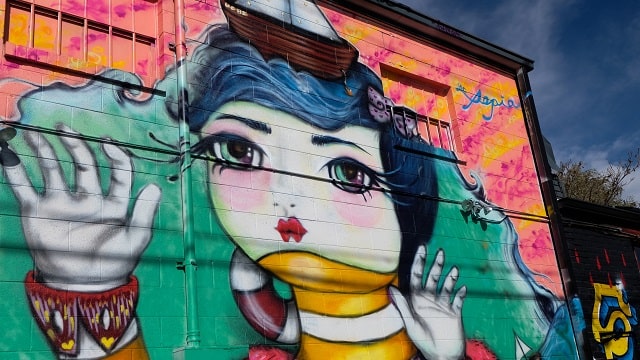 Abstract designs also feature prominently. Some look like traditional graffiti, while others are decidedly contemporary. Regardless of which works draw you in, you'll be surrounded by a wide range of colors and shape upon shape. Whether you like traditional florals or bizarre interpretations of modern culture, you'll find it here.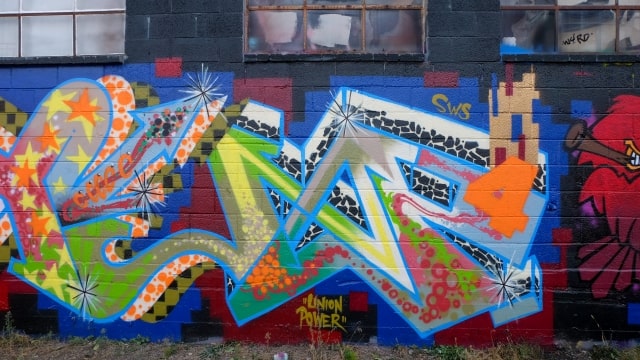 Out of the ordinary
You'll notice that some artists take advantage of their environment. It's fun to come upon a piece that adapts to include surrounding objects such as telephone poles and gas meters. Others add three-dimensional elements. One item that struck me was a poem about happiness printed on wooden boards and attached to a brick alley wall.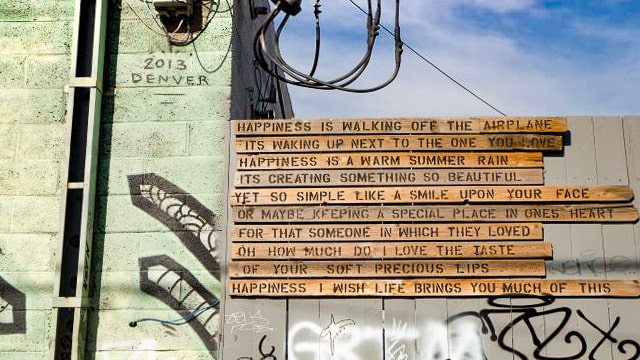 With no time limit, you can indulge your curiosity and spend as much time as you like viewing the variety of vibrant pieces all around the RiNo art district.
Always new
Street art generally isn't meant to be permanent and can change often. That means that even if you've been here before, you'll likely see something new. Don't be surprised if you can't find the exact murals I've mentioned here. They may be replaced with something completely different by the time you visit.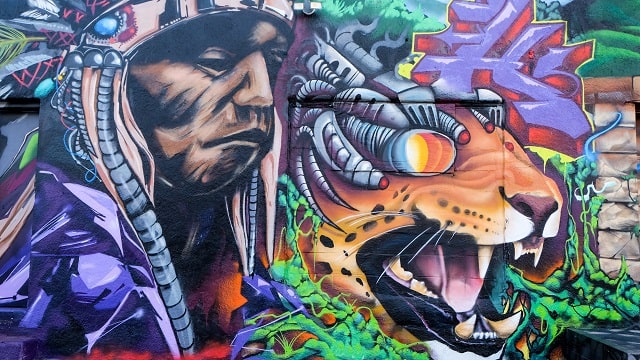 If you're interested in the creative process, consider visiting during the annual Crush Walls Festival, held in September every year. Before the event, old murals are painted over in a solid color to provide a fresh start. During the festivities, you can watch as the artists transform their blank walls into entirely new and different works of art.
When you take the time to explore the RiNo art district on foot, you'll marvel at the artists and their creative spirit, enhancing this inspired community.
About Darla Graff—This is Darla's first published article! Darla is a resident of Littleton, Colorado, in the Denver metro area. Darla takes advantage of Colorado's year-round outdoor lifestyle. She is often on urban trails exploring the city. You are just as likely to find her in away-from-it-all places. Darla is a member of Great Escapes Travel Writer's Cafe. Follow her on Instagram and her website – Darla Travels.