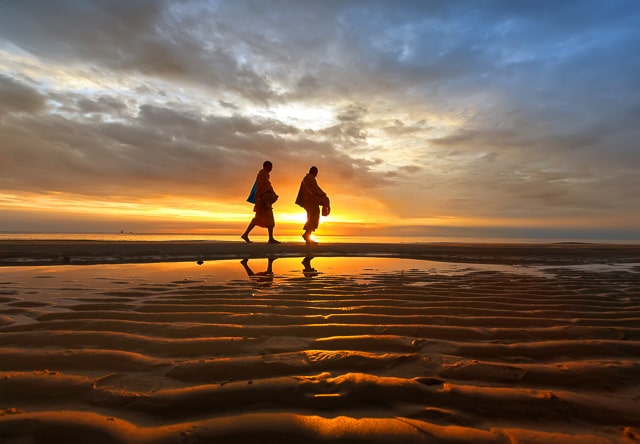 Hua Hin Thailand – Bursting over the horizon, the rising sun illuminates the calm Gulf of Thailand waters as if the sea is afire. The new day's first rays paint the clouds sitting above the skyline in dazzling shades of orange.
Saffron robed monks amble along the beach on their early morning alms walk. Locals and tourists stop the holy men, offering food and receiving chanted prayers of goodwill. Another glorious day is coming to life for the coastal city of Hua Hin on Thailand's Royal Coast, and here I am right in the middle of it.
Returning from my early morning beach walk, I'm greeted by two bowing elephants, trunks extended as if in respect. It was a distinctive entrance to Hilton Hua Hin Resort's beachside gardens and pool area. These imposing statues continue a Thai aesthetic throughout the resort, including the expansive Lagoon Pool and Spa.
One of central Hua Hin's prominent landmarks for the last few decades, Hilton Hua Hin Resort & Spa, is in the final stages of a major refurb. I'm enjoying a staycation to experience facilities firsthand. In just a few weeks, the new lobby and other ground-floor elements will be revealed, completing a near twelve-month hotel refurbishment program.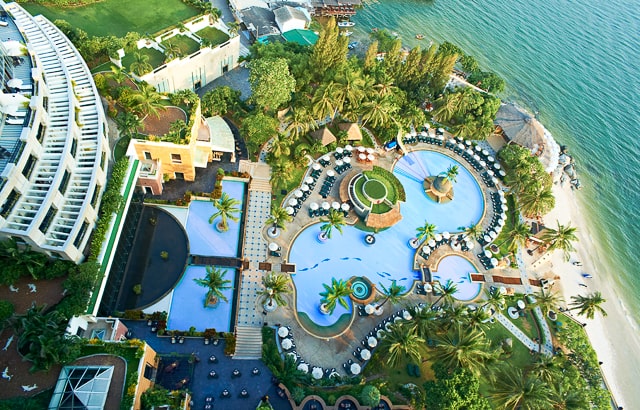 Thanks to the hotel's design, all 295 rooms have ocean views. My spacious 11th-floor executive suite provides an ideal haven to simply stop, spread out, and relax. Coastal views enthrall from the panoramic glass windows.
Modern conveniences in Hua Hin
It's equipped with all the mod-cons, a relaxing lounge area, a separate King bedroom and gleaming marble bathroom, and even a working desk for staycationers like me. I love the full-sized bath though I can never pass up luxuriating under the incessant downpour of the 'rain shower.' Crabtree & Evelyn Verbena and Lavender bathroom amenities add a touch of Provence.
My suite's generous open balcony came replete with sun lounges to absorb the fresh tropical ocean breeze and uninterrupted views. The generous open balcony came replete with sun lounges to absorb the fresh tropical ocean breeze and uninterrupted views. Here was a space perfect for lounging about, getting lost in a good book, or daydreaming as clouds danced their way across the deeply limpid sky.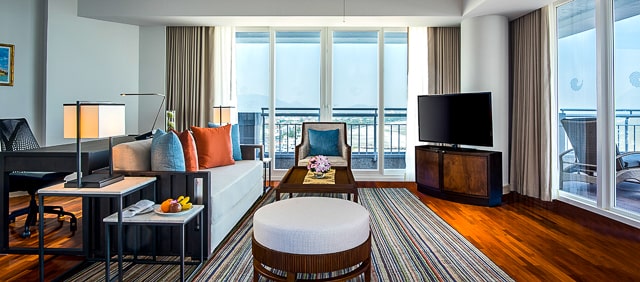 Upon arrival, I needed to break the Hilton Clean Stay Seal to access my room. This is part of Hilton's enhanced hygiene practices for guest safety. Gone was the guest compendium, room service menu– replaced with QR codes for immediate online access—all part of their new Contactless Arrivals through the Hilton Honors App.
Luxuriating spa treatments
For me, spas and luxuriating go hand in hand, and the resort's eforea Spa promises guests will emerge brighter, feeling renewed, uplifted, and refreshed. I simply had to put it to the test. Spa Supervisor Dada was to be my therapist. Following an initial consultation, we enter the hydrotherapy room, one of ten treatment rooms within the spa.
This and several others are designed to accommodate couples. The scent of peppermint permeates as we enter. Dada explains it can boost energy, clear the respiratory tract, stimulate circulation, and alleviate feelings of nervous tension and stress.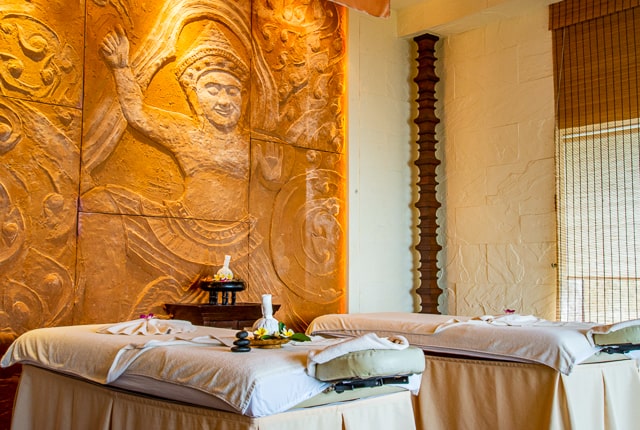 My treatment started in the sunken jacuzzi for a soothing, regenerative, milk bath. Gazing out at the ocean and beach through the bamboo blinds was a relaxant. I chose to experience an Aromatic Herbal Compress.
Warm oil was massaged into pressure points followed by a massage with the hot compress containing Thai therapeutic herbs draw out tensions. The compress included two types of ginger, turmeric, and lemongrass. Relaxed and stress-free was how I felt at the end of these treatments. It was time to retreat to my suite's sun lounge for some additional chill time and more ozone filled sea air.
Thailand's Royal Coast history
It was that recuperative sea air, long stretches of beach, clean ocean waters, and cooling coastal forests that caught the attention of Thai Royal family members who visited Hua Hin when the first railway line south from Bangkok was completed in the 1920s.
In 1924 King Vajiravudh oversaw the construction of his summer palace on the northern outskirts of Hua Hin. The name of which in English translates to the Palace of Love and Hope. Jump forward to the beginning of the 21st century, and King Bhumibol Adulyadej (Rama IX) also established his summer residence here, calling it Klai Kangwon Palace, meaning far from worries.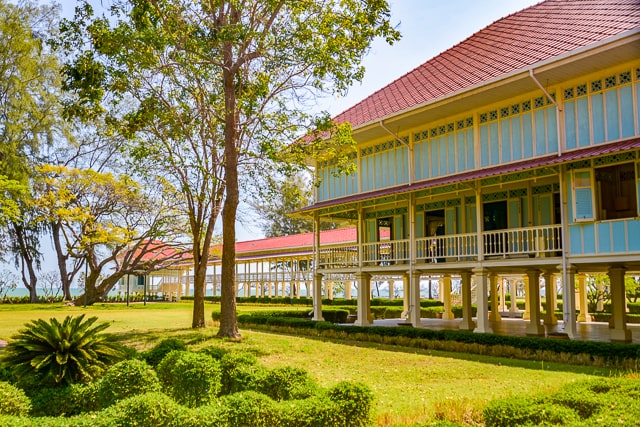 Such continued royal patronage has ensured this coastal strip remains a favorite holiday and weekend escape for Thai people, especially from Bangkok 120-miles to the north. Since the early 2000s Northern Europeans discovered this region, swapping long cold winters for a sunny beach holiday of low-cost luxury and famous Thai hospitality.
On the hotel's doorstep is Hua Hin's 'old town' – a labyrinth of laneways where classic teak timber houses of times past have become galleries, tailor shops, guest houses, and quaint restaurants. Timber finger wharves, once filled with the hustle and bustle of fishermen unloading their catch, are now open-air restaurants filled with hungry diners feasting on the seafood Hua Hin is renowned for.
Dining options are plentiful
Food was never far from my mind during this stay. Perhaps it was the sea air, beach walks, dips in the resort's lagoon pool, spa treatments, and wandering the streets to reacquaint myself with the charming old town. Given the variety of dining options in-house, I didn't even need to leave the hotel for nourishment.
A beachy lunch
My favorite was munching on lunch beachside underneath giant frangipani trees. My choice – a tandoori chicken wrap with a watermelon and feta cheese salad as an accompaniment. The salad is a perfect foil for the heat of the tandoori spice. Ever attentive server, Ann, suggested I try a Berry Mania, which she equated to an Italian Soda flavored with raspberry and topped with blueberry ice-cream. How could I resist?
Evening cocktails are best taken on the hotel's 17th floor White Lotus Sky Bar with extensive city and coastal views. The Long Island Iced Tea collection on the drink's menu caught my eye with five versions on offer. I chose the Beverly Hills Iced Tea, which combines vodka, tequila, rum, and triple sec with sparkling wine and sweet and sour syrup in a long glass over ice. It certainly added sparkles to my evening as I made my way to the beachfront for dinner on the alfresco decks of Chay Had Restaurant.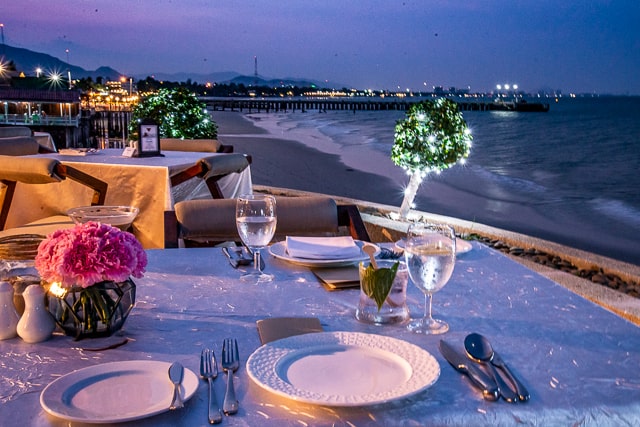 The comforting ocean breeze welcomed me, lights of the neighboring beachside buildings twinkled, the deep blue night sky above – all came together to reinforce for me the luxurious joys of being in the tropics. Hua Hin's famous seafood had to be the focus of my evening meal. Crab Cakes, light, flavorsome, rich in crab with a petit salad of edamame, tomato, avocado, and coriander, for the starter. Internationally recognized Thai favorite, Pad Thai, was my main course choice. Sweet, spicy, and sour noodles topped with whole grilled jumbo prawns, a towering plate of Thai deliciousness.
Luxurious Hua Hin staycation
Thanks, Hilton Hua Hin Resort & Spa, for this glorious staycation. And I'm sure this landmark property is set to welcome guests for many more years of safe, wholly satisfying beachside holidays. My time here also reinforced how the simple things, like fresh ocean air, the satisfyingly simple exercise of beachcombing, space to stop, relax, and unwind, and the pleasures and comforts of spa treatments and great food, are all luxuries worth revisiting to recharge and revitalize.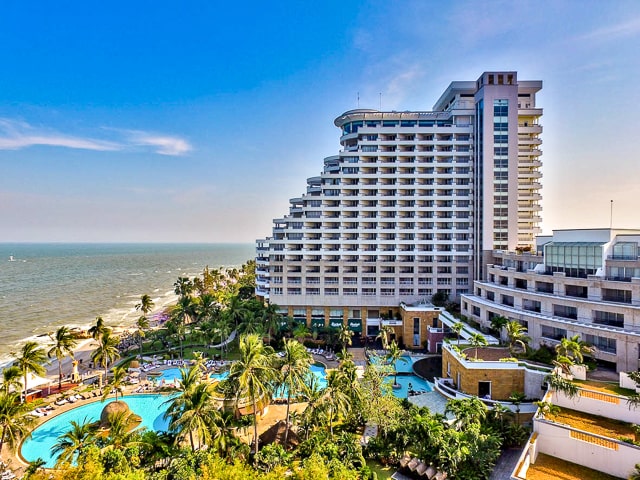 ---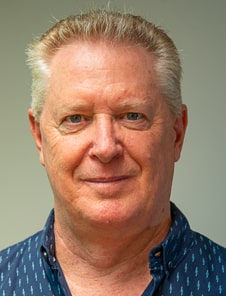 About Michael Cullen—Originally from Australia and now based in Hua Hin Thailand, Michael loves discovering new places. He delves into the culture, diving into festivals and celebrations while experiencing the local food and drink. His articles cover travel destinations, restaurants, resorts, wineries, ex-pat living, and overseas retirement. Cullen plans continued travel and exploration of Asia. He'll focus on Taiwan, Sri Lanka, Laos, and Myanmar topping the list. Michael is a member of The Travel Writer's Café, ITWPA, TravMedia, and IFWTWA. See Michael's work at Michael Cullen's Clippings or on Instagram.

---
*Morning Walk by Arthit Somsakul ©