By Roy Stevenson
ITWPA Member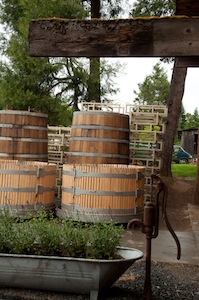 Southern Oregon is fast becoming recognized as a viticultural powerhouse, as its wines keep gaining national and international recognition. Two appellations in particular, the Umpqua Valley and the Rogue Valley, are the primary engines behind this wine renaissance, with a remarkable array of reds, whites, and varietals that presents wine lovers with a diverse selection indeed.
The Umpqua Valley's wine legacy can be traced from Richard Summers, who first planted vines in Roseburg in 1961, making the Umpqua Valley the oldest continually producing wine region in the Pacific Northwest and the cradle of the Oregon wine industry.
Summers, founder of Hillcrest Winery, planted his vines against the advice of California vintners who believed the climate and soil were not right for grapes. It turned out that the valley's different geologic terranes produced a rich diversity of landscapes and microclimates along its 45-mile length, which in turn have yielded a phenomenal array of grape varieties. This is Oregon's (and probably the U.S.A.'s) most complex and interesting wine-growing region.
The cool north valley region, with its good sun exposure and coastal maritime influence, produces outstanding Pinot Noir, Riesling, and Gewürztraminer. The warm temperatures of the valley's central sub zone are responsible for great Pinot Noir, Chardonnay, Pinot Gris, and many varietals. The southern valley region, with broad, steep, oak-forested hillsides and southern exposure, receives plenty of sunshine leading to some superb Baco Noir, Viognier, Cabernet, Tempranillo, Zinfandel, and Syrah.
Despite its impressive history, this appellation is often referred to as "America's Last Undiscovered Wine Region." It boasts 19 wineries, each with its own distinct history and ambiance.
Girardet Wine Cellars, with its beautiful 35-acre, southwest-facing estate (est. 1983) in the middle of a range of green, rolling, Douglas fir-covered hills, is one such winery with great ambiance.
Swiss-born vintner Philippe Girardet reflects his European influence with his excellent Pinot Noir, Chardonnay, Cabernet Sauvignon, and wines made from French-American hybrids and baco noir grapes. Philippe and his son Marc, who has taken over the family winemaking, use old-world dry farming techniques on the vineyard's damp red soil, including hand harvesting and pruning. The Girardets are considered the foremost experts on Baco Noir in the U.S.A. This rich, lush, dry red has a signature baco noir scent and taste of blueberry and plum.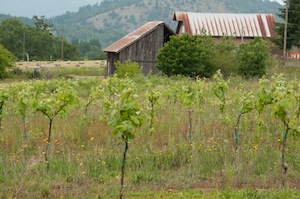 Hillcrest Winery vintner Dyson DeMara is proud of operating the oldest winery in Oregon (est. 1957), and has pioneered many firsts in Oregon winemaking, including Pinot Noir. He's enthusiastic and passionate about his winemaking and always experimenting with ideas he brings back from his frequent visits to Europe. Using stainless steel tanks and small European barrels, Dyson makes hearty Zinfandel, Syrah, Cabernet Sauvignon, Sauvignon Blanc, Riesling, and Viognier.
Hillcrest's barn-style tasting room is a cozy, low-ceiling room with wooden beams across the roof. Dyson will walk you through his winemaking room out the back at the drop of a hat, and entertain you with some marvelous and hilarious stories. He delights in telling that he belongs to a Mormon family, who of course do not drink alcohol!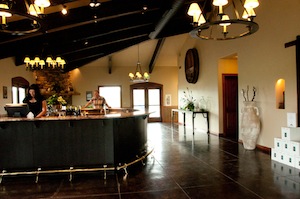 Picturesque Abacela Vineyard and Winery is on the same latitude as northern Spain, and physicians-turned-winemakers Earl Jones and Andrew Wenzi specialize in Spanish varietals on this immaculately maintained vineyard. Located on a steep, dry, south-facing series of hills, Abacela makes a spectacular vista, and can almost be mistaken for an aged Italian or Spanish vineyard.
The undulating hillside has so many terroir micro-pockets that Earl has an impressive variety of grapes growing in tidily marked lots including tempranillo, syrah, malbec, grenache, albarino, dolcetto, and garnacha. He specializes in big, deeply-colored reds that are aged for several years to yield intense varietal character, a hint of fruit and oak with a solid body. Earl's Abacela Tempranillo has won international awards, making it the first American vineyard to do so for this varietal.
A wine tour of the Umpqua Valley will provide the taster with an excellent and diverse selection of Southern Oregon's wines, and just as important, provide some marvelous memories and experiences as you visit these distinctly different wineries and meet their winemakers.
Located south of the Umpqua Valley, the Rogue and Applegate Valleys have their fair share of excellent wineries — a total of 29. It was near Jacksonville that Peter Britt, a Swiss photographer, founded the first winery in Oregon, Valley View Winery, in 1854. Unfortunately, after his death in 1906, the winery closed.
Taking the name of Peter Britt's original winery, the family-run Valley View Winery, dating back to 1976, makes some excellent old world wines like Cabernet Sauvignon, Chardonnay, Merlot, and Syrah that have received wide acclaim. Valley View Winery owners, the Wisnovsky family, have also pioneered Viognier and Tempranillo, with exciting results. They're nationally renowned as professionals in the winemaking industry, setting high standards for their winemaking.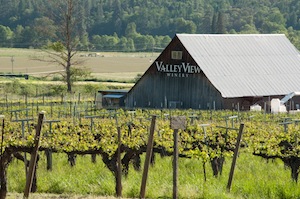 Valley View Winery farms 27 acres of grapes, plus some sourced local grapes, to make 9,000 cases annually. Try their Viognier; loaded with tropical fruit flavors, this dry wine features an apricot aroma, citrus, and a long crisp finish. The Tempranillo is their signature red, with flavors of cherry, red plums, and a hint of vanilla. A visit to this scenic vineyard is a must for wine lovers exploring the Applegate Valley.
The bright, open, modern Anna Maria's Tasting Room offers a gorgeous sweeping view over the vineyard and Applegate Valley, with large tree-clad mountains looming in the distant background.
Founded in 2002, at the historic Hillcrest Orchard in east Medford, 75-acre RoxyAnn Winery is located on the southwest slopes of Roxy Ann Peak. Its soil base of shallow limestone and clay and southwest exposure make it ideally suited to produce big red varietals and blends like Cabernet Sauvignon, Malbec, Merlot, Cabernet Franc, Grenache, Syrah, Pinot Gris, Viognier, and Tempranillo.
RoxyAnn Winery is one of the largest operations in Southern Oregon, producing 24 different wines and 15,000 cases annually, and its owners, the Parsons family, are committed to producing bold, exciting wines with good balance and depth of flavor. The winery uses sustainable land management practices and time-tested agricultural techniques to support the soil, prevent soil erosion, and limit water use.
Despite its great size, the lively tasting room (located in a historic barn) maintains a warm, welcoming ambiance — largely due to the friendly staff — setting the stage for the winery's old farm charm. The tasting room offers a large variety of gifts, deli items, and fresh local produce for sale. Outside, picnic tables with shade umbrellas and a
djoining gardens make a great place to sit and visit with friends (and strangers).
A 20-minute drive from the scenic mountain and river town of Grant's Pass, the Schmidt Family Vineyards is a class act. I've seen some spectacular wineries in my time, but SFV takes the cake. With its enormous, lofty, Northwest lodge-style tasting room, huge outdoor patio furnished with metal tables and Adirondack chairs, several acres of lush, beautifully landscaped wine garden with multicolored blooming flowers and herbs, a greenhouse, intimate wooden cabanas, a gazebo, a small lake, private little nooks and crannies, and a picturesque vineyard, the 28-acre Schmidt Family Vineyards is like Disneyland. When you visit this place, you go for the whole day! To spend less time here would be churlish.
It's an ideal place to take a group of friends if you want to impress them — this place is so large there's guaranteed to be a deck or private cabana where you can host your own private party, drinking some fine wines while you're at it, all in relaxed sophistication. Cal and Judy Schmidt make five main wines and specialize in Cabernet Sauvignon and Syrah. Other wines made here — many World of Wine award-winning — include Viognier and some excellent Gewürztraminer, Pinot Gris, Chardonnay, Zinfandel, and Merlot, all with distinctive botanical and floral illustrations on the labels.
The Plaisance Ranch, located in the rural valley area of Williams, makes for an interesting and pleasant visit. Its roots in the Southern Oregon wine industry date back to 1898 — and before that, France — when Joseph Ginet of Savoie, France, came to Oregon after his discharge from the French Army. He established a homestead at Sterling Creek near Jacksonville.
Grandson Joe Ginet and his wife Suzi established the new Plaisance Ranch (named after his grandfather's homestead) vineyard in 1998 with Cabernet Sauvignon, Pinot Noir, and Syrah. He opened the winery in 2009 with a 2006 Rouge Prestige, a Mondeuse blend. It's a winery with a difference: handcrafted wine in a real ranch-style setting.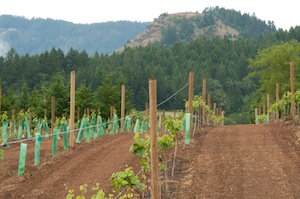 The Ginets keep themselves busy growing organic hay, raising certified organic beef cattle, selling grafted grapevines and wine grapes, and of course crafting their fine wines. The front tasting room is small, but the real place to sip the Ginets' wines is out the back, sitting at rustic picnic tables on the concrete floor of the former milking shed, for that ranch-style experience.
These, then, are a sampling of some of the Umpqua Valley and Applegate Valley wineries — not a complete listing by any means. One of the most enjoyable things about wine tasting in this area is the tremendous diversity in the ambiance and atmosphere of each of the wineries. All are unique in their size, shape, and service, but all have one thing in common — their outstanding wines.
If you plan on visiting the area to do some wine tasting, allow several days to fully appreciate each winery, rather than rushing from place to place. These graceful winery valleys are relaxing if you ease back and let them slow you down to country time.
If you'd like to purchase this article for your publication, click here to contact the author directly.