By Heather Rath
ITWPA Member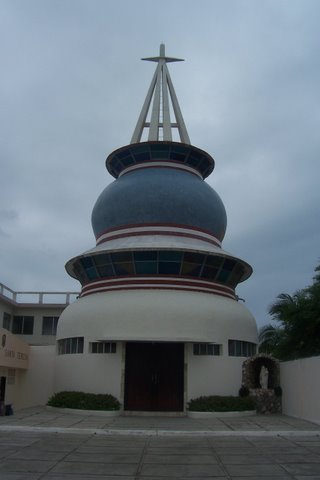 A hidden woman speaks, a turntable in a locked room spins, and suddenly, there is wine! Except this is not a wine store, this is a nunnery.
Five and a half miles from Playas, a coastal beach town in Ecuador, the shy sisters of a local convent produce chemical-free wines reputed to boost your health. Las Madres Carmelitas del Monasterio de Santa Teresa de Playas are the wine-makers, heard but not seen.
Although this is the Sabbath, the Sisters still sell wine. When the taxi drops us off at the convent courtyard after Mass, we look around in bewilderment. We are the only people. The doors to the church are locked. Where do we go? We have heard we must enter through a marked door after using an intercom.
Finally we spy a button near a far door on a long, low side building attached to the church. A handwritten paper sign taped above it reads Press and Hold Here in Spanish, which we do. Suddenly, as if from a distance, a female voice asks what we want. "Comprar el vino por favor" ("to buy wine, please"), we respond. With a loud buzz the lock is disconnected and we open the door into a dark interior. Luckily, a small window sheds some light. Carefully making our way down a short flight of stairs, we see a wooden turntable at waist level in the wall on our right. A female voice on the other side mumbles something. The turntable begins to move, stops, and then circles back to us. A menu with the names of available wines, descriptions, and prices (each about US$8) stops on our side.
To our surprise, 15 t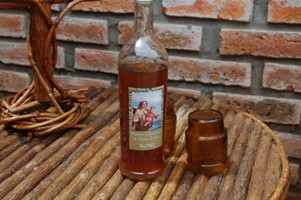 herapeutic wines are listed, along with the suggestion to drink a small glass of wine after your midday meal.
Our choice is Noni wine, produced from the noni fruit grown here, and recommended for the prevention of cancer cells and hemorrhoids and as an aid in treating insomnia and blood anddigestive problems. Each wine, processed by using different fruits, boasts different health benefits.
After making our choice we spin the turntable back to the waiting sister(s). She spins back our invoice; we spin back our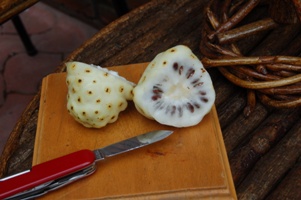 money. The final spin carries our wine. The entire transaction is wordless and we never see the nuns.
If you'd like to purchase this article for your publication, click here to contact the author directly.