…Jamie's story
By Sharon Kurtz, ITWPA Member
"Hui pū," Jamie said, 'all together' as the outrigger canoe cut through the crystal-clear azure water along the shores of Maui's Ka'anapali Beach. The canoe surged, lifted, and seemed to fly with the rhythm created by the paddles dipping in the water in unison.
As we skimmed along, Jamie regaled us with the islands' history and how the ancient Polynesians had discovered Hawaii by traveling more than 2,000 miles navigating only by the stars and following the sea birds.
Jamie shared his ancestor's history, preserved through chants and stories. It was the tale of his good fortune that most intrigued me, a fortuitous occurrence that changed his life.
History of the outrigger canoe in Hawaii
Hawaii was settled more than 1,600 years ago by Polynesian explorers. They navigated double-hulled sailing canoes without the benefit of any instruments over thousands of miles of open ocean to reach landfall in the islands. These vessels were crafted initially out of Koa wood to glide lightly through rough waters with either single or double outriggers to provide stability.
Some were large enough to hold up to 80-people, filled with essential items like edible plants, water, and animals to ensure a somewhat safer voyage for the brave voyagers. They sailed in search of other lands. Navigating by the stars and following the migration patterns of birds, explorers soon discovered the Hawaiian Islands.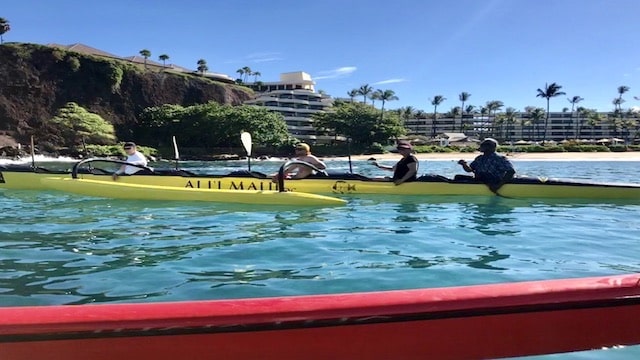 Essential transportation for the Hawaiian people
The outrigger canoe was a highly valued possession to the Hawaiian people. With water being the only avenue to move from place to place, it was often the key to the survival of the native people. For the Hawaiian Kings and Chiefs, canoe building was also a means of displaying the islands' armies' strength. As vessels for fishing, travel, and trade, the canoe in Hawaiian culture represents a way of life in the archipelago. It's part of Hawaiian culture.
Many will say one of the Native Hawaiians' most remarkable achievements is the Hawaiian canoe. It's renowned for its fine craftsmanship and design based on the Native Hawaiian's vast knowledge of the sea. Sadly, over nearly 100-years, early European settlers banned outrigger canoes and canoe races to suppress Native Hawaiian culture.
Jamie's story
Like many Hawaiians, Jamie's ethnic background is a mix of Filipino, Portuguese, and Hawaiian, a rainbow blend of cultures. "I went out in canoes with my older brother and sister when I was a kid," Jamie said. "They were involved in outrigger canoe teams, and they would take me out with them."
For five years, Jamie was a guide for an outrigger canoe company on Maui. He shared his culture and history of the islands with the visitors of Ka'anapali Beach; a natural-born storyteller, he loved sharing his Hawaiian culture. Jamie didn't know then that his life was about to change.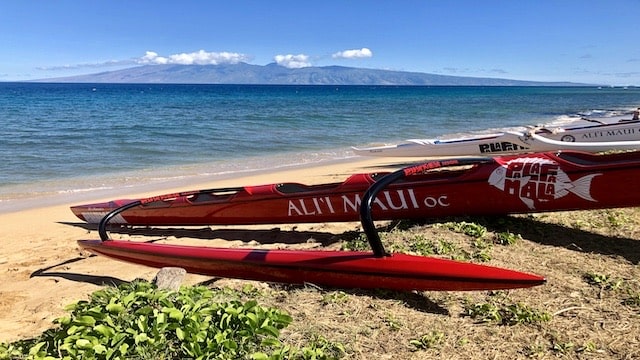 A life-changing event
Jamie told me a tale of a man and his wife who took great pleasure in the Ka'anapali outrigger canoe tours each winter, where Jaime worked as a guide. The couple returned for five consecutive years to experience the outrigger canoe rides with Jamie.
The vacationer never revealed much about himself; he was much more interested in learning about Jamie's family, the Hawaiian culture, and the Islands' stories. Jamie relayed that "One day, my cell phone rang, displaying a number from Oregon, and I thought, I don't know anyone in Oregon." When he answered the call, Jamie learned that his mainland friend had passed away. The man had bequeathed an outrigger canoe to Jamie in his will, an extremely generous gift.
A few months after the initial purchase, the wife of his benefactor asked Jamie, "why don't we buy two more canoes?"
With three canoes, Jamie approached the Westin Ka'anapali Ocean Resorts Villas to apply for a vendor's license for his fledgling outrigger canoe business. After listening to Jamie's story, one Westin executive remarked, "Well, I'll say this much, no one has ever given me an $80,000 tip."
Thus, began a new and exciting chapter in Jamie's life guiding and leading his own outrigger canoe tour business.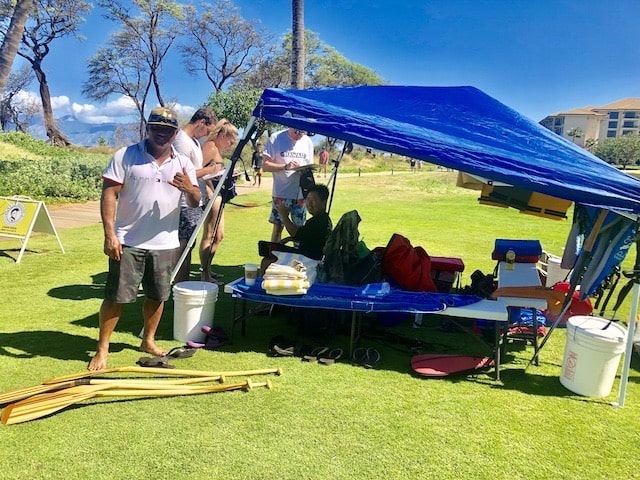 Serendipity and Good Fortune
As we parted ways, the always joking Jamie said, "I am not a cheap date," as he finished his story of good fortune. "I feel blessed that I get the opportunity to share my stories and Hawaiian heritage with the visitors coming to Maui and to spend more time with my wife and kids."
According to Webster's dictionary, the definition of serendipity is when good things happen by chance in a beneficial way: was it simply chance, or was the Hawaiian God, Kanaloa, smiling down on Jamie?
When you go
Ali'i Maui Outrigger Canoes – on the oceanfront of the Westin Ka'anapali Ocean Resort Villas, Maui, Hawaii. For reservations call – 808-214-3272.
About Sharon Kurtz—Sharon is a freelance writer and tour leader for a women's travel company. Her passion is traveling the world and discovering unique people, places, and perspectives. She looks at life from all angles, both abroad and in her own back yard. When not traveling, home is Dallas, Texas, with her husband and three dogs. Their next adventure will be to Istanbul, Turkey, the crossroads of East and West civilization. ~TPM