…ideal for multi-gen travel & a little seal watching
By Karyn Devlin, ITWPA Member
Multigenerational trips are a growing travel trend. Planning a trip can be tricky. Not everyone wants to do the same thing. If you pick a destination brimming with activities, you're sure to please even the pickiest travelers.
With that in mind, there are two great destinations with plenty of options for every age – West Yarmouth Massachusetts, also known as Cape Cod, and Ogunquit Maine.
Both West Yarmouth and Ogunquit are on the Atlantic Ocean, offering plenty of beachfront and boomtown activities. While Cape Cod is known for its world-famous bike trail, Ogunquit offers town-wide trolley service with pickups and drop-offs every fifteen minutes.
Parking is limited at area beaches, so only 'breakfast club' bathers will get an early spot. If you miss your window, you can still use your car to drop off your crew and gear (i.e., chairs, coolers, umbrellas). Take the vehicle back to your vacation rental, then walk, bike, or trolley back to the beach. In most cases, you'll be back on the beach in under 30-minutes.
If a day at the beach isn't your thing, don't worry. There are plenty of other activities.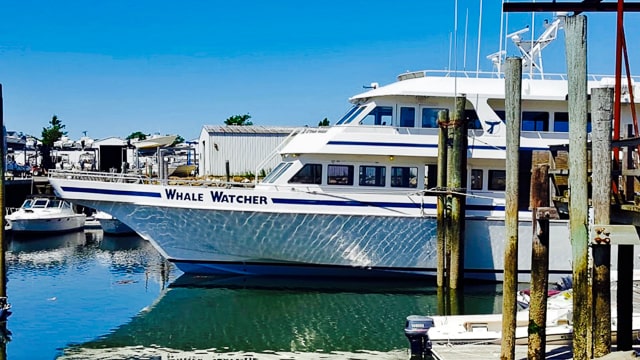 Scenic cruises
There are abundant cruise and sailing options in both Ogunquit and West Yarmouth. Whale watching is the most popular trip. Visitors can choose alternative tickets such as island exploring, sunset sailing, seal watching, or deep-sea fishing. On Cape Cod, head over to Hyannis Whale Watcher Cruises for the most options and guaranteed sightings. In Ogunquit, check out Finest Kind Cruises for a variety of excursions at the best rates.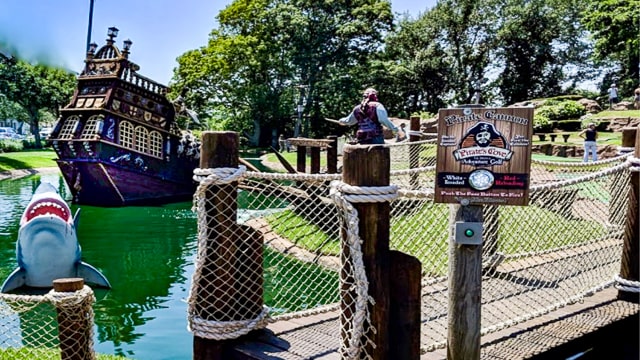 Go-karts – mini-golf – pirates
There's nothing like a little friendly competition amongst family to reset the pecking order for a day. Go-kart racetracks and mini-golf courses are the perfect places for the kiddos to show you who's boss.
In Maine, check out the York Beach area for these activities. On Cape Cod, check out Pirate's Cove, which is quite possibly the greatest mini-golf course in America. This is the site of pirate battles and hidden grottos. Every player gets a pirate hat to get into character. Both destinations offer a variety of courses, and some parks combine both go-karts and mini-golf on one campus.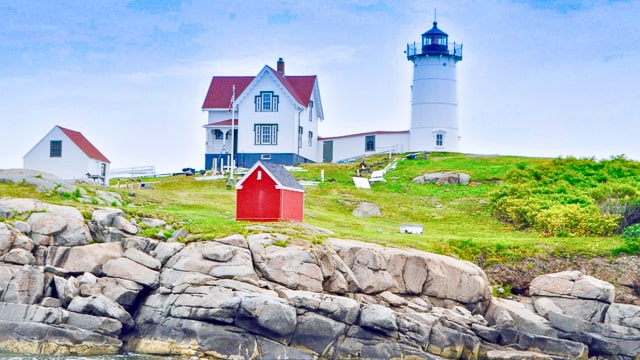 Lighthouses
A real New England beach trip isn't complete without a visit to a lighthouse. In West Yarmouth, be sure to check out Chatham Lighthouse, 6-miles down the road. Tour the boat, house, and memorial made famous by the movie, The Finest Hours. Take the stairs down to Lighthouse Beach to see the beautiful turquoise shallows. Across the sandbar, you'll see and hear a large population of seals mating on the shore.
In Ogunquit, check out the Cape Neddick Nubble Lighthouse. Bring your camera and your appetite to check out the 10-foot waves crashing on the rocky ledges. When the tide is high, you're sure to be splashed. The Lighthouse itself is closed to visitors. However, it's a popular photo spot and a great place to watch the waves while cooling off with a little help from Fox's famous ice cream stand.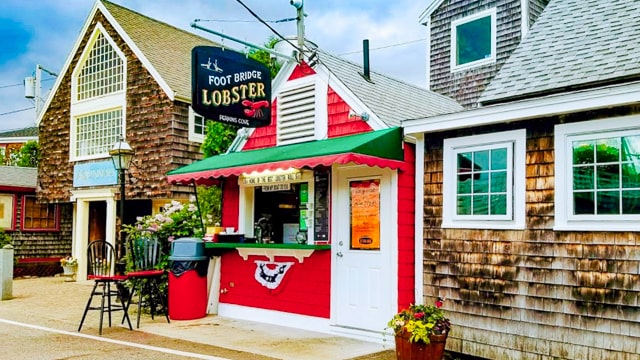 Indoor-outdoor dining
There is an unlimited amount of surf and turf dining options in the region. Maine is best known for its lobster, made any way you like. Cape Cod is best known for its clam chowder (pronounced: chow-duh), but lobster is still a favorite.
Here are popular spots in each location for a dining experience you'll remember.
Best waterfront eats
CAPE COD ~ Marshside – upscale casual dining in a beautiful marsh setting
OGUNQUIT ~ M.C. Perkins Cove – surf & turf with impeccable views
Best in-town eats
CAPE COD ~ Captain Parker's Pub – where locals go year-round
OGUNQUIT ~ Ogunquit Lobster Pound – pick your lobsters, up to 10 lbs, from the outside tank
Best lobster roll
CAPE COD ~ The Lobster Boat – dine in or outside on the deck
OGUNQUIT ~ Footbridge Lobster – next to Perkins Cove drawbridge
Where to stay
Renting a house is highly recommended for multi-gen groups. It's the surest way to guaranty a stay. I suggest you peruse Airbnb, HomeAway, VRBO, Booking.com, and HomeToGo.com to compare prices and find your perfect bivouac spot.
Vacancies can prove challenging if you're booking last minute, but some residents pack up and leave town during peak season.
Home rentals can often pop-up unannounced. Demand is high, book as soon as you see availability. You're more likely to find a home rental than a hotel room, which can also mean better amenities such as a grill and pool, bikes, and beach gear, all within steps of the sand.
When you go
Cape Cod—The best way to get onto Cape Cod is by car, but you can also get there by plane. If you fly into Boston, check out local Boston to Hyannis flight options. But be careful! You should book your rental stay before looking at any flight options. Cape Cod rentals are only Saturday to Saturday. It's a regional policy to mitigate traffic over the bridges and byways.
Ogunquit—is an approximate 40-minute drive south from Portland Airport. Traffic is tolerable even in peak season except at 6 corners (stop signs) mid-town. From all other points in New England, you can easily reach Ogunquit in under a 4-hour drive.
About Karyn Devlin~ Karyn is an Army Veteran, photojournalist, and author/illustrator. She's visited all 48 contiguous United States. Her goal is to see both Alaska and Hawaii by 2021. She lives with her husband in a small town in New England, where every day brings new adventures.