By Angela Ross
Photographs by Joe Ross
Ten minutes west of Temecula Valley's majestic wineries, gourmet restaurants, and luxury spas, a Western-era town provides the backdrop for a bustling, pedestrian-friendly lifestyle center. While the stagecoaches and cattle ranches of Temecula's storied past have given way to tasting rooms and alfresco dining, Old Town Temecula embraces its history without being kitschy. There are shops, eateries, bars, and special events to suit every taste. Consider adding these five spots to your "must-visit" list.
Satisfy your comfort food craving at the Swing Inn Cafe, a rustic diner where patrons have enjoyed generous servings of home-style cooking since 1927. Dine like a cattle rancher on all-day breakfasts of country fried steak and eggs or hot cakes and sausage. Enjoy burgers, grilled pork chops, and steaks in all their glory, but save room for dessert. Dive into fruit or cream pies or an ice cream sundae. If you love chocolate, the Boothill Brownie — a warm, homemade brownie served with ice cream, chocolate and caramel drizzle, whipped cream, and nuts — is a must. 951-676-2321; swinginncafe.com
Further along the district's wooden path is the old First National Bank of Temecula, site of Riverside County's first bank robbery. Today, the 103-year-old refurbished building retains much of its original charm, and houses a Mexican restaurant and bar aptly named The Bank. Contemplate bygone days with locals and visitors over pitch-perfect margaritas and savory plates of carne asada, crab and shrimp enchiladas, or chili verde. 951-676-6160; bankofmexicanfood.com
For off-the-beaten-path wine and olive oil tasting, Villa di Calabro delivers. Located in a little 90-year-old house just steps away from Temecula's civic center, Villa di Calabro excels in providing an intimate tasting experience. Owners Mike and Mindy generously share stories and insights of their craft as they pour. Ask about the peach sangria. Enjoy fountain burbles and a light breeze as you picnic in the serene courtyard. Leave with a smile on your face, and delicious wines and olive oils in your bag. 951-695-4525; villadicalabro.com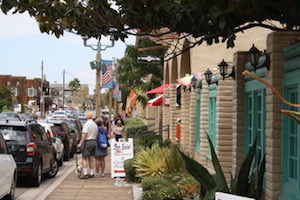 Old Town Temecula has a thriving live entertainment scene and the Mercantile Building showcases some of the best. Built in 1891, "The Merc," as locals call it, was Temecula's first brick building and is home to a 354-seat proscenium community theater. Catch a Broadway hit, an evening of jazz, or a chamber orchestra recital. 866-653-8696; temeculaca.gov/temeculatheater
When it is time to call it a night, The Hotel Temecula is a standout. Its early 1880s opening coincided with the arrival of the Southern California Railroad in Temecula. After a fire destroyed the original building, the owners built a new structure that through the years served as a school, general store, and post office. See museum-quality artifacts and stay in rooms that Temecula's early landowners, cowboys, and pioneers occupied in the Old West days. Sit for a spell in the guest parlor or meander to the patio to catch some shade under a 126-year-old wisteria. A local office of the U.S. Border Patrol, the Emigrant Office, still stands on the property, and is one of the most iconic images in Old Town. 951-972-8500; thehoteltemecula.com
On-street parking can be difficult to find on weekends. The 472-space Old Town Parking Garage at 28690 Mercedes Street may be a better alternative.
More information:
Temecula Valley Convention and Visitors Bureau
28690 Mercedes Street, Suite A
Temecula, CA 92590
Phone: 951-491-6085
Toll-Free: 888-363-2852
Email: info@visittemeculavalley.com
If you would like to purchase this article for your publication, please click here to contact the author directly.