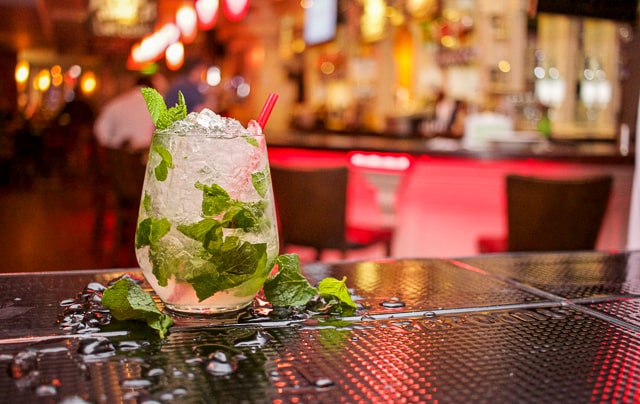 Kings Beach, Lake Tahoe, is the epitome of a funky little beach town, and
Spindleshanks is one of those restaurants you meet and instantly fall in love with.
Set in a beautifully-constructed wood lodge made of rough-hewn timbers. It sits on the classic Old Brockway 9-hole golf course; this is one of the best places to dine in North Lake Tahoe.
As you enjoy one of the three large wood decks facing the golf course, you sit amidst a long ocean of plush greens. There are shimmering Aspens, towering Jeffrey pines, with the Sierra Nevada rising in the background.
Bing Crosby and his buddies used to frequent this golf course, and he hosted his "Crosby" tournaments here, the first one in 1935. The abundance of birds hints at the Old Brockway's status as an Audubon Cooperative Sanctuary, and across the boulevard lies Lake Tahoe, its crystalline blue waters beckoning.
It's a lusciously relaxing environment, "user-friendly upscale," as Owner and chef Steve Marks put it. Get ready and settle in with a terrific menu that spans the gamut from a stack of breakfast Pancakes, to BBQ Beer Prawns, to a Muscovy Duck Breast with Apricot Jelly.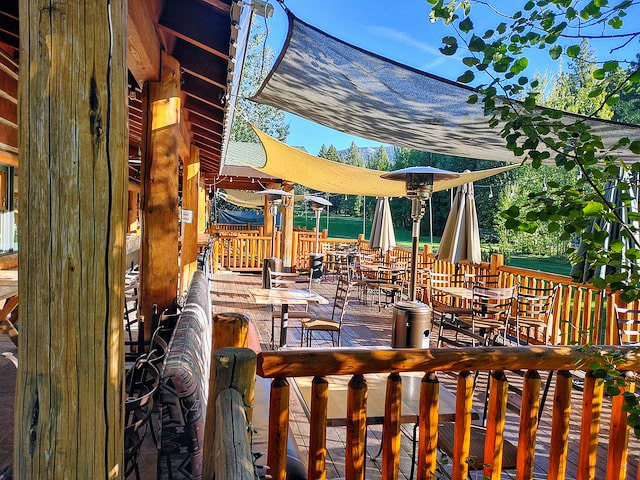 Tuesday All-Night Happy Hour
Spindleshanks is a special restaurant. From 5—8:30 PM, their Tuesday All-Night Happy Hour is a marvelous way to get a taste of the full experience. At $9 per plate, you can try several exquisite small plates from a special menu that draws from and expands upon the full one. Everything is prepared with organic and high-quality vegetables and meats fresh from the local farmer's market and with the greatest care and precision.
Live music begins at about 6, starting with an acoustic set, followed by another electric set at 7. Picture this: summertime, the sun doesn't set until after 9 PM, and folks mill around leisurely on the golf course grounds with cocktails. It's magical.
To start, my photographer and I chose a dish of softshell crab on top of tender Hoisin pork belly. Pure food art. The generous portion of softshell crab, gently battered, balanced on top of an equally generous slice of pork belly—the kind that is so tender and full of rich flavor that you immediately float off for a moment. Add to this a bed of chipotle slaw and a drizzle of curry aioli, and you have a mouthful of yum.
Other items that should be sampled include Ahi Napoleon, a Caprese salad, and pork tenderloin in a peach sauce. Sip on a cucumber Mojito or a Tahoe Blue cocktail and enjoy the vibrant scene.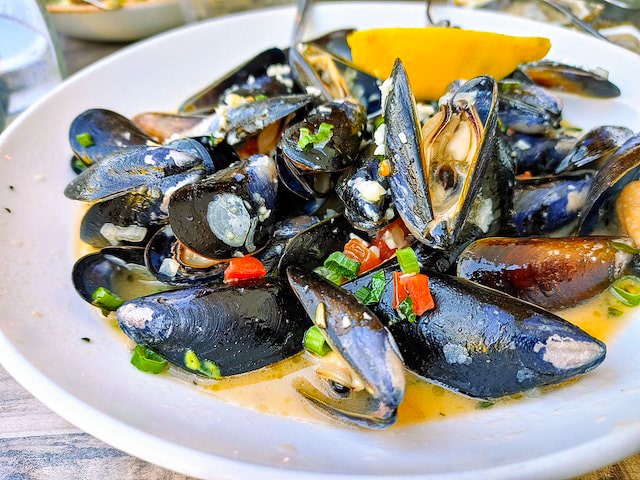 Lounge your day away
In the King's Beach Alpine lake setting, it's easy to see how you become a regular at this King's Beach establishment, stopping in for a long brunch or a late lunch that turns into dinner, or at least happy hour. The service is impeccable, attentive, and knowledgeable. Your waiter will happily lead you in detail through any dish or pairing.
For breakfast, you'll encounter a delicious menu of American classics, with several Mexican favorites. Opt for a veggie benedict, chicken & waffles with sausage gravy, or huevos rancheros made with black beans. My suggestion is a delightful bottle of Zonin Prosecco with 14-ounces of OJ.
For lunch, try a spinach salad with Asian pear, candied pecans, goat cheese, or the Mahi Mahi fish tacos battered in light tempura. If you're looking for a classic sandwich, the pastrami with Ortega chili, onions, and swiss cheese is the way to go. Brunch is from 9 AM—2 PM.
Travel the world through dinner
Spindleshanks offers a creative menu that brings in recipes and flavors from around the globe. If you're like me, you'll contemplate the dishes and wonder how soon you can get back to King's Beach to try everything. Part of the charm is hanging out in this laid-back alpine beach town. Taking in the incredible natural beauty of Lake Tahoe and appreciating the fact that so much of it has conservation protection is part of the Tahoe experience.
We couldn't resist the PEI (Prince Edward Island) Mussels, which arrived in an elegant ceramic bowl. Ensconced in a classic White Wine Sauce, rich with a dash of Pernod, this savory dish was another hit. Next came braised short ribs in a red wine reduction sauce that was nothing short of divine. The juicy, fall apart meat was rich and full-flavored, matched perfectly with creamy garlic mashed potatoes. The quality of the ingredients and preparation are second to none.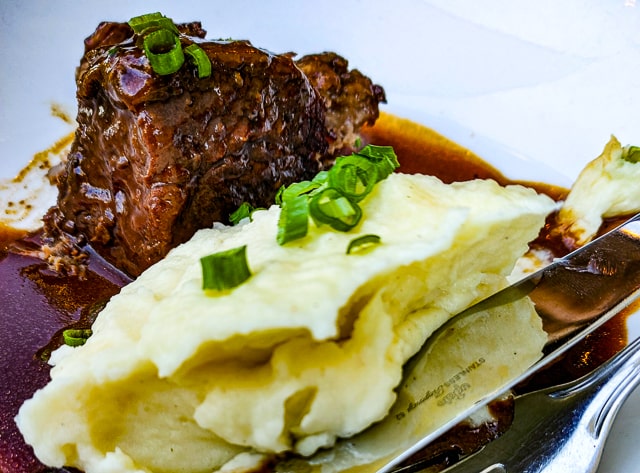 The menu choices were daunting. The wealth of selections start with The Spindleshank—braised Berkshire pork shank posole, with dried chilis, hominy, avocado, and lime. or how about the roasted butternut squash ravioli with brown butter sage sauce and candied pecans? Or go all in, with a rack of Australian lamb in a brandy green peppercorn sauce with potato gratin? My mouth watered as I pondered.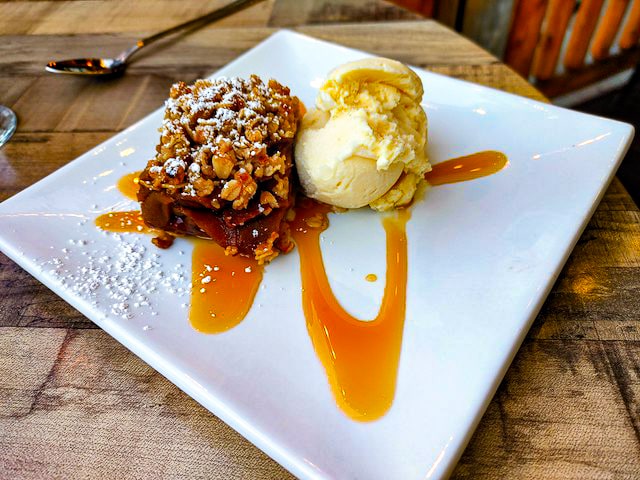 Dessert did not disappoint. It was an ambrosial apple tart, drizzled with caramel and served with a scoop of house-made coconut macadamia nut gelato, wonderfully delicate.
A King's Beach wine list that's out of this world
The owner/chef created a carefully curated wine and spirits list. If I haven't enticed you enough, each bottle on this extensive menu has been selected for pairing with Chef Marks' unique creations. Wine is available by the glass, half-bottle, and full bottle.
Liquors range from Ports and Madeiras to fine Cognacs, Ryes, Bourbons, and Whiskey. The Groth Reserve Cabernet Sauvignon is an excellent choice for a full-bodied red. Choose from wines from the best regions worldwide: Alsace, the Rhone, Napa Valley, Mendoza, Pessac Léognan, and the Anderson Valley.
You'll end your evening deliciously sated and thankful for such a wonderful experience, stepping away from your cares and soaking in the gorgeous surroundings, delectable food, and a starry night sky. To learn more, visit their website – Spindleshanks Tahoe.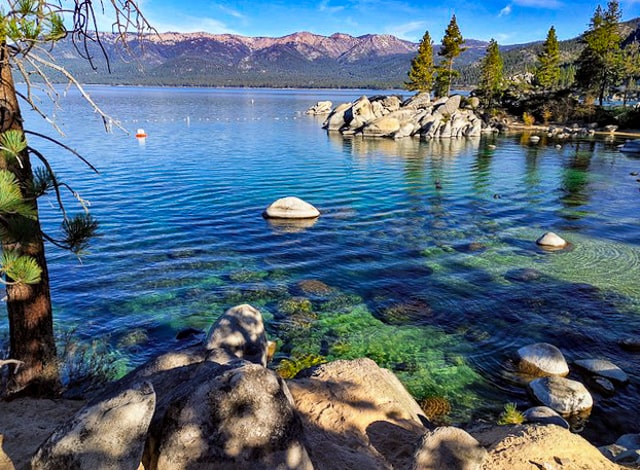 Leave no trace at King's Beach, Lake Tahoe
Before you go, learn about the Lake Tahoe region's Leave No Trace Code to help safeguard the natural beauty.
---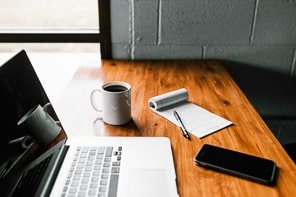 About Tonya Hennessey—Tonya is a freelance writer and non-profit professional who resides in the San Francisco Bay Area. She grew up in Minneapolis, Minnesota. After graduating from the University of Wisconsin-Madison, Tonya took off for a year of travel throughout Europe, Asia, and South America. This trip awakened her astonishment at the world's varied cultures, landscapes, and, of course, food. Since then, she has traveled extensively in Europe, East and Southeast Asia, and the United States.
Tonya is a member of the Travel Writer's Café, ITWPA, and TravMedia. Along with travel, she loves to cook, garden, and exercise. You can learn more about her work on Instagram and Twitter.