Joshua Tree National Park…
….ideal for multi-gen travel
By Julie Diebolt Price
ITWPA Member
A night sky awash in stars from the Milky Way. Planets that you can see with the naked eye, and S'mores on the campfire, are three of the many reasons to include Joshua Tree California, in your multi-generation vacation plans.
Where?
Joshua Tree is located in the High Desert of Southern California and is home to Joshua Tree National Park. The surrounding towns of Yucca Valley, Twentynine Palms, Landers, and Desert Hot Springs offer a multitude of activities for any age group.
Within a two-hour drive of Los Angeles or Orange County, three hours from Phoenix, and 30-minutes from Palm Springs, the area is easily accessible by air, car, or RV.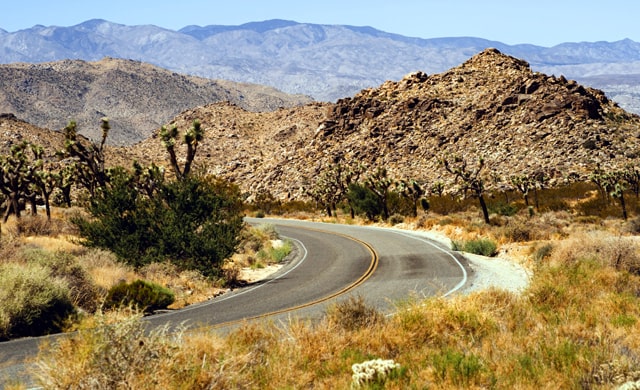 Navigating in your vehicle around and through the park is easy-going on well-maintained paved roads. Convenient vehicle pull-outs are strategically spaced along the way so you can take in the spectacular views.
Weather?
While summer can get pretty hot, and February may have a snowstorm, October to May are ideal months to spend time with family exploring the region. The busiest season is spring, running from February to May.
What?
Two features make Joshua Tree unique. First, is the bristly, twisted Joshua tree that only grows in the Mojave Desert at elevations of 2,000 to 6,000 feet.
Second, are the incredible boulder formations that give this part of the desert an other-worldly feel. The breathtaking, extraordinary scenery is one for the memory books.
Things to do
Hiking—In Joshua Tree National Park alone, you can hike many trails in the desert wilderness. Short Walks and Nature Trails, recommended year-round, offer 10 minutes to two-hour hikes, with some that are wheelchair accessible. Accessibility like this is perfect for including the senior generation in outdoor activities.
Rock climbing and bouldering—Climbers come from all over the world for bouldering and rock-climbing experiences at Joshua Tree National Park. Even the Marines come here to train and become certified.
Licensed climbing companies run classes and guided day excursions in the park for beginners.
Skull Rock is a popular stop for some impromptu bouldering. It is easily accessed by parking across the road. With an easy 1.7-mile nature trail close by in the Jumbo Rocks Campground, Skull rock is an excellent location for youngsters to burn up some energy and for you to capture a multi-gen family photo.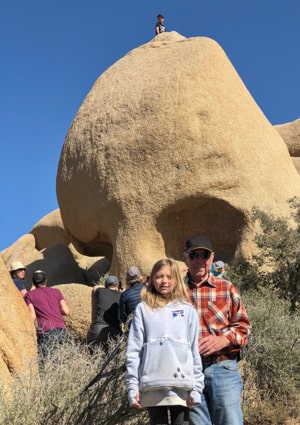 Camping—Nine developed campgrounds with 500 campsites in Joshua Tree National Park make your stay under the stars a breeze. All sites have fire grates and picnic tables. Some have pit toilets with no running water. Two campgrounds have flush toilets with two or more stalls and running water.
Black Rock is my favorite campground. It requires reservations. If you want easy access close to the 10 Freeway, some internet connection, flush toilets, running water, and camp amongst the Joshua trees, this is the place for you. You can see the city lights in this location, however, f you are seeking a dark sky, you will want to go deeper into the center of the park.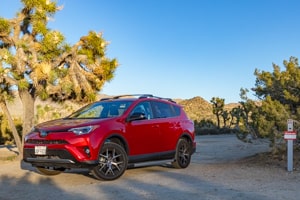 Education—Ranger-led programs in the Visitors Centers educate young and old alike. There's always something to learn about history and culture, plants, animals, and the ecosystem.
Outside the park
Lodging—Many chain hotels offer accommodations in the Joshua Tree area that includes free Wi-Fi, pools, and breakfast.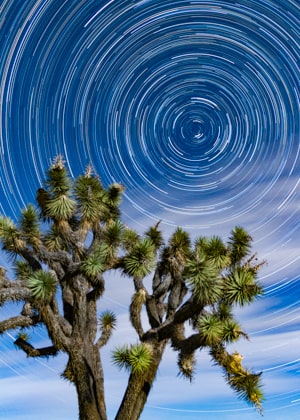 Sightseeing and More—Drive-in first-run movies at Smith's Ranch come complete with popcorn and hot dogs in Twentynine Palms. A trip down memory lane with the grands will have you reliving the good old days.
While you are in Twentynine Palms, an I-spy scavenger hunt will keep everyone entertained when the Oasis of Murals makes it into your itinerary.
Mineral Springs—If luxury accommodations and spa treatments are more to your liking, make the short drive from Joshua Tree to Desert Hot Springs. Naturally occurring hot and cold mineral springs run underground here where the Mojave and the Colorado Desert meet.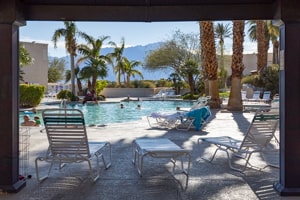 At Miracle Springs Resort & Spa, you can take the waters and select from many indulgent spa treatments. Day pool passes allow admission to the mineral pools and facilities. Right next door is the Desert Hot Springs Spa Hotel and Villas. Mini-suites and 3-bedroom homes are ideal for multi-gen family vacations.
Dining—Many recognizable fast-food restaurants found in Joshua Tree and surrounding towns have convenient hours and drive-through. An excellent place for casual dining is John's Place in Yucca Valley and Twentynine Palms with restaurants on either side of Joshua Tree National Park.
La Copine is an upscale eatery in Flamingo Heights on the road to Landers. La Copine serves beer and wine Thursdays through Sundays.
Giant Rock Meeting Room, also in Flamingo Heights, earns rave reviews from the locals for their Neapolitan-style Pizza.
Conclusion
From my first visit to Joshua Tree National Park, I was captivated. Sharing the experiences of this desert with my friends, family, and grandchildren have made memories that will last our lifetimes.
You will find Joshua Tree is ideal for mixed age and varied interest group vacation. People of all ages will be entertained with exciting and rewarding activities. You will come away with a sense of awe for the universe, a clear head from spending time in such a unique environment, and a closeness with the family that a "togethering" trip like this creates.
About Julie Diebolt Price—Julie is a journalist and photographer who loves to travel, create memorable experiences, and share them with words and pictures. With expertise developed through extensive domestic and international travel, Julie has covered restaurant reviews, created comprehensive itineraries, photo essays, and how 2s for supplementing your retirement income. She left the corporate world to run her photography business and is an in-demand educator, speaker, and writer. ~TPM