By Diane Leone
ITWPA Member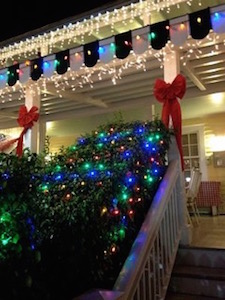 Once the decision was made to spend the week of Christmas in Key West, Florida, we were excited. Every previous Christmas had been spent enjoying family and the children as they opened their gifts. The children are now grown and we felt we needed a getaway after a hectic year. If you want to wear flip-flops, lie in the sun, and feel the sand beneath your toes at Christmas, Key West is where you need to be.
There are two ways to get to Key West: drive the long US 1 route through all the Keys to get to the most southern landmass in the continental U.S., or fly. The airport is Key West International Airport and is two miles east of Key West in Monroe County, Florida. We drove, as we live in Florida. It's a beautiful, scenic drive through the Keys on your way to Key West.
Arriving at the Casa Marina Resort & Beach Club, part of the Waldorf Astoria Collection, was a breath of fresh air. We were there, and we were in Key West for Christmas! This property, with 1,100 feet of private beach, meets the laid-back yet luxurious standards we wanted. The best part of the stay was the Christmas day brunch. The weather on Christmas day was warm with the slightest drizzle of rain but no one cared. There were families with young children, couples, grandparents, and more. Everyone was enjoying the tropical weather and the amazing food, unlimited champagne, and incredible entertainment. It was a perfect way to relax on Christmas. I can imagine Jimmy Buffett and Kenny Chesney celebrating Christmas day the same way. Speaking of Jimmy Buffett, go to Margaritaville and have a "Cheeseburger in Paradise" and a Margarita. It's a fun experience and the food is good.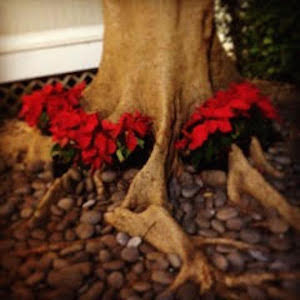 It was tough to choose where to have Christmas Eve dinner, as there are so many wonderful places to choose from in Key West. We decided on a charming restaurant called Nine One Five, located at 915 Duval Street right in the middle of downtown Key West. It's a stylish old house with a big patio, and it serves delectable globally accented American fare and has a secluded late-night wine bar. We sat on the patio and had a great time and amazing food. Ask to meet the owner, Stuart Kemp — you'll want to tell him how amazing the food is.
We love Italian food and we found a fabulous Italian restaurant, La Trattoria. It's not downtown but sits across from the ocean so the views are wonderful — and the food is incredible. We ate there three times during our stay!
As I went off for a relaxing tropical facial, my husband left to play golf at the Key West Golf Club. He loved the course and met great people from across the country also spending their Christmas holiday in Key West. The golf club is located at the entrance of Key West on more than 200 acres of tropical foliage and wildlife. It's an 18-hole, 6,500-yard course designed by golf legend Rees Jones. My husband enjoyed it so much he played a second day. This was okay with me, as I had stumbled across something unique and wanted to try it.
With a name like The Lush Bar, I had to go in and find out what this was all about. It's located on Duval Street inside the Green Pineapple store. I did not have an appointment but the owner, Mark, was gracious enough to work me in. Mark offers wine, chocolate, tea, coffee, and cheese, and you can arrange a customized tasting. I learned all about chocolate and how it's made. I even made my own chocolate bars! Mark paired them with appropriate wines. It was a wonderful afternoon and a very unique experience. I loved that Mark uses organic chocolate.
If you are a fan of Ernest Hemingway you must find his Key West home. It's open for tours and there was a line to get in. As you would expect, it is a lovely Florida style home with literary works on the shelves and a large inviting yard. Don't miss it if you love Hemingway.
We felt like a part of a special group, being allowed to have this amazing tropical Christmas. If you decide to experience the delight of a luxury, laid-back Christmas in Key West, make your travel arrangements as early as possible; as you can imagine, it's a popular place any time and especially at Christmas. We were able to book some restaurants and experiences while we were there, but it is recommended that you book as much as you can early.
www.fla-keys.com
www.keywestattractions.org
Key West Golf Club
Golf Club Drive
Key West, FL 33040
305-294-5232
www.keywestgolf.com
Casa Marina Resort
1500 Reynolds St.
Key West, FL 33040
305-295-3535
www.casamarinaresort.com
Nine One Five
915 Duval St.
Key West, FL 33040
305-296-0669
www.915duval.com
The Lush Bar
1130 Duval St.
Key West, FL 33040
LushKeyWest@me.com
855-487-5874
855-ITS-LUSH
Jimmy Buffett's Margaritaville
500 Duval St.
Key West, FL 33040
305-292-1435
www.margaritavillekeywest.com
If you would like to purchase this article for your publication, please click here to contact the author directly.
Are foreign drugstores clinically appropriate for Americans. Part 2