By Beth Rypkema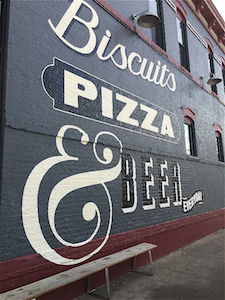 For almost 30 years I've searched high and wide for a biscuit that could compare — or even come close — to my Grandma D's baking powder biscuits. When I was little, I would ask her, "Grandma, where's the bacon? And where's the powder?"
Big biscuits. Buttery. Soft. Tall. Flaky.
I close my eyes as I sink my teeth into a biscuit at the Denver Biscuit Company. Supple, creamy textures and buttery flavors remind me of happy mornings in Grandma's sunny yellow kitchen. My search is over.
Just a few months after opening on Denver's famed Colfax Avenue, weekend lines were stretching out the front door with people waiting to counter the previous night's alcohol indulgences with comforting biscuit bliss.
The award-winning menu pairs biscuits with hand-breaded buttermilk fried chicken, spicy house-made sausage, 10-hour smoked pulled pork, local Colorado honey butter, and house-made pickles.
Biscuits and gravy? Of course! But don't stop there. Along with biscuit sandwiches and platters are a chicken and biscuit pot pie and shrimp with poached pancetta and melt-in-your-mouth grits in a biscuit bowl. Or try biscuit French toast and cinnamon rolls. Still hungry? Order the Strawberry Biscuit Shortcake with whipped cream. Don't forget to wash everything down with a brew from a wide selection of regional choices. The grapefruit IPA makes a delicious contrast to the shrimp and grits.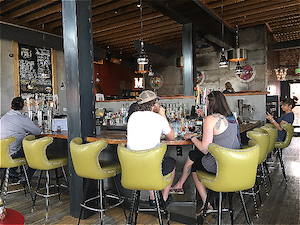 The Denver Biscuit Company shares a space with the Atomic Cowboy Bar and Fat Sully's Pizza. The industrial/hip environment features exposed brick and stucco with wood beams and floors. A giant neon cowboy checks you out while an eight-foot "rocket" covered in fairy lights is suspended overhead. Mounted on a brick wall is a bison head overseeing the deep booths and rust- and avocado-toned bar tables. Wide-screen TVs show Cartoon Network and talk shows along with the requisite sports channels. Shelves in front of a bank of windows are filled with board games above a full self-serve coffee bar. House music is casual, tuned to jazz, blues, and contemporary.
Now with three locations and the Denver Biscuit Bus, apparently the search for biscuit perfection has come to a happy ending for a multitude of Denverites.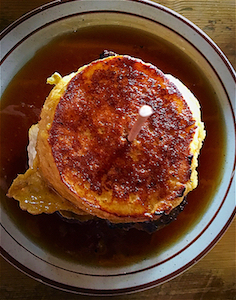 The Dahlia: house-made sausage patty, apple butter, fried egg, and maple syrup, $9.50
The Colfax: hickory ham, collard greens, fried egg, and hot sauce, $8.95
The Cordon Bleu: buttermilk fried chicken, Tender Belly ham, cheddar cheese, and local Colorado honey butter, $10.50
Biscuit Pot Pie, Vegetarian/Chicken: biscuit smothered in savory pot pie filling — and yes, it has mushrooms, $9.50/$10.50; plus egg, $1.25
Shrimp and Grits: rock shrimp, Logan Mill grits and poached pancetta in a biscuit bowl, $10.95; plus egg, $1.25
Strawberry Shortcake: biscuit smothered with sweet strawberry sauce and whipped cream, $7.95
Denver Biscuit Company
303-377-7900
http://www.denbisco.com
http://www.atomiccowboy.net
http://www.fatsullys.com
East Colfax
3237 E. Colfax
Denver, CO 80206
South Broadway
141 S. Broadway
Denver, CO 80209
Tennyson Street
4275 Tennyson St.
Denver, CO 80212
If you would like to purchase this article for your publication, please click here to contact the author directly.