By Levonne Louie
ITWPA Member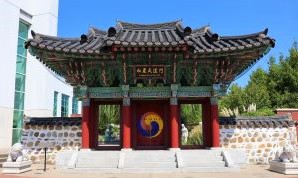 Who would have thought there was a serene spot to take a break from your busy meeting, convention, and travel schedule in the middle of downtown Little Rock, Arkansas.
Four polished black granite benches invite you to sit a moment to decompress. As you sit and absorb the chill of the granite against your legs, the oppressive mugginess of the Arkansas heat slips away. Closing your tired eyes, you listen to the burbling fountain in the middle of the reflecting pool, and you are transported to a place of quiet stillness.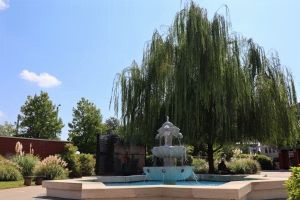 Tranquil garden
The H.U. Lee International Gate and Garden is located at 101 East Markham Street in downtown Little Rock. This small, inviting garden sits on the northwest corner of Markham and Scott streets immediately beside the Statehouse Convention Center. There are many places nearby to grab something to eat and drink. Cozy and restful, the garden is family-friendly and open 24-hours a day, 7-days of the week. It is free to enter and is maintained by the City of Little Rock.
The traditional Asian gate, with its cardinal colors of red, blue, yellow, white, and black, invite visitors to escape for a few minutes into the refreshing reprieve provided by a large weeping willow tree.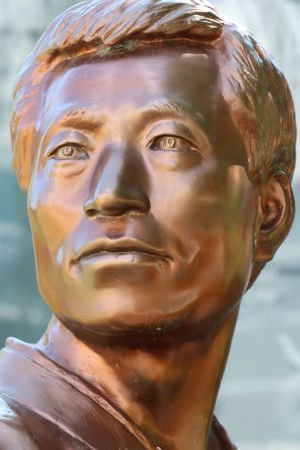 The simple garden was created to honor Haeng Ung Lee (Eternal Grandmaster H.U. Lee), the founder of the American Taekwondo Association, ATA. Little Rock Arkansas is the international headquarters for ATA. The garden was a gift from ATA and serves as a symbol of friendship between America and South Korea.
Included in the garden is a bust of H.U. Lee in front of the Wall of Vision. This wall was crafted of black granite in South Korea, weighs over 11 tons and lists the names of almost 120-masters of Songahem Taekwondo. Grandmaster Lee's vision was to change the world one black belt at a time through the friendships built around the world by people interested in the Songahem family of Taekwondo.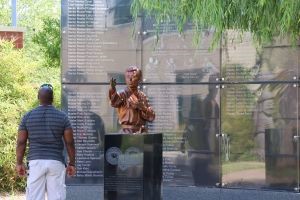 Central to the park is a fountain and reflecting pool that sparkles as the sun streams through the lush vegetation. The vegetation was planted to consider the seasons, ensuring something is growing throughout the year.
As you attend your meetings or you're simply walking around downtown Little Rock, be sure to spend a few minutes to experience this calm oasis. More information about the garden can be found HERE. ~TPM
About Levonne Louie—Levonne is an aspiring travel writer and photographer who has had a long-time interest in the programs offered by Great Escape Publishing. Levonne recently retired from almost 40-years in the oil and gas industry, Levonne has been a member of ITWPA for several years, but this is her first time submitting an article.
Levonne wrote and photographed this story while attending the Ultimate Travel Writers Workshop in Little Rock. See more of Her work HERE.