By Laura LaBrie
ITWPA Member


A Mayan temple perches atop a cliff overhanging the sea. Stand beneath its massive stones and watch the waves crash far below and you can almost picture ships coming through the cut in the reef guided only by lights in the tower above.
Mayan ruins typically conjure up pictures of jungles thick with strangler figs and passion fruit vines, where the year 2012 looms from the glyphs of ancient calendars and threatens the end of the world. Not so at Tulum, where sweeping green lawns and Caribbean blues carry you away with images of a port city bustling with commerce and rife with the colors and languages of faraway places.
An easy drive down Quintana Roo's newly-paved route 307 and just an hour south of Cancun, Tulum is an out-of-the-way destination accessible to the not-so-adventurous. If you've always wanted to explore exotic Yucatan, but have been a little hesitant to do so, this is a great place to get your feet wet. And don't forget to bring your bathing suit, as the beach beneath the ruins offers luxurious white sand and rollicking surf. It's a great way to cool off after a morning perusing the ruins, ducking through limestone arches, and greeting the local iguanas — who love munching on hibiscus flowers, by the way.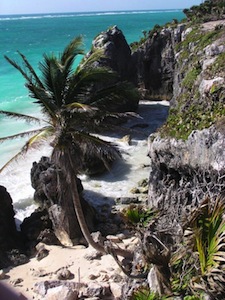 If you visit, make sure to arrive early to avoid the tour bus crowd. The park opens at 8 a.m. Park your car and ride the shuttle down to the ruins. Make sure to wear light, comfortable clothing and carry water and sunscreen with you. There is a handicraft market near the parking lot. I suggest you stop on your way out. The market is filled with silver jewelry, onyx masks, bone chess sets, cotton blankets, and embroidered dresses, not to mention food for the hungry traveler and my favorite drink, agua frescas, a local drink made from lightly sweetened fresh fruit and cold, pure water. If you shop at the handicraft market, make sure to barter. The locals expect it. And while you're there, have an agua frescas for me.
If you'd like to purchase this article for your publication, click here to contact the author directly.
*Additional photos from the author are available upon request.