By Scott Kendall
ITWPA Member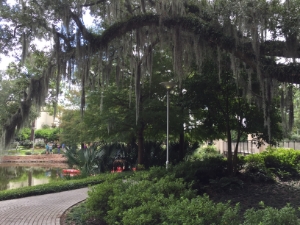 A topless man wearing lipstick and a bright pink tutu prances by. Jazz is blaring at Legends Park. Drunken tourists stagger to their next girly joint. It's Friday night on Bourbon Street, and this small-town Texas boy needs a break.
We all love a good party now and then, and New Orleans certainly knows how to party. But sometimes, we want a break from the frenetic energy and craziness of the nonstop Mardi Gras party atmosphere — but where do you go in New Orleans for a quiet refuge?
The answer is City Park, a 1,300-acre paradise of lakes, majestic trees, and fascinating art. City Park is a peaceful playground for the body, mind, and soul, both old and young. To get there from my hotel on Canal and Bourbon Streets, I walked out the front door of the Astor Crowne Plaza, hopped on the Canal cable car ($1.25 each way), and rode north in air-conditioned comfort, arriving at my destination 30 minutes later.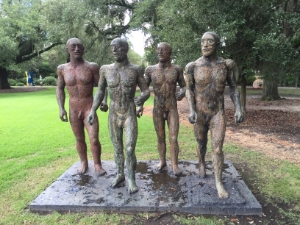 Upon stepping off the cable car at the City Park stop, I immediately saw an expansive park to my left, with towering oak trees, a large lake, and a promenade leading up to the impressive New Orleans Museum of Art, the centerpiece of City Park. Singing the chorus from Hey Jude (inspired by a visit from the Beatles to the park in the 1960s), I made my way to the Singing Tree, a majestic oak near the shore of the lake. Seven chimes of various sizes hang from the Spanish moss covered branches, ringing out with a bravado of choruses, as if the spirits from the nearby cemeteries are unleashing the long pent-up anguish of the dead.
Continuing along Big Lake, Romanesque columns at the entrance of the New Orleans Museum of Art greet visitors. I welcomed the air conditioning as well as some great collections of European, African, American, and local artists. Paintings by Degas (a New Orleans resident in the 1870s), Picasso, Monet, Gauguin, and others adorn the walls. The New Orleans Museum of Art is the city's oldest fine arts institution, and houses over 40,000 works of art.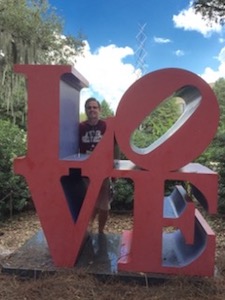 After admiring the artwork indoors, I enjoyed the delightful Besthoff Sculpture Garden, a gated (but free) garden of 64 modern sculptures nestled among huge trees, punctuated by serpentine walking trails and three pedestrian bridges among the lagoons. Who wouldn't love the whimsical sculptures of bright red, yellow, and blue dogs, the bright red letters spelling out L-O-V-E in Robert Indiana's sculpture, or the giant diaper pin titled Corridor Pin, Blue. Or maybe the superhero theme appeals to you, as can be witnessed in the bronze statues of Heroic Man by Gaston Lachaise or Hercules the Archer by Antoine Bourdelle.
In addition to the man-made artwork, nature has left its mark with aquatic plantings of Louisiana Iris, spider lilies, and horsetails. Numerous vines, including yellow jasmine and rose of Montana, add to the splendor of the majestic oaks, pines, and magnolias that highlight the five-acre Besthoff Sculpture Garden.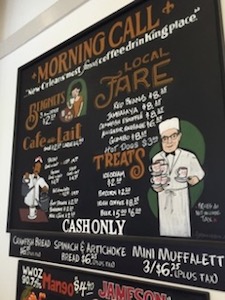 Other attractions at City Park include the Botanical Gardens, kayaking on the lake, a large children's playground and park with rides, and a vintage carousel. There is also an 18-hole golf course, a mini-golf course, horse stables, and areas designated for soccer, softball, track, volleyball, and tennis. Finally, after all the feeding of your mind and soul, don't forget to feed your face at the Morning Call restaurant (open 24/7) with their famous beignets, cafe au lait, jambalaya, and other traditional New Orleans cuisine. So party on when you visit New Orleans, but when you are ready for some peace and quiet away from the raucous crowds on Bourbon Street, take a soothing break at New Orleans's City Park.
City Park
1 Palm Drive, New Orleans, Louisiana 70124-4608
Hours:
Monday through Friday 10 a.m. until 6 p.m.
Saturday and Sunday 10 a.m. until 5 p.m.
noma.org
If you would like to purchase this article for your publication, please click here to contact the author directly.