By Daniel C. Freeman, EdD
alyeskia1@me.com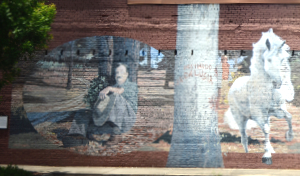 I have been photographing building murals and street art for the past 14-years. So whenever I get the chance to "hit" the road and drive through America's smaller towns, I usually take my camera.
Street art/graffiti created in the public space is usual unsanctioned, but that is changing. There are many organizations that sanction public art. Buildings or structure murals beautify and inform the public about a city's history, heritage, or culture. We also find owners of private businesses who want to educate the public about social issues close to their heart or provide a unique way to advertise their offerings. There are well known professional muralist such as Wes Hardin from Dothan, or Brent McCarthy, in Texas Hill Country. They have respectively displayed their artistic skills on many of the buildings in the Wiregrass or New Braunfels Texas area.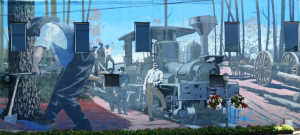 Of course, any surface can be used as a canvas for public art. A utility box in Roswell New Mexico provided a four-sided canvas for the art shown there. Or, an old fashion parking meter such as those found in Pensacola provides another unique surface to highlight some of the area's history.
Thus, a few weeks ago, I asked my daughter if she would like to ride with me on a day-long road trip through the Wiregrass area of Alabama. I wanted to photograph some of the murals in the area. I also mentioned to her that I would be driving T-Red, my red 2008 Turbo Pontiac Solstice GXP. It is my get out of town car. She said yes, especially if it meant traveling with the top down.
On the Friday in question, we started our day around 7:30 a.m. with breakfast at one of the local restaurants. I wanted to hit the road before it got too hot. Temperatures were forecast in the hundreds. It reached 102 F with a heat index around the 110—112 F mark. Because of the expected high temperatures, I told my daughter we would drive 70-miles north to Brewton Alabama to view and photograph the murals. Travel to Andalusia, Enterprise, and Dothan would wait a cooler day.
Entering downtown Brewton from the west on US31, we were greeted with a block-long two-story mural depicting the logging and timber business that built the Brewton area. Turning right onto Mildred Avenue/US29 North/US41 South, we crossed the railroad tracks to address 201, where another two-story mural could be seen showing loggers floating timber down the river.

By the time we had finished photographing the Breton murals, my daughter had convinced me that we should just forge ahead to the other cities. We continued along US29 North to the town of Andalusia, the Domino Capital of the world. Unknown to us at the time, the Domino championship games were being played that weekend.
There was a total of thirteen different murals. Most of them were along a one mile stretch of Three Notch Road. A couple of the murals were The Legend of Andalusia and The Story of Hank and Audrey Williams.

From Andalusia, we turned onto US84 to Enterprise. Not only does the town have a mural celebrating the Boll Weevil, it also has a statue commemorating the little rascal. Celebrating the Boll Weevil might be difficult to understand because these little vermin once upon a time decimated the cotton crops in the South. It was the destruction of the cotton crops that lead local farmer C.W. Baston and businessman H.M. Sessions to plant the first peanut crops in 1916. If the cotton crops had not been destroyed, we might not have the peanut industry that thrives today.

Continuing east on US84 we came to the town of Dothan, home of U.S. Army Aviation at Fort Rucker. We were surprised by the plethora of building murals within a 4-5 block area. There were murals celebrating Army aviation, George Washington Carver, and country music. One-time resident Johnny Mack, a cowboy from silent-era movies, is immortalized, along with many others.
Twelve hours and 400 miles later, my quest to photograph the murals and street art of the Alabama Wiregrass area was complete.