By Patti Morrow
ITWPA Member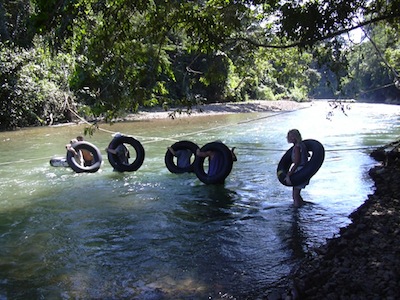 Grab your tube and water shoes and get ready for a true wet 'n' wild adventure — a journey that starts with a mostly uphill jungle trek hauling your own professional-grade inflatable tube and includes fording a portion of the beautiful, green Caves Branch River.
The vigorous hike through untainted rainforest followed by an exhilarating tube-cruise through ancient river caves is one of my favorite things to do and it's available in few places other than Belize.
Along the way you can take in exquisite examples of flora and fauna indigenous to the Central American rainforest while listening to a guide recounting the fascinating history of the region.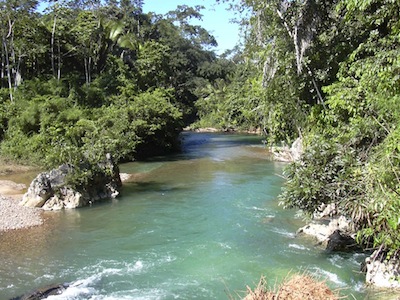 Around 40 minutes into the hike, your sweat-drenched body is rewarded with the refreshing sight of the entrance point where you will plunge into the depths of the chilly river to explore the cave system. The caves were carved out of the foothills of the Maya Mountain by the powerful force of water over thousands of years. Gliding in a human chain through currents intermittent with small rapids, you'll meander lazy-river style, dipping and swishing and lunging through an underworld of interconnecting limestone caves with only your tube beneath you and a headlight to illuminate your path. Your guide will point out waterfalls, ancient ritual chambers, myriad stalagmites and stalactites and unique cave formations. But no matter how awed, be sure to keep your mouth closed, because there are bats hanging above your head!
Expect to lay prone in your tube to pass through low cave openings, and if you hear your guide yell "Bum!" make sure you immediately lift your derrière to avoid making contact with the rocky riverbed.
The highlight comes deep within the cave bowels, when the guide instructs everybody to turn off their headlights.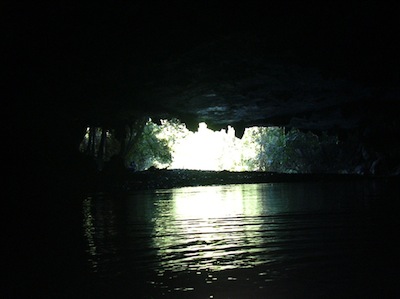 Darkness. Extreme, utter, complete darkness accompanied first by eerie silence, then by gasps of amazement. Vertigo begins to envelop you as sensory deprivation of position and direction prevails.
You keep expecting your pupils to re-focus and acclimate to the dark passage, but it just doesn't happen. This is the stuff of nightmares for some people, but not for me! Even though it was too dark to see my pearly whites, I was grinning from ear to ear.

The stunning contrast as you reemerge from the darkness to the lush green of the jungle, white-washed cliffs, and aqua-green river is well worthy of the applause that will inevitably erupt.
If you go:
Jaguar Paw Jungle Resort, off Mile 37, Western Highway by the Caves Branch River, Belmopan, Belize, USA toll free 1-877-424-8552 or 011-501-820-2023, fax 011-501-820-2024, email info@jaguarpaw.com, www.jaguarpaw.com
Cost for tubing: $50+/- per person, depending on tour operator
If you'd like to purchase this article for your publication, click here to contact the author directly.