By Julie Picardi
ITWPA Member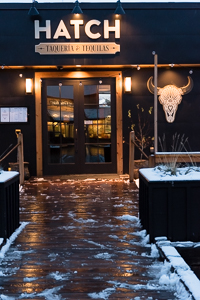 We arrived at dusk, our grumbling bellies demanding satiety, but the little cowboy town of Jackson Hole, Wyoming, known for its Old West appeal, appeared to be asleep for the season. The thought of cold sandwiches for dinner motivated our hunter/gatherer instinct, so we set out to calm the hunger beast within us.
As we walked down Broadway Street, the amber glow of lights against the fresh, white snow beckoned us to the front door of Hatch Taqueria and Tequilas. We stepped inside the warm, cozy restaurant where the menu boasted "fresh, modern, Mexican cuisine" along with various constructions of unique, delectable margaritas. The aromas filtering from the kitchen were enough persuasion to ask for a table. As we savored the sweet and salty tang of spirits, the owner stopped by our table to personally welcome us. The place was busy on this weekday evening, and we found out why. Hatch has developed a reputation for not only having great food and drinks but also for their happy hours seven days a week, regardless of the season.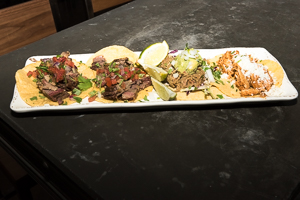 Our organic, non-GMO dinner preparations were as appealing to the eye as they were to the palate, much to the satisfaction of our demanding tummies. Providing delicious, healthy food in addition to a kind, light-hearted, communal atmosphere to both locals and tourists, it's easy to understand why this restaurant is so popular. Regardless of the season, Hatch is sure to please anyone who ventures in hungry any night of the week.
Hatch Taqueria and Tequilas
120 West Broadway, Jackson Hole, WY 83001
Open for Happy Hour daily at 4:30 with dinner served from 5 until 9:30 p.m. Will be open for breakfast, lunch, and dinner beginning summer 2017.
For reservations visit www.hatchjh.com or call 307-203-2780.
If you would like to purchase this article for your publication, please click here to contact the author directly.