By Megan Vaneck
With San Francisco, Lake Tahoe, and the Napa Valley all within driving distance, Benicia usually serves as a "drive through" town. It can be easy to drive right through it without so much as a second thought. But take one of Benicia's three freeway exits, drive a short two minutes through town to its main street, and continue toward the water until you're one block away from scenic views of the Carquinez Strait and Bridge, and there on the left you'll find a small hole in the wall where sits Benicia's best kept secret.
Java Point Cafe is a local, family-owned cafe with a small-town vibe, a coffeehouse located at the foot of 1st Street in northern California's first capital, where hand-painted art by locals hangs for sale and the smiling staff know their regulars by name.
Because of its small size, the cafe has an attention to detail that is unmatched in the area. From the perfect runny golden yellow yolk of their poached eggs to the vibrant colors of their fresh cut fruit, you can taste the care in every scrumptious bite.
Their special brand of care and attention to detail extends to their beverage menu as well. Iced coffee is served in mason jars and kept cold with ice cubes made of coffee, so their drinks never taste watered down. Hot lattes are served with hand-drawn leaves or abstract designs stenciled right into the foamed milk, which can be further customized with almond milk for those who prefer a non-dairy alternative. If one asks, a name can even be written across the latte art in chocolate syrup for an especially elegant caffeine fix.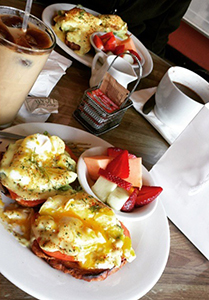 Aside from the wildly popular mouth-watering Veggie Eggs Benedict (which subs avocado for the usual soggy sauteed spinach, and a melt-in-your-mouth soft buttery croissant for the usual toasted English muffin), they also offer a variety of other popular brunch menu items including waffles, pancakes, French toast, sandwiches/panini, and gourmet baked goods. Cafe regulars rave about the filling Crab Melt Panini and the perfectly-crisped Banana Walnut Waffle with the soft middle and dollop of homemade whipped cream. Breakfast combos come with your choice of fresh fruit or breakfast potatoes and lunch items come with generous servings of either homemade pesto pasta or potato salad. This is sometimes two plates full of fresh, tasty food for under $10!
Java Point is open seven days a week from 8:30 to 5 with reduced hours on Sunday. Be sure to arrive early as seats are very limited and they fill up fast. Additional outdoor patio seating is available in the front with perfect views of busy 1st Street, ideal for people watching. To-go orders are also available for those who can't find a seat or would prefer to eat in the comfort of their own home or at the bottom of 1st Street looking out onto the peaceful Carquinez Strait.
Java Point Cafe
366 1st Street, Benicia, CA 94510
Phone: (707) 745-1449
If you would like to purchase this article for your publication, please click here to contact the author directly.
Are foreign drugstores clinically appropriate for Americans. Part 2