By Mike Hopkins
ITWPA Member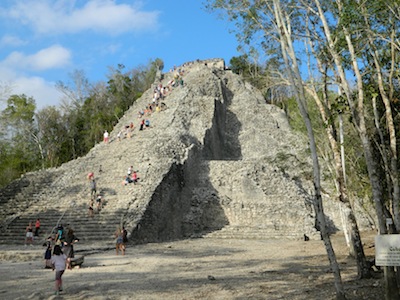 Located outside Tulum, Mexico, Coba is home to Nohoch Mul, the tallest pyramid on the Yucatan peninsula, standing 138 feet tall. It's estimated there are 6,000 structures in the Coba area with only about 10 percent uncovered and restored. Coba was once considered a major hub for travel and commerce throughout the Central American Mayan Empire. Other more popular Mayan city states in the northern Yucatan area are located in Tulum and Chichen Itza.
The historical evidence surrounding the Coba archeological site dates back to between 100 BC and 100 AD. After an influx in population Coba became the largest and most powerful Mayan city state on the northern Yucatan peninsula. The Coba Mayan city state consists of around 30 square miles connected by 45 ceremonial roads joining the main temples throughout the jungle. The site lies between lakes Coba and Macanoxc, and along with the Nohoch Mul pyramid, other structures include a church* ("La Iglesia"), an observation tower*, vaulted rooms, courtyards, and several outbuildings.
The site also includes a ball court ("Juego de Pelota"), which is a rectangular-shaped field with two stone walls on the longer sides. The game was played using an eight-inch ball made of twine and coated with a rubber-like material. Scoring was done by passing the ball without using hands through a stone ring mounted high on the walls. For Mayans, this was truly a life or death game; the loser had to provide the King with a human sacrifice, which was usually the team captain.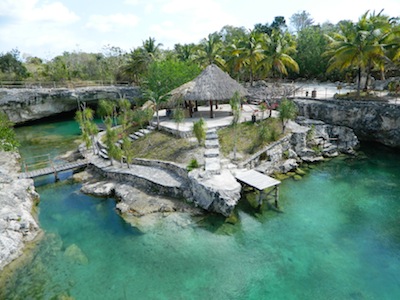 About a 20-minute ride from the Coba Mayan ruins is Cenote Tortuga. What is a cenote? Some locals describe it as a sinkhole and others call it an underwater cave. After seeing it, I'd say they're both correct. My description is it's an underground, primarily spring-fed river with surface pools.
Gabrielle (Gabo), our tour guide for Cenote Tortuga, greeted us and began our tour at a large surface pool surrounding Turtle Island. Throughout the two-hour hiking tour he explained some Mayan uses of native plants and the formation and Mayan purposes of cenotes. We would be given the opportunity to swim in a "cleansing cenote" and explore a cenote cavern.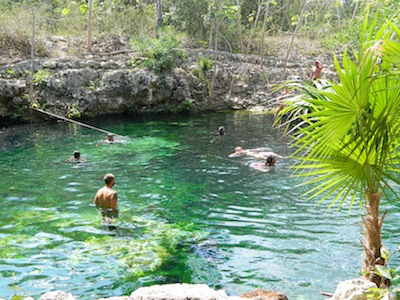 During our short walk to the cleansing cenote Gabo pointed out which plants were used for medicinal purposes and those used as food and for weapons. When we reached the cleansing cenote he explained the Shaman ritual of thoroughly purifying their minds and bodies before returning to the village. And in keeping with Mayan tradition, those who wanted to could swim in the cenote to cleanse their bodies before beginning our return to Tortuga Island.
Continuing through the jungle to the cavern, Gabo told us about the local wildlife and insects as well as how the Mayans used these resources. Upon reaching the cavern we learned how underwater caverns were formed. We were given a safety talk and then invited to follow Gabo in. While you must swim to explore the cavern, it does not involve diving — thus your head is never below the surface of the water. The darkness upon entering the cave was an indescribable experience, but turning around to see the light of the cave entrance reassured and calmed everyone.
So, with summer coming, get out your bucket list, make your plans, and cross something off — but remember to add something new.
If you would like to purchase this article for your publication, please click here to contact the author directly.
*Additional photos available from author.