By Colleen O'Neill Mulvihill
ITWPA Member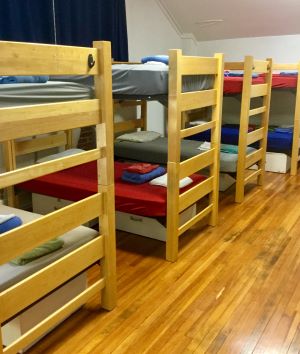 Adjacent to MacArthur Park in downtown Little Rock, where ducks and geese lay strewn like pinecones under a giant fir, the restored 1917 craftsman-style Old Firehouse #2 welcomes visitors for a unique kind of overnight stay. Just blocks from the bustling heart of downtown with its pricy hotel chains sit the HI Firehouse Museum and Hostel.
Eat, sleep, and play
Guests can sleep, eat, and even do laundry among antique fire helmets, wood-hewn roof ladders, and an 1839 leather water bucket from the old bucket brigade days. The common dining area boasts tables that were crafted from the original doors that once led weary firemen to their stark sleeping quarters above.
Sixteen bunk beds adorn each dorm, one for women, and one for men, patiently waiting to host everyone's dream sleepover party. Rounding out the hostel's shared space are modern bathroom and shower facilities, a well-appointed kitchen, and a cozy gathering area where you can sit among relics of days-gone-by, imagining hurried firemen sliding down the soaring brass pole beside you.
Originally built in 1917, Station #2 was forced to close its doors when modern fire equipment became too big to be housed there. Ironically, years later, after a fire in the building, the group Hosteling Arkansas worked with the city and community members to raise money for renovation. Now, Old Firehouse #2 has a new life intertwined with the soul and spirit of early Arkansas history. Whether you're a firehouse buff or a history lover, this one-and-only hostel in Little Rock will provide quirky yet comfortable accommodations in a community setting.
When you go
Be sure to call ahead for museum tours, as well as overnight accommodations. Parking is free, and lockers are available for storage of personal belongings. Overnight stays start at $30 per person.
HI Firehouse Museum and Hostel – 1201 Commerce Street, Little Rock Arkansas. 501-476-0294.
https://www.firehousehostel.org/