By Noreen L. Kompanik
ITWPA Member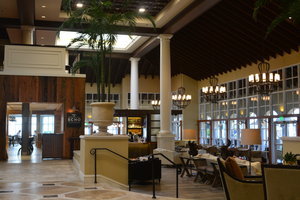 "Southern coastal with a twist" is how Chef James Flack describes the cuisine at ECHO, St. Simon's Island, Georgia's only oceanfront restaurant and bar. He is changing the way Georgia seafood and southern cuisine is prepared and presented, and patrons — tourists and locals alike — are literally "eating it up"!
ECHO is the signature restaurant of the historic King and Prince Resort and Hotel located on the largest of coastal Georgia's barrier islands. In 1935, the hotel debuted as a seaside dance club and the main hotel building opened to an exuberant wartime public in 1941.
Chef Flack has spent most of his life in these islands and his pride and passion for creating magnificent coastal cuisine is evident in his many offerings. With a smile on his face, he loves coming to diners' tables to answer questions or make suggestions about entree choices and preparation selections.
With its sweeping seaside views, ECHO is aptly named for St. Simon's history as a naval air base and radar school during World War II. Once a location for officers' quarters, classrooms, and radar towers, the former King and Prince bar was an after-hours social gathering spot for servicemen, their wives, and members of the local Civil Air Patrol.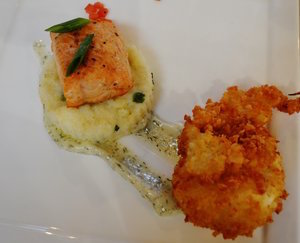 The restaurant's long-standing relationship with coastal farmers has long been a tradition with the hotel. According to Chef Flack, "their support is crucial to us serving the freshest seasonal entrees possible." And his innovative culinary creations are unique to ECHO.
Following a wellness-inspired seasonal fruit plate with strawberries, melons, pineapple, and orange slices, all freshly ripened to perfection, our second breakfast entree, Eggs Coastal, featured citrus-grilled salmon served over a firm but tender grit cake, accompanied by a crunchy, light batter-fried poached egg, nicely finished with a chive cream sauce.
Dinner entrees include local specialties such as North Georgia Mountain Trout, Pan-Roasted Springer Mountain Chicken Breast with roasted beets and mixed finger potatoes with a rosemary jus, and Pan-Seared Atlantic Sea Scallops with cranberry farro, broccolini, and lemon beurre blanc. Also offered nightly is a four-course chef's tasting menu that changes daily according to locally available ingredients.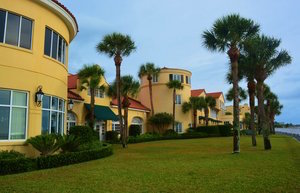 But, being in Georgia and hearing about the famous Wild Georgia Shrimp indigenous to the clean coastal waters of the Atlantic, I had to try their renowned and delectable Shrimp and Grits, served with collard greens and finished with a New Orleans style andouille étouffée over a softly formed grit cake. The shrimp, sweet and succulent with a firm texture, was mouthwateringly divine, and enough to turn a Shrimp and Grits non-believer like me into a passionate true convert.
And if the food isn't magnificent enough, the courteous, professional, unhurried service provided by ECHO's restaurant staff, along with its prime location on the Atlantic Ocean surf, provide the icing on the cake. Speaking as a west coast seafood aficionado, I will definitely be back!
If you would like to purchase this article for your publication, please click here to contact the author directly.