By Dorothy Garabedian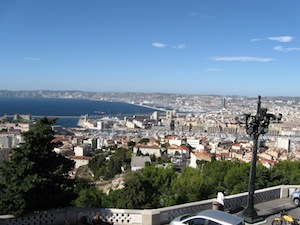 The ancient port city of Marseille sits on one of the world's most beautiful bays. Greek colonists from Phocaea founded the city 2,600 years ago.
Since its discovery, Marseille has attracted migrations from many nations, near and far, emerging into a rich, intense, multicultural society. This intriguing Mediterranean city (population 840,000) has been described as gritty, boisterous, dangerous, and a mafia haven, among other unsavory terms. Now, the old descriptions are giving way to new ones, such as rediscovered, redefined, city-on-the-rise, colorful, lively, and authentic.

Why the change?
In 2008, Marseille was chosen as the 2013 European Capital of Culture. Millions of euros from government funds and major international investors are being poured into a grand plan to transform Marseille into a dazzling center of European culture. It is part of an expansive redevelopment initiative called the Euroméditerranée project, set for completion at the end of this decade. These projects have brought a large influx of people from northern France and other countries down to the south (popularly referred to as the Midi).
International star architects have designed impressive buildings while older structures and museums are undergoing refurbishment. New boutiques, galleries, and restaurants are opening up in rehabilitated areas around the Vieux Port (Old Port).
Local residents, however, are skeptical about this so-called renaissance, believing it will all fade away just as so many other projects have failed in the past. Their disbelief in Marseille's future prosperity is also based on the city's other ills, such as insufficient public security, infrastructure issues, and an unruly population.
Marseille's citizens may be cynical about the grand plans set out for their city, but the fact is that Marseille is changing. Before it gets too sophisticated, a visit to this unique city should be on any traveler's itinerary. After visiting pastel, elegant Paris, why not round out a French voyage with a contrasting visit to vibrant, earthy Marseille?
The Marseillais are quick to say that their city is spécial. In French this could mean exceptional or extraordinary. It could also mean peculiar or strange. It is the latter which the locals emphasize. Try not to expect things to go smoothly, and if they do, consider yourself lucky. More than likely you'll have a mixed bag of experiences ranging from wonderful to exasperating, delightful to incredulous — and even infuriating. That is all part of Marseille.
Getting there is easy now with the high speed rail called the TGV. Leave in the morning from Paris and in three hours you will find yourself in the heart of Marseille for lunch at a café along the picturesque Vieux Port (or, in summer, picnicking on a rented boat and swimming in a secluded cove). You are almost certain to be basking in the sun, regardless of the season, as it shines in Marseille 300 days of the year.

Where to start
The Marseille Office of Tourism has an excellent tourism site in several languages (www.marseille-tourism.com). It is clear, complete, and very easy to navigate to find all the information you need to plan your visit. Whatever your interests, there are options to pursue them, and for every budget. But to experience Marseille, it's best to have a flexible agenda.
Security
On weeknights half of the Vieux Port area is dark and deserted, especially around city hall (Mairie). During weekend evenings it is lively. The three safer areas are concentrated in three locations: Vieux Port Est (East), Cours Julien, Place Castellane, and — for the warmer half of the year — along the Corniche (beachfront).
If you would like to purchase this article for your publication, please click here to contact the author directly.
Are foreign drugstores clinically appropriate for Americans. Part 2