By Betsi Hill
ITWPA Member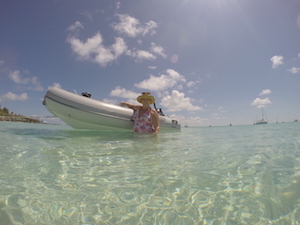 There are those magical places you stumble upon as you travel. Man-O-War Cay, an island in the Abacos chain of the Bahamas, is just such a place, captivating you as soon as you set foot on the island. Nestled in the Abacos, it is often overlooked by travelers but offers a true slice of Bahamian culture rooted in loyalist history.
From the moment we tossed our lines to the dockhand at Man-O-War Marina (http://manowarmarina.com), we felt like we were home. Though tiny in size, it is large on hospitality! This special island is a skinny two and a half miles long, and has about 300 year-round residents, many of whom are descended from early loyalist settlers who left the newly formed United States of America after the American Revolutionary War. They are friendly and good-natured and embrace you (if you are willing) into their culture and lives. In the two and a half weeks we spent on Man-O-War, we became known as the "couple from the big catamaran," and my husband Jim was invited to join the men each afternoon at Andy Albury's woodworking shop as they chewed the fat about island history, politics, and woodworking, and shared a laugh or two.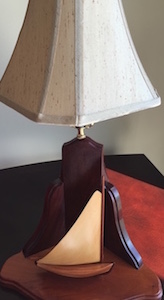 Though this island is a secluded piece of paradise, there are a handful of boutique stores with unique offerings. Among them is Albury's Sail Shop, where Annie Albury and her team skillfully work their magic in assembling world famous hats and bags. The history of carpentry and shipbuilding is still alive and vibrant through craftsmen such as Andy Albury at Albury Designs, which produces beautiful half ship models, lamps, and furniture. Stop in and visit with Andy as he works on his latest project. He will gladly talk your ear off about his craft and the history of the island.
The pace of life on Man-O-War will slow you down, allowing you to relax with each breath you take. The air, filled with the fragrance of island flowers and a faint trace of salt, will work its magic as you begin to notice all of the wild beauty around you. Sand paths cross the main road, beckoning you to a new discovery at every turn. Take a day or three and discover the many hidden beaches and coves that dot this tiny island — some calm and sedate, beckoning you to wade into the gin-clear water (the Narrows beach), others wild and untamed as the waves crash against the shore. Somehow, you manage to fill every day to the fullest with exploring every inch of this magical place and reveling in its relaxing waters!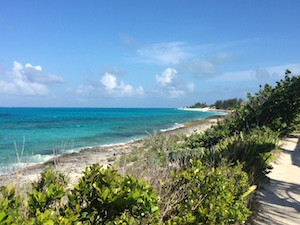 Chef Timmy at the Dock & Dine restaurant, located at Man-O-War Marina, will cook up your own fresh catch, or if fishing for your own dinner is not your style, there are plenty of other choices. His mouth-watering creations rival anything we have eaten at a five-star restaurant! Timmy was trained and worked at several restaurants on Nassau, but with a wink and a huge grin he told us, "I wanted to cook in a place where I could create my own dishes using fresh local ingredients." Indeed Chef Timmy has truly found that at the Dock & Dine.
[photo The beach and reef on the Atlantic Ocean side.jpg]
When it was finally time for us to toss our lines ashore, it was difficult to leave — we felt like we were leaving home and family. Though we are home on land for a little bit, soon we will be underway once more, with a heading set directly for Man-O-War and our friends on this island paradise that we can call our home away from home.
If you would like to purchase this article for your publication, please click here to contact the author directly.